The International Student Experience at F&M
International parents can explore our overview of F&M in Chinese and Spanish.


Connect With Our International Community
Are you wondering what it's really like to be an international student at F&M? Get in touch with students to learn more.
Read More »
Where We Are
F&M is located in Lancaster, Pa., in the northeast region of the U.S. It is a safe, walkable city known for its culinary and arts scenes. In fact, Lancaster was recently named the Best Small City in America by WalletHub. It is also a short train ride from major cities like New York, Philadelphia and Washington, D.C.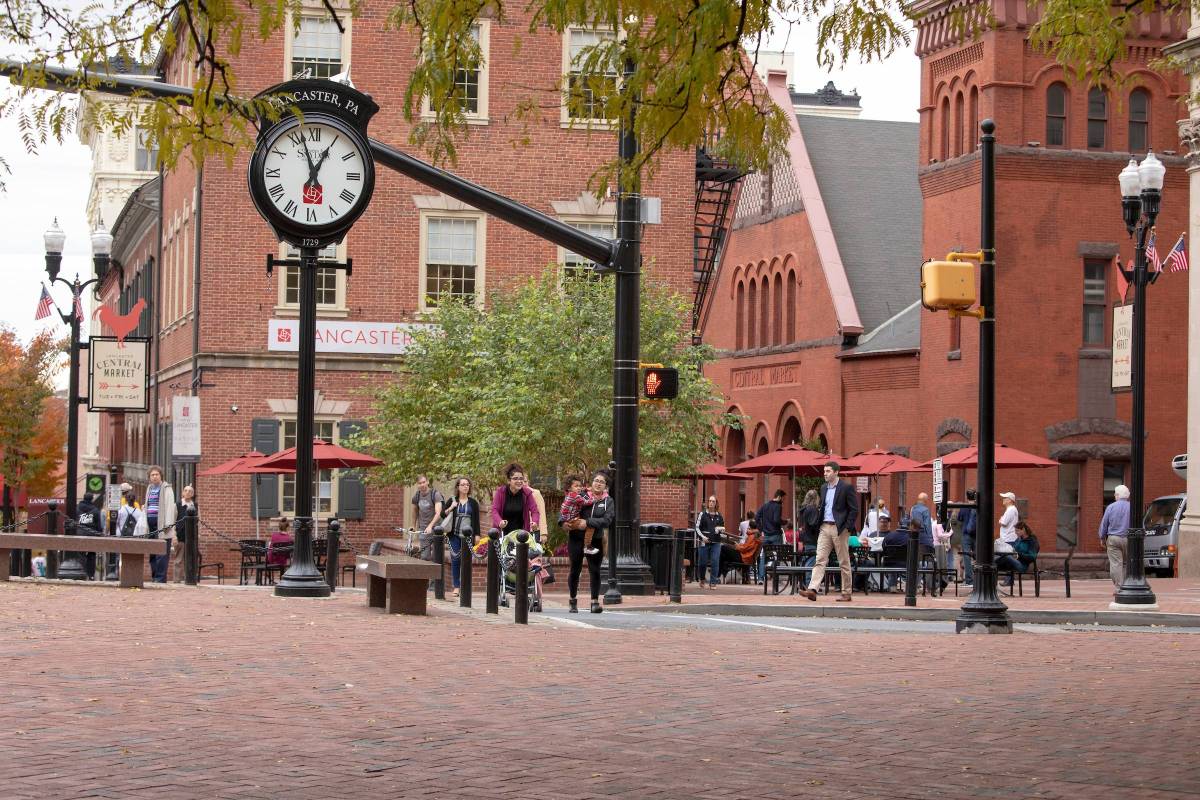 Explore Lancaster, F&M's Hidden Gem
F&M's extraordinary home city of Lancaster is a rich hub of arts and culture filled with experiences for every taste and preference — all within walking distance of campus. Certified as a "Welcoming City" for immigrants and refugees, Lancaster is known for its many art galleries, historical buildings, and delicious restaurants featuring food from around the world.
Closest International Airports
MDT (Harrisburg, Pa.)
PHL (Philadelphia)
BWI (Baltimore/Washington)
DCA (Arlington, Va.)
IAD (Dulles, Va.)
EWR (Newark, N.J.)
JFK (New York City)
Cities Accessible by Train
Philadelphia, Pa.
New York, N.Y.
Baltimore, Md.
Washington, D.C.
Boston, Mass.
Experience Campus
Ready to take your first look at campus and explore the place that could be your home for the next four years? Whether you visit us in person or "walk around" with a virtual tour, our Admission team is prepared to help you build your visit to suit your needs.
Plan your visit »
A Customized Academic Journey
At F&M, we believe that education is not one-size-fits-all. It is one-size-fits-one. Students who come to F&M are big thinkers, self-starters, and entrepreneurs. Each one embarks on an educational journey that's unique to them. If you want to take control of your education, engage your professors and peers, test ideas and theories, and stand out, F&M is the place for you!
How F&M Does the Liberal Arts
Liberal arts is a traditional academic program in Western higher education that focuses on exploring a wide range of fields and building skills that are valuable in any workplace or post-graduate pursuit: reading, writing, thinking, analyzing, debating and listening. F&M's liberal arts model encourages you to strive beyond traditional boundaries and make connections between disciplines that on the surface do not seem related.
Finding Your Path
A key element of F&M's liberal arts model encourages you to explore a variety of courses and disciplines before choosing a major. With more than 60 undergraduate fields of study at F&M, you will have room to explore your favorite subjects while discovering new ones, too.
Clubs & Organizations
We know a vibrant campus life is a major contributor to your academic experience. Luckily, there are many opportunities for you to get involved at F&M. Globally oriented clubs at F&M include the African Caribbean Association, Asian American Alliance, Hillel, Mi Gente Latina, Model UN, Muslim Students Association, and so many more.




Unmatched Support and Guidance
From immigration services to specialized academic support, you will find invaluable partners across campus advocating for your success at F&M.
Joseph International Center

The heart of F&M's global community is the Joseph International Center (JIC), a campus space dedicated to bringing the F&M community together across borders, cultures and languages. The JIC is the primary hub for off-campus study planning, international student services, and the international studies academic program.
International Student Services
As an international student at F&M, you will find a supportive partner in our International Student Services (ISS). ISS offers professional immigration support, advocating for your academic success at F&M by ensuring you are compliant with U.S. immigration laws and processes.
Office of Faith & Meaning
The Office of Faith & Meaning provides support and advocacy for religious and spiritual life — along with other meaning-making pursuits — at F&M. We support all students on campus, including those deeply rooted in a particular religious tradition, those seeking, and those who don't identify with any religious tradition.
International and Multilingual Academic Support
As an international or multilingual student, you will find unrivaled academic support at F&M. No matter your academic goals, we offer support tailored to your specific needs.
International Student Orientation
Two weeks before classes begin, you will be welcomed to campus for an early move-in and International Student Orientation. During Orientation, you will learn about the requirements of your F-1 status, discover how to succeed in F&M's liberal arts community, and meet other international and domestic students from across the globe. International orientation is mandatory for all international students.
Introductory Course for International First-Years
F&M Liberal Arts and Beyond (F&M LAB) is a unique course for incoming first-year international students. Designed to help you begin your F&M careers with confidence and a sense of community, F&M LAB begins with a four-week online discussion class taking place the summer before you arrive on campus.
F&M LAB has three main goals:
To introduce you to your new community, including a community of international classmates, F&M faculty and staff, and the community of Lancaster

To prepare you for the expectations of the F&M liberal arts curriculum and the experience of living in the U.S.

To practice the reading, writing, study, and discussion skills that will be crucial for success in your first-semester coursework
While the course is optional, you will earn a course credit for taking F&M LAB. If you are interested in learning more about the course, you can reach out to Dr. Nadia Mann, F&M's assistant dean for international & multilingual student success, at
nadia.mann@fandm.edu
.
Apply to F&M
Do you have questions about applying to F&M? We are here to help if you have any questions or need guidance during the application process. You can contact us at intladmissions@fandm.edu.
Begin your application »