Events Open to the Community
Our Lancaster neighbors are welcome to attend any of the public lectures, art exhibitions, dances, musical performances, and theater performances F&M sponsors every academic year.
Common Hour is a weekly event bringing speakers to campus to present and discuss diverse and compelling topics. The surrounding Lancaster community is welcome to gather with us for this culturally and academically enriching hour once a week.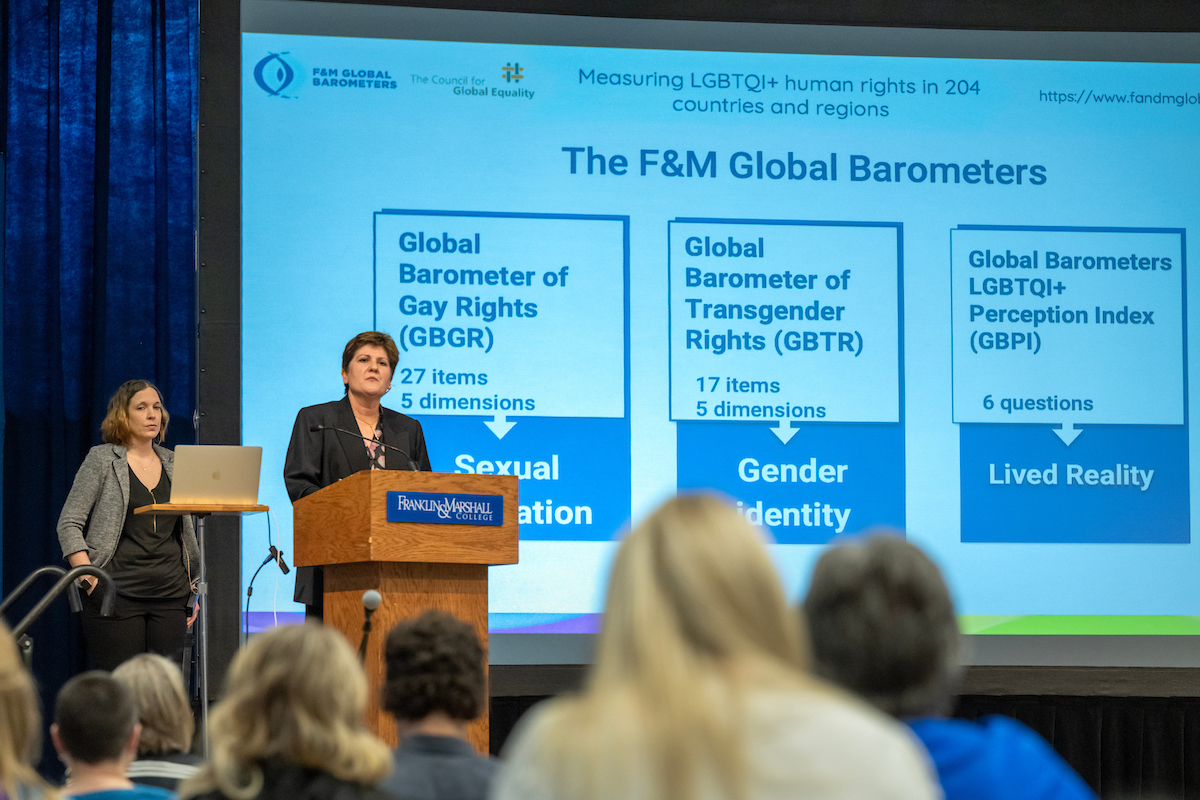 Amenities Available to the Community
F&M Libraries
Lancaster County residents are invited to become a "Friend" of the F&M libraries, which gives them access to a collection of more than 500,000 volumes, 400,000 government documents and subscriptions to 1,600 newspapers, journals and magazines.
Spalding Conservancy
The Keith and Dorothy Spalding Conservancy is a 50-acre, urban conservancy less than one mile from campus. Our Lancaster neighbors are welcome to use the small trail system for recreation.
August 15, 2023
Recreational Facilities
Community members are welcome to use the College's outdoor track at Harrisburg and College avenues. They are also welcome to use Brooks Tennis Center, a lighted, eight-court square adjacent to the Alumni Sports & Fitness Center on Harrisburg Avenue.
Phillips Museum of Art
The Phillips Museum, housed in the Steinman College Center (622 College Ave.), is home to several galleries and hosts exhibitions and special events throughout the year.
Music Concerts
Several concerts are held throughout the academic year at the Barshinger Center for Musical Arts in Hensel Hall (620 College Ave.). The Barshinger Center was designed by one of the world's pre-eminent acousticians, Lawrence Kierkegaard, and is renowned for its acoustics.
Theater and Dance
Students and professional performers alike also animate the stage at Roschel Performing Arts Center (630 College Ave.) throughout the academic year. Our historic Green Room Theatre (530 College Ave.) also hosts student productions.
Philadelphia Alumni Writers House
The Philadelphia Alumni Writers House (633 College Ave.) is a center of creative innovation on campus, drawing writers and readers from every corner of campus and the community. You are welcome to join Writers House events, including the yearly Emerging Writers Festival — a hallmark event that invites the country's most exciting emerging authors to F&M to host readings, craft talks, and writing workshops.
Klehr Center for Jewish Life
The Klehr Center for Jewish Life (645 College Ave.) is the place to explore the academic, religious and social dimensions of Jewish culture. It enriches Jewish life on campus and in the Lancaster community, supports the College's growing Judaic studies program and offers a place for groups of all faiths and backgrounds to gather for discussions, reading groups and classes.
Joseph International Center
The Joseph International Center (701 College Ave.) is the heart of F&M's global community. The center hosts speakers, global lunches, and coffee hours, all with the intention of bringing the F&M community together across borders, cultures and languages.
Sustainability Resources
Are you hoping to learn more about sustainability? We're proud to offer resources to neighbors like you looking to live "green."
Learn More »
Become a Partner with F&M
The College's proximity to downtown Lancaster has created meaningful partnerships between city agencies and F&M. We partner with more than 100 businesses, nonprofits, organizations and schools to create meaningful off-campus opportunities for students and faculty. Each year, more than 550 students participate in local research, internships and service projects in both the city and county.
Read More »
Health & Safety
Emergency Medical Services
F&M Emergency Medical Service (EMS) is a Basic Life Support (BLS) unit licensed by the Pennsylvania Department of Health. We provide emergency response to the members of the F&M and surrounding Lancaster City community. View our coverage map (PDF).
AED Locations on Campus
We have more than 50 AEDs located across campus. If you find yourself in the middle of an emergency, you can use this map to locate where an AED is available near you.
F&M in the Community
June 21, 2023
Building Bridges With the City of Lancaster
Through Franklin & Marshall College's Center for Sustained Engagement with Lancaster (CSEwL), faculty and city administrators have explored and developed bridges for the shared community's...F&M and Lancaster recently celebrated several years of community projects through the Center for Sustained Engagement with Lancaster
October 14, 2021
Research Fair: Learning English Online During the Pandemic
Franklin & Marshall College junior Lauren Chen was coding survey results for a lab when a particular aspect of her work caught her eye. Neuroscience major researches COVID-19 and its impact on adult English language learners' interest in taking an online English class in the future.
October 12, 2021
Research Fair: The Power in Engaging the Community Through Art
What happens when art and civic engagement meet? Franklin & Marshall College senior Sarah Sutter spent her summer showing how effective, and important, it is when they do. Studio art major explores art and community engagement interns by interning with Public Art Community Engagement (PACE), a City of Lancaster program.