What's New at the Phillips?
CURRENT EXHIBITIONS
Welcome to a new academic year filled with possibilities and ART! This semester the staff at the Phillips has been inspired by nature, place, and memory. Our newest rotation of exhibitions includes Sayaka Ganz: Reclaimed Creations, In Search of Meaning: Memory Becomes Us, TREMOR: Reflections on the Nature of Parkinson's, and Coming Storms: Artwork by R Scott Wright. Extended through this semester, we hope you continue to enjoy Color, Symbols, and Texture: The Artwork of Bill Hutson. Interpreting the ideas of how nature and place inspire our artists will be explored through our exhibitions and rich programming schedule.
LEARN MORE! »
New Acquisitions
The PMA is always elevating and expanding the collection. These are some of the newest pieces available for research and exhibition.
Check it out! »
Make the Most of Your Visit
Hours
The Phillips Museum of Art is located in F&M's Steinman College Center. The museum is free and open to all.

Tuesday - Sunday: 12 - 4 p.m.
During the Academic Year (Closed for summer months)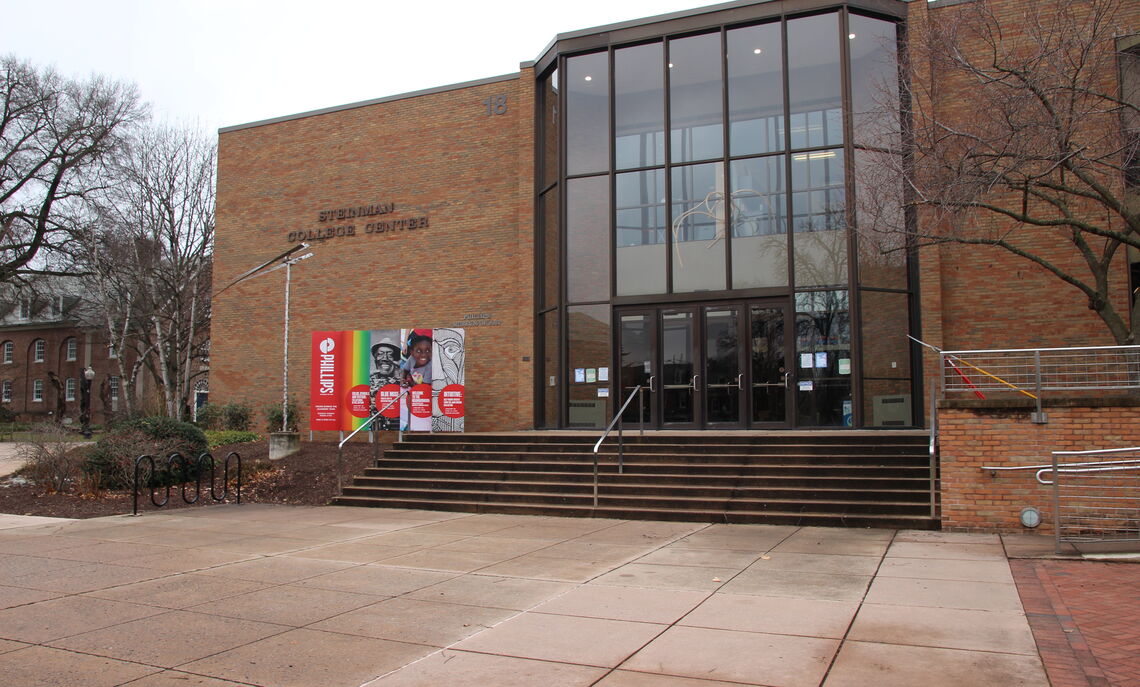 Directions & Parking
Need Directions?
For GPS navigation: Steinman College Center sits opposite 623 College Avenue between New Street and Frederick Street. It is the building set back furthest from College Avenue.

Need Parking Instructions?
The closest parking spots are the back-in, angled spaces (including several designated for handicap use) on College Avenue. Watch for signs restricting use on certain days for street cleaning. Visitors may also park in Williamson Parking Lot accessible from Harrisburg Avenue (across from the Alumni Sports & Fitness Center and Iron Hill Brewery).

Stay Informed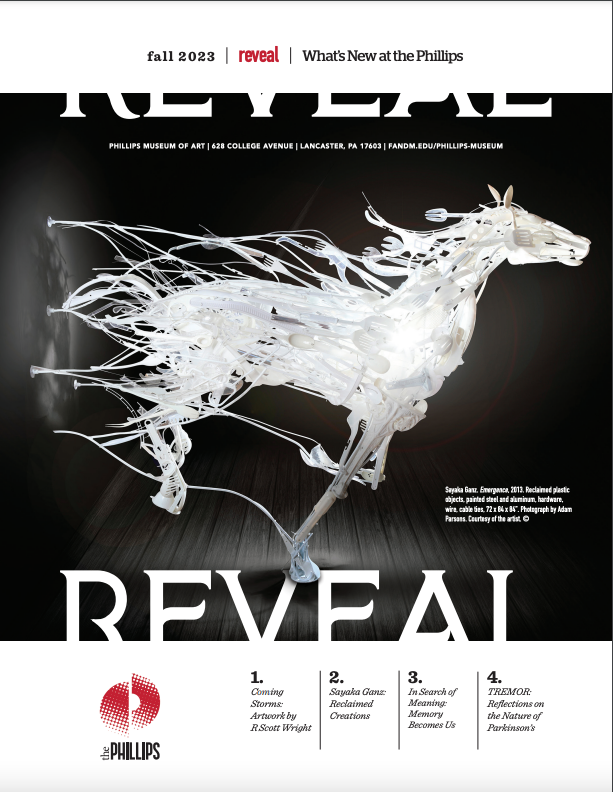 Contact Us
Give us a call at 717-358-3849 or email the Museum Coordinaor lois.miklas@fandm.edu.
Teaching & Learning
"Learners, like witnesses, take different experiences in; then they live out and express different experiences of the evidence."

David Carr, "Mind as Verb," Museum Philosophy for the Twenty-first Century

We believe that art and material culture can enrich the experience for all academic departments on campus. To this end, we offer opportunities for faculty and staff to extend the walls of their classrooms and engage their students in tours, object-based learning workshops, and research opportunities that draw from our permanent collection, changing exhibitions, and visiting artists. Some of the departments that partner regularly with the museum are American Studies; Art, Art History & Film; Anthropology, Classics, and Environmental Studies. Classes from neighboring colleges and universities also visit the museum to study the collections, explore the exhibitions, and enjoy a variety of programs.
In addition to visiting through their coursework, students are encouraged to use the Phillips Museum to engage in intellectual inquiry and develop professional skills. The museum and our collections are a laboratory for students engaging in hands-on learning, original undergraduate research, and new artistic work culminating in research papers, exhibitions, digital projects, and public programs.
ABOUT THE PHILLIPS
HISTORY & MISSION
"We believe this museum will be a wonderful addition to the Lancaster and Central Pennsylvania communities. It seems like a natural way in which to enhance the arts at Franklin & Marshall."
The Phillips Museum opened in 2000 and was made possible by a generous gift from Thomas G. Phillips III, F&M Class of '54 and his wife, Virginia. Phillips is a Philadelphia native and a resident of Lebanon, Pa.. He started his career as a salesman at New Penn Motor Express and rose to become the executive vice president and director of the company. Later, he held a similar post for its holding company, Arnold Industries. In 1983, Phillips became president of Phillips Office Products Inc., a company with retail stores and sales offices throughout the Central Pennsylvania region. In addition to a history of generous support for F&M, Phillips has had numerous civic affiliations in the Lancaster and Lebanon areas. Phillips and his wife, Virginia, have four children.​
In its essence, the mission of the Phillips Museum is three-fold and encompasses the following:
Advancing the educational objectives of the College by presenting exhibitions and programs that support the curriculum, acquiring relevant objects and artworks, and providing study and research opportunities for faculty and students.

Contributing to the cultural life of the Lancaster community and greater South Central Pennsylvania.

Stewarding F&M's permanent collection and overseeing its management.
GALLERIES
The Nissley Gallery has been made possible by the generosity of Emily Baldwin Nissley and Thomas W. Nissley '55, major supporters of the recent renovation of the Phillips Museum. This gallery is dedicated to the exhibition and interpretation of material from the college's diverse permanent collection of over 10,000 works of art.

The Dana Gallery was named to recognize the contribution of The Charles A. Dana Foundation toward the completion of the Steinman College Center. The gallery features solo and group exhibitions of contemporary artists as well as traveling exhibits. A frequently changing exhibition schedule includes contemporary, historical, and multicultural materials. The focus is on the presentation of fine art, with an emphasis on multimedia and three-dimensional work.

The Mildred and Leonard Rothman Gallery recognizes the generosity of Mildred and Leonard Rothman '41. The gallery's newly expanded space is the largest exhibition venue in the museum. The flexible space and controlled lighting of this gallery make it ideal for the exhibition of works on paper, photography, textiles, film, and digital art.

Named for former College Trustee and Art Collection Committee Chair Sally Mather Gibson, the Gibson gallery features rotating exhibitions and is connected to a classroom space with open storage. This unique classroom setup allows the museum staff to highlight the collection and resources available to support the college's diverse academic disciplines.
STAFF DIRECTORY
Lindsay W. Marino, Director & Collections Manager
717-358-4319

Janie M. Kreines, Curator of Exhibitions & Engagement
717-358-4572

Chad M. Chaney, Preparator & Exhibition Specialist
717-358- 4662

Tim J. Coleman, Museum Assistant
717-358-4006

Lois Miklas, Museum Coordinator
717-358-4428