As they prepare for their May 13 Commencement ceremony, Franklin & Marshall seniors look back at their four years on campus—and what's next.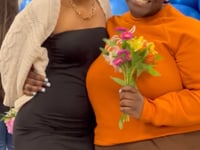 Name: Immanuela Antwi
Major: Government
Minor: International Studies
College House: Brooks College House
What town do you call home? I am a Ghanaian American girl from Newark, N.J.
Activities at F&M: 
I have been active in InterVarsity Christian Fellowship (2019-2023), African Caribbean Association (2019-2021), and Brooks College House Government (2021), as well as volunteer teaching/mentorship opportunities with Buchanan Elementary students and Cooperman Scholars in high school.
"The professors here really care about you...They will push you to your potential."