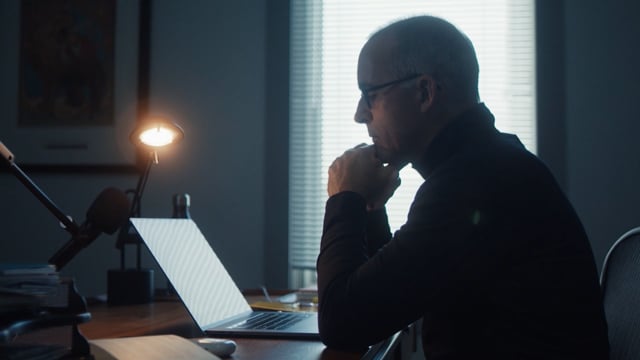 In his 25-year marketing career with Procter & Gamble, the hardest decision James "Jim" Stengel made was the choice to walk away.
Stengel, Lancaster native and 1977 Franklin & Marshall graduate, will discuss his pivot to building purpose-driven businesses and brands during F&M's Commencement Ceremony Saturday, May 15.
In 2008, Stengel made the bold decision to leave his role as global marketing officer at Procter & Gamble and launch his own consultancy, the Jim Stengel Company. The think tank helps grow businesses through a focus on higher ideals. 
"I got restless and I didn't quite understand why. I didn't feel like I was bringing everything to the job that I used to," Stengel said of his previous role in consumer marketing. 
Several consultations with life coaches made something abundantly clear. 
"They said, 'You should not be in corporate life. And as tempting as it is to be a CEO somewhere, you'll be much happier with an independent, purpose-driven portfolio approach to your life,'" Stengel recalled. 
The switch paid off. In 2011, Stengel was named to Fortune magazine's first Executive Dream Team. He has presented at numerous events, including TED Talk, the Cannes Lions International Advertising Festival, and the Association of National Advertisers Conference. He is a professional speaker with the Washington Speakers Bureau. He is also a senior fellow and adjunct professor at the Northwestern University Kellogg School of Management.
"Life is a set of experiences and the life I currently have was built upon the experiences I had at P&G," Stengel said.
Stengel's first book, "Grow: How Ideals Power Growth and Profit at the World's Greatest Companies," was called a "must-read'' by bestselling author and Facebook COO Sheryl Sandberg. 
Below, Stengel shares the surprising ways in which F&M shaped his early career. 
Jim Stengel: Five Fast Facts
1. He was a former football standout
Stengel was an accomplished athlete at Lancaster Catholic High School before attending college. "I came to play football at F&M, but I lost the passion for it. So I started acting." 
2. F&M sparked his passion for theater 
After Stengel hung up his helmet, he became involved in theater at F&M. "I was never a star," he said, adding, "I just enjoyed the creative process." 
Stengel's love for Shakespeare inspired his own role in Green Room Theatre productions, including the 1976 world premiere of John Updike's Buchanan Dying.
3. He landed his first job by sending postcards
Before graduating, Stengel connected with F&M alum David Harrison '65, then-editor at Time Life, the books division of Time Inc. 
"I took a backpack and I went to Europe for nine weeks after graduation. I sent David Harrison a postcard every week from a different city in Europe, just to stay top of mind," Stengel said. "I was hired within two weeks after my return."
4. He wanted to be a sports writer (and he was, for a time)
While working at Time from 1977 to 1981, Stengel spent his evenings sports writing for the Washington Star. "At that time, the people who wrote at Sports Illustrated were the iconic writers in the sports world," he said, recalling the "Golden Era" journalists he grew up reading. 
Eventually, Stengel's interest in the business side of Time inspired him to pursue his MBA from Penn State University.
5. His latest passion project is The CMO Podcast
Stengel's production features intimate conversations with dynamic chief marketing officers across industries. 
"I've spoken with 130 of the top leaders in the world about their lives, their priorities, their careers, and their lessons. It's a really interesting database. So I'm thinking about pivoting off that to do something for my next book about leadership," he said.
Get to know Jim Stengel in advance of Commencement by tuning into his podcast, The CMO Podcast, or his TedTalk, "The Era of Higher Ideals in Business."