The past year was abuzz with inspiration as Franklin & Marshall College returned to the cadence of a regular academic schedule. The pace was both dizzying and measured, as seniors charged toward graduation while first-year students found their footing. 
Through the highs and lows of a calendar year on campus, the F&M community of alumni, students, staff and supporters always steps up. Below, explore 13 stories that helped shape 2022.
Stories are listed chronologically.
- - -
1. 'My Liberal Arts Education From F&M Has Been Fundamental' 
Follow 2017 graduate Briana Krewson's path from F&M to a Fulbright in Poland, and on to Philadelphia, where she resides as a medical student at the College of Osteopathic Medicine.
2. Exploring How Images Present New Ways to Tell a Story 
Recent graduate Sojin Shin has a twofold love of words and images. It's only fitting that she chose to explore how her skills in art and writing complement each other in storytelling by creating a graphic novel.
3. 'Someone Like Me Does Have the Opportunity to Make Change in This Country' 
Before his legislative career officially began, 2022 grad Ali Husaini already saw a bill signed into law. The government major discusses how financial aid and professional opportunities launched his dream to work in politics and make positive change.
4. Leading Environmental Expert from F&M Elected to National Academy of Sciences
The National Academy of Sciences elected Dorothy Merritts, the Harry W. and Mary B. Huffnagle Professor of Geoscience. Merritts is F&M's first faculty member ever accepted into the ranks of the prestigious academy.
5. Class of 2022 Grads Urged to Find Their Voices
Author Viet Thanh Nguyen's Commencement speech garnered national attention. "Your challenge and mine is to listen for unheard voices and to abolish the conditions of voicelessness," Nguyen said. 
6. Alumnus Works With Spielberg to Bring 'West Side Story' to Big Screen
The journey from Scranton to New York City takes approximately two hours by car. But for a 13-year-old boy in 1990, it was a trip into the future. Jonathan Lomma '99 recalls that life-changing adventure.
7. A Diner, a Dream, and a Golden Door 
Class of 2022 grad Roger Avila-Vidal's story begins 2,400 miles away from campus in Puebla, a city of 3 million surrounded by mountains 60 miles southeast of Mexico City.
8. Students Aiming for the Stars 
As NASA's James Webb Space Telescope transfixed the nation, senior Io Kovach and Assistant Professor of Physics Ryan Trainor contributed final calculations to one of the telescope's first projects.
9. Students Uncover Lancaster's Secret Side
With its bucolic landscape and Amish roots, many visitors to Lancaster assume the region's past is nothing less than virtuous. But a group of F&M students uncovered a more clandestine side.
10. Sultana Becomes F&M's First Obama Foundation Voyager Scholar
Get to know junior Munahil Sultana, the College's first recipient of the Obama-Chesky Scholarship for Public Service. Sultana's application was inspired by Malala Yousafzai, a Pakistani activist for female education who survived an attempted assassination by the Taliban in 2012. 
11. Diplomat Spirit Soars at True Blue Weekend
Diplomat spirit embraced every corner of Franklin & Marshall College as students, parents and alumni were warmly welcomed back to campus for True Blue Weekend.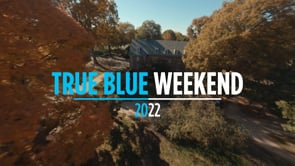 12. A Student's Surprising Path to the Director's Seat
Of the many things Shoshana Frank set out to do at F&M, directing an original play wasn't one of them. So how, exactly, did the junior find herself on stage at the Green Room Theatre debuting her own screenplay?
13. Election Season at F&M
When junior Liz Joslin began interning for Josh Shapiro, she never expected to go viral on TikTok alongside Pennsylvania's Governor-Elect.