There is grandeur in this view of life, with its several powers, having been originally breathed into a few forms or into one; and that, whilst this planet has gone cycling on according to the fixed law of gravity, from so simple a beginning endless forms most beautiful and most wonderful have been, and are being, evolved. - Charles Darwin, "On the Origin of Species"
For the past 20 years, Franklin & Marshall College has celebrated Charles Darwin's contributions to evolutionary biology with an annual "Darwin Day" lecture. This month, an extraordinary loan gives the campus community a chance to see a selection of the famed naturalist's original monographs.
Former F&M board chair Dr. Lawrence Bonchek, P'91, and Dr. Rita Bonchek, P'91, are lending several of their first-edition Darwin monographs to the College through Feb. 24. Works are featured in the Martin Library of the Science's first floor and Archives & Special Collections reading room. The Bonchek's connection to F&M began when their daughter, the late Lisa Bonchek Adams '91, attended the College.
The exhibit will complement a Feb. 16 Common Hour titled, "On the Origin of Species: Historical and Biological Reflections on a Paradigm-Changing Text," presented by Daniel Ardia, Charles A. Dana Professor of Biology and associate dean of the faculty, and James Strick, professor and program chair of science, technology and society. The lecture, which is open to the public, will take place in F&M's Mayser Gymnasium at 11:30 a.m. A recording will be made available after the event.
"We felt that having a Common Hour to celebrate the loan of these important monographs and the anniversary of Darwin Day was imperative. And given the pandemic, we both felt reminding people of the important role that evolution plays in our lives was critical, even if it isn't obvious to all," Ardia said.  
Ardia will discuss the influence of Darwin's "Origin of Species" for biology, climate change, and medicine, while Strick will examine how historians view the book, its place in culture and its historical impact. 
"This is an incredibly important book – one of those books that everyone wants to have an opinion about, but almost nobody has actually read," Strick said. 
The monograph exhibit will be accessible during weekdays. In addition, related collections and loans by Roger Thomas, John W. Nevin Memorial Professor of Geosciences, Emeritus, will be on display.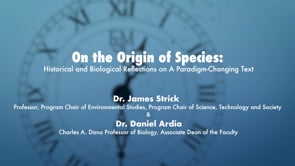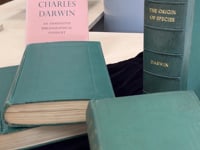 In 2017, the Council for the Advancement and Support of Education honored former F&M board chair Dr. Lawrence Bonchek, P'91, with one of its most prestigious national awards for service in higher education. 
See Story