An integral component of the F&M student experience is the opportunity to learn about new cultures and forms of art directly from expert practitioners around the globe.
From Feb. 13 to 17, the Department of Religious Studies invited the college community to celebrate the weeklong creation of a Tibetan sand mandala by renowned artist and Buddhist monk Losang Samten. The mandala, crafted in the Gipson Grand Forum of the Susan and Benjamin Winter Visual Arts Center, is a spiritual symbol in Asian cultures. Sand mandalas are painstakingly created by hand using millions of grains of colored sand. Once the mandala is completed, it is dismantled during a ceremonial ritual that exemplifies the Buddhist tenet that all things in life are transitory.
Samten studied at the Tibetan Institute of Performing Arts and holds the equivalent of a doctoral degree from Namgyal Monastery, the monastery of the 14th Dalai Lama. In this video, he reflects on the "constantly changing and moving" nature of life and the liberating power of embracing impermanence.
(Video by Andrew Bilindabagabo)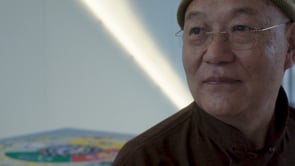 The Creation of a Sand Mandala: A Slideshow
(Photos by Deb Grove)