Monthly Video – Check it Out!
Frank Blancero '13 delivers an orientation to the world of emergency preparedness and response with a community-based approach, and highlights his experiences during the COVID-19 pandemic in this topical Alumni Master Class presentation.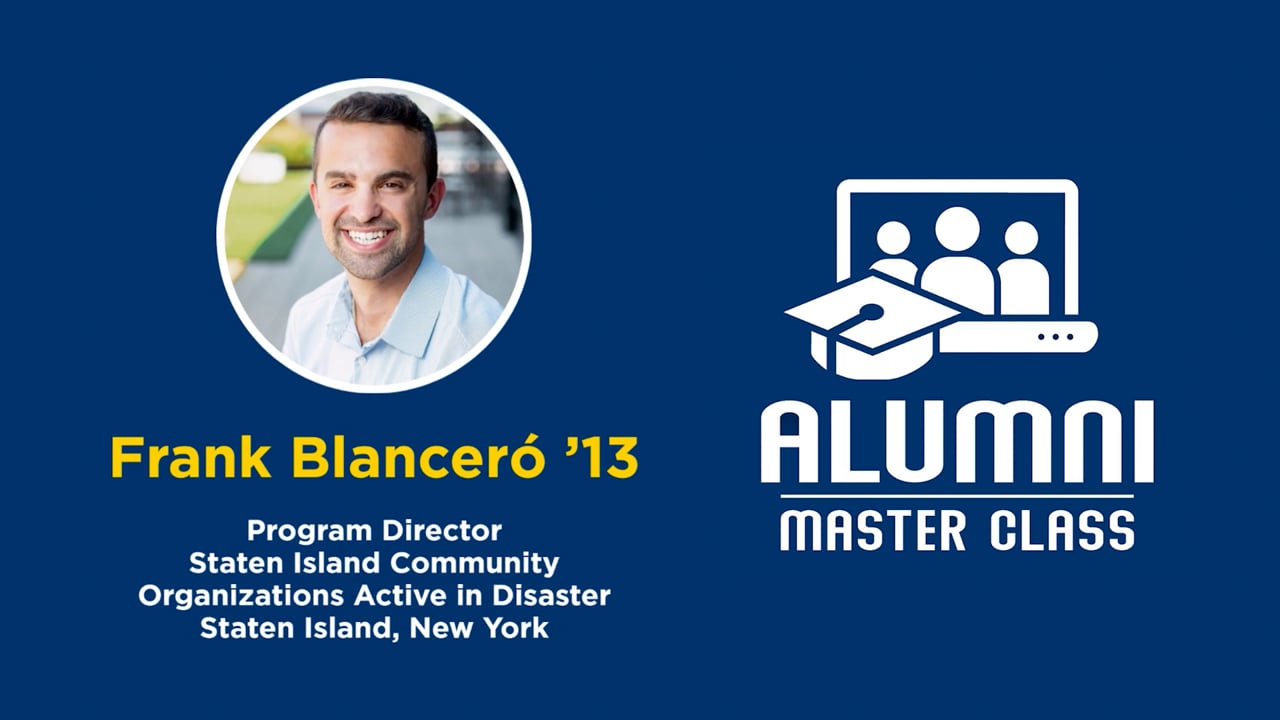 Parents of Seniors – Commencement is Coming!
Saturday, May 14
Graduation weekend is a little more than five weeks away. Keep your eyes open for the announcement of our Commencement speaker, which will be shared in the coming days. Also, be sure to visit the Commencement website, which includes more information about the weekend, including a detailed schedule of events, parking information, frequently asked questions and more.
We suggest that you confirm your hotel or on-campus reservations, and make restaurant reservations, now. Helpful information on these topics is also included on the Commencement website, under "Frequently Asked Questions."
Important note: If anyone in your family has limited mobility and needs special parking and/or seating accommodations, please contact Carole D'Ettorre P'99 in College Advancement (cdettorr@fandm.edu or 717-358-5916) as soon as possible to request assistance. Reserved seating and parking are limited.
 
Update From the Office of Student and Post-Graduate Development
F&M's Office of Student and Post-Graduate Development, known as OSPGD, prepares students for success in their lives and careers beyond college beginning in their first year, and continues to support their growth well after they graduate.
The Lasting Value of an F&M Education
The tremendous post-graduate success of our classes of 2020 and 2021 demonstrates the strong value of an F&M degree when compared to national outcomes. Within six months after graduation, 96% of F&M's class of 2021 and 93% of F&M's class of 2020 were either employed or enrolled in graduate school, which is significantly higher than the national average.
Curious as to what makes F&M's approach to student success so distinctive and impactful? Learn more about how F&M's Office of Student & Post-Graduate Development -- which goes far beyond the typical college career services office -- leverages innovative programs and training to prepare your student for life during and after college, and hear from recent graduates about how their F&M liberal arts education gave them an edge in their post-graduate pursuits.
Care Corner
College Graduates & Anxiety
For college seniors, this time of year brings a lot of excitement about what is around the corner, as they complete their undergraduate experience. It also brings a tremendous amount of stress and emotional conflict. At DipCares, it is not uncommon for us to see seniors referred to our program because they are feeling anxious and depressed. This is normal; leaving college and going out into the "real world" is a major life transition. As parents and caregivers, how can you offer support?
Assure your senior that any anxiety and/or sadness is normal. There are a lot of unknowns; big transitions are hard; and they will be saying goodbye to a lot of friends and faculty members they have grown to love.
Due to the major disruptions of the pandemic, graduation may feel anticlimactic. Maybe how they envisioned their graduation at the beginning of college is nothing like reality. Put this into words for them.
Encourage your senior to start making new connections in whatever their next environment may be, via community groups and clubs, and other meet-up sites.
Help them create a plan of action and timeline for the next year: What are their main goals? What kind of jobs or travel are they going to try and line up? How will they manage a budget?
Tell them to not forget their larger purpose in life to help keep them grounded, especially in these next few months.
Give them freedom to figure things out on their own -- don't try to control every aspect of their life, as they figure out next steps and where they're going next.
Remember that simply listening to them express their worries and concerns about the future is one of the most effective ways to offer support and can be a great stress reliever.
Be aware of the warning signs of depression in young adults. If they are struggling with this time of their lives, look for a therapist in your area who specializes in life transitions and young adults.
A helpful resource for seniors is our Office of Student & Post-Graduate Development Office (OSPGD). Encourage them to make an appointment with one of our OSPGD advisers ASAP!
 
Update From PORT
F&M's PORT (Pandemic Operations Response Team) meets multiple times per week and monitors both the national and local trends. They review the campus protocols and recommend revisions, as needed, to senior staff.
As of March 12, masking on F&M's campus became optional in most spaces for anyone who is asymptomatic, regardless of vaccination status. Masks continue to be required for individuals with symptoms, a positive test, or exposure to someone with COVID, and in the Student Wellness Center and isolation spaces.
F&M remains a mask-supportive and mask-friendly community. Any person may request that others wear a mask in their shared space (office, classroom, residence, meeting room, etc.).
View the latest PORT dashboard, and other information, here.
 
Will Your Student Need to Store Items Over the Summer?
If your student needs to store items in Lancaster to use in their residence next fall, and it isn't convenient to pack everything up and drag it back and forth, there are local storage options in Lancaster. Check the information here.
 
Important Spring Semester Dates
(as of April 7, 2022 — subject to change)
Thursday, April 28
Spring semester classes end, 6:05 p.m.
Friday-Monday, April 29 - May 2
Reading Days
Thursday, May 3
Final examinations begin
Saturday, May 7
Final examinations end
Sunday, May 8
College Houses and theme houses close, 11 a.m.
Saturday, May 14
Commencement
 
Senior Synthesizes Potential New Antibiotics
A senior biochemistry and molecular biology major, who is deciding where she will go to graduate school, reports on her findings at F&M's Spring Research Fair.
F&M Alumna Opens Her Own Nonprofit
Martha Mumenthaler '21has the assistance of a service dog, and wants to help make that assistance more available to others.
You Can Make a Gift in Memory or in Honor of Someone Special
Has an extraordinary professor, coach or staff person made a difference in your child's academic or extracurricular life? If so, you can honor that person when you make your gift to the Franklin & Marshall Fund. After clicking on the link to the giving page, simply scroll down and you will see a line that says "THIS IS AN HONORARY OR MEMORIAL GIFT." Just click on that to enter your information for honorary or memorial gifts before you enter your credit card information and finish making your online gift.
The Franklin & Marshall Fund supports every student, every day. Every gift to the Franklin & Marshall Fund is vital to every aspect of the F&M student experience -- supporting close student-faculty collaboration, energizing campus life, extending financial aid to talented students, expanding programs for student-athletes, promoting ongoing opportunities for learning and discovery, and preparing students for life after college. The Franklin & Marshall Fund provides the resources necessary to sustain the College and its mission of excellence in undergraduate education. Support the Franklin & Marshall Fund today!