Alone Together: Campus Experiences in the Pandemic
The pandemic that began in 2020 changed the world, college campuses and how students respond and adapt to the challenges that lockdowns, Zoom classes and hybrid classes presented. In this ongoing series, Franklin & Marshall students discuss their experiences over the last 19 months.
Name: Songhang (Edler) Li
Class Year: 2024
Major (or intended major): Undecided
What town do you call home?: Guangdong, China
Activities at F&M: College Chorus, Photo Club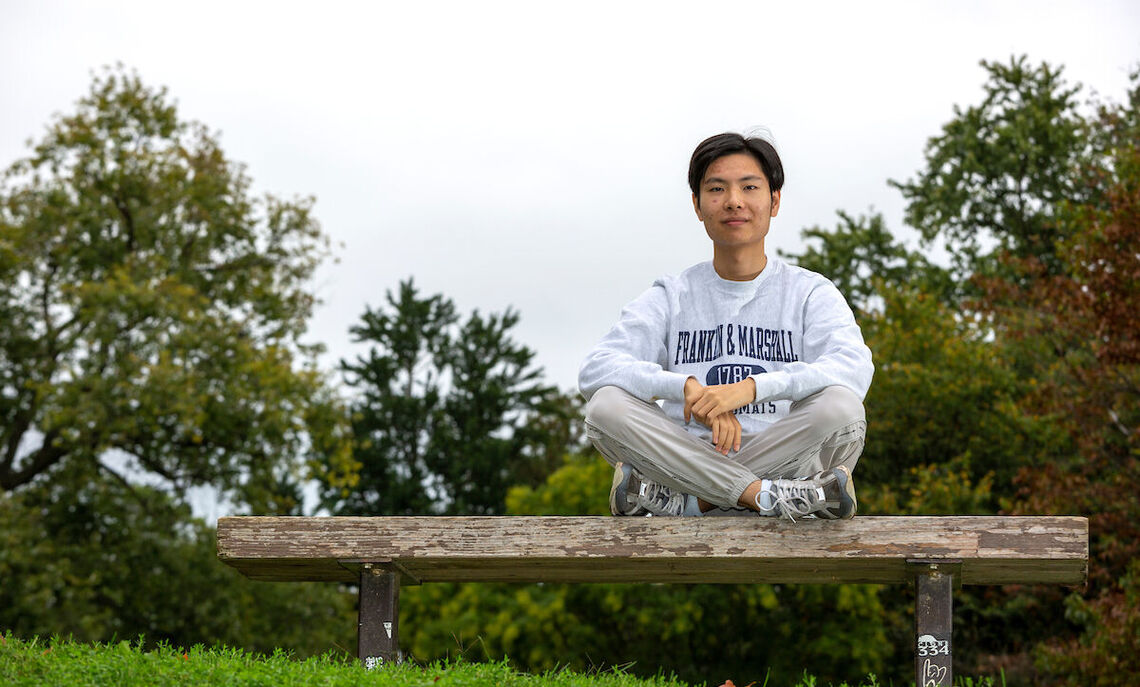 Tell us about your last year at F&M:
With pandemic and visa restrictions, I could not travel to campus and enrolled in the F&M Shanghai Program last year. Even though the curriculum was offered remotely, I still had a wide range of on-site activities held by IFSA (Institute for Study Abroad) faculty and the student council of the Shanghai Program. We had community-building trips, city exploring, art walks, Common Hour, volunteering, and reunions on weekends during last year.
What did you find challenging?
Module system and taking classes with 12 hours time difference. Most of my classes were in the early morning and late at night, which means I had to go to bed at midnight but get up early on the second day. The module system curriculum moved on quickly, so I rarely had the chance to dive deeper into the realm I was interested in.
What did you find rewarding?
Studying remotely is truly a loss of college experience, but the extracurricular activities in F&M's Shanghai Program allowed me to get to know more students from China ahead of arriving at campus. I met friendly members there and had a happy time with them.
What was it like stepping on campus for the first time when you arrived this fall?
When I arrived at the campus, it was already late in the evening. However, I was still excited to take pictures around the campus. I imagined what it would be like to reunite on campus and meet with our professors in person, although most of my classmates were not here yet.
Have you found a place on campus that is meaningful to you?
Buchanan Park behind Brooks College House. I often go for a walk and enjoy seeing the sunset there.
What are you looking forward to this year?
Getting to know more students, establishing connections with the Lancaster community, and having more communication with our professors and faculty.
"I was excited to take pictures around the campus. I imagined what it would be like to reunite on campus and meet with our professors in person."
– Songhang Li

Related Articles
May 17, 2023
Dream Achieved: Williamson Medalist Nadya Ivanova '23
Nadezhda Senior Nadya Ivanova Wins the Williamson Medal, F&M's highest academic honor for students
February 27, 2023
Alumni Spotlight: Every Stitch Tells a Story
It's not every day you wear hoops skirts, bustles and bonnets to work – let alone hand-stitch them. But for Franklin & Marshall College alum Rachel Sheffield, it's just another day on the job....F&M alum Rachel Sheffield is the lead interpreter and historic clothing coordinator at First State Heritage Park in Dover, Del.
February 24, 2023
The Most Cozy Campus Spots
In the depths of winter, I finally learned that within me there lay an invincible summer.- Albert Camus, See the top 8 cozy spaces on campus. We asked students to share their favorite spots to socialize and study on a cold winter day.