Alone Together: Campus Experiences in the Pandemic
The pandemic that began in 2020 changed the world, college campuses and how students respond and adapt to the challenges that lockdowns, Zoom classes and hybrid classes presented. In this ongoing series, Franklin & Marshall students discuss their experiences over the last 19 months.
Name: Alysse Danyi
Class Year: 2023
Major: Businesses, Organizations & Society and Public Policy joint major, German and German studies Major
What town do you call home?: Nazareth, Pa.
Activities at F&M: Varsity Track & Cross Country, Kappa Delta Sorority, John Marshall Pre-Law Honor Society, Alumni Leaders of Tomorrow, Harwood Leadership Seminar, BOS Department Research Assistant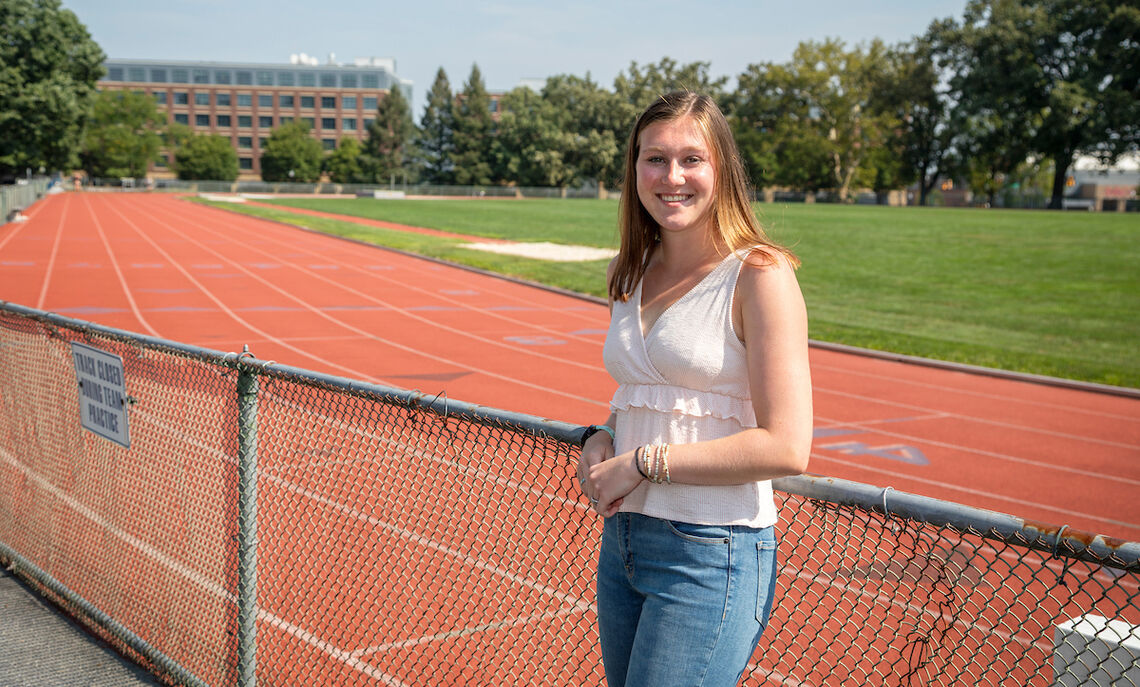 Tell us about your last year at F&M: I was home during the fall 2020 semester and back on campus in spring 2021. It was difficult to be away from campus in the fall, especially when my upperclassmen friends and teammates were on campus. Being back on campus in the spring had its challenges as well and it was difficult living in a constant state of uncertainty. Although this past year was challenging, I was able to remain connected to F&M through my amazing professors who made an effort to include and engage virtual students, as well as through joining new organizations in a virtual setting.
What did you find challenging? I prefer to interact with others in person rather than in a virtual environment, so making the transition to a completely online semester at home was difficult. Although I felt very supported by my professors, coaches, and peers, I had to adapt my routine and learn how to perform at my best in the virtual classroom.
What did you find rewarding? I found it rewarding to successfully adapt to a virtual environment and complete all of my schoolwork while involving myself more in organizations on campus. Despite the many obstacles this past year brought, I truly feel as though I was able to stay engaged in my classes while feeling connected to the F&M community.
What are you looking forward to this year? I am looking forward to returning to in-person classes, racing with my teammates again, and having the opportunity to start attending clubs and activities in-person with my friends and peers.
What challenges do you foresee this year? I think that seeking opportunities such as studying abroad will be challenging. As a German major, my goal is to study abroad in Germany next summer because I was not able to this past summer. I am expecting the study-abroad application process to be difficult with international programs unable to commit to holding the sessions. The same goes for internships and other external opportunities.
Have you found a place on campus that is meaningful to you? My favorite place on campus is the Williamson track. The cross country and track teams meet at the track for practice, and I have so many amazing memories with my teammates there. I also love Blue Line because I enjoy their food and it is a great place to do work and catch up with people!
What advice do you have for other juniors like you? Do not be afraid to get out of your comfort zone, because you never know what opportunities you might miss out on. College is all about trying new things, and you are more likely to regret not trying something new than trying and failing. I learned a lot and made amazing connections with people by venturing out of my comfort zone and trying new things this past year!
"My favorite place on campus is the Williamson track. The cross country and track teams meet at the track for practice, and I have so many amazing memories with my teammates there."
– Alysse Danyi

Related Articles
September 21, 2023
Exploring Theater as a Tool for Social Change, Education, and Awareness
Aviva Katz '24, a government and theatre joint major, discusses how F&M's Diversity and Equality in Education Certificate is helping her along her path toward a career in educational theater.
August 16, 2023
Closing the Gender Gap in Finance
Kriti Krishna '18 and Lia Tavarez '20 are working together to make investments more accessible for female entrepreneurs through HearstLab, a a venture fund for women-led startups.
July 19, 2023
F&M Data Science Major Debuts in Fall
This fall, F&M will offer as a new major data science, applicable in practically everything, from business to health care to transportation.