5 Questions with Matthew Butterfield, F&M Professor of Music and Chair of the Department of Music
Professor Matthew Butterfield specializes in American music, notably jazz and blues. He has a long history of student engagement at F&M, having served as don of Roschel College House for four years (2018-2022), where he elevated the importance of music and live performance with the creation of F&M Idol, an annual singing competition open to first-years and sophomores.
Butterfield received his bachelor's degree in music from Amherst College and his doctorate in music theory from the University of Pennsylvania. His research explores the elusive rhythmic quality known as "swing" from a variety of disciplinary perspectives, including music theory and perception, critical race theory, and ethnographic social theory. His work has been published in leading journals of music theory and jazz scholarship.
We sat down with Butterfield to ask him about teaching and learning, his research, his time as a College House don, and what motivated him to launch F&M Idol, an all-campus singing competition for students now in its fifth year. Note: This interview has been edited for length.
F&M: You teach an eclectic mix of courses, including pop music theory and performance, and harmony, writing and form — Tell us about your role in the department and how you cultivate a love of music among majors and non-majors alike.
Butterfield: When we speak of the music major, there is theory and composition, but also history, ethnomusicology, and performance. We want a major that exposes students to all of those things. Some courses we do more at a skills-development level, others are more scholarly, more academic, more research-oriented. I was hired as an Americanist who would cover some of the music theory classes, but I've always been a jazz specialist. So, I teach classes on the history and culture side of the department — jazz history, blues history, popular music in general — but I also teach music theory, the traditional music theory, giving our students the tools and concepts they can use in their own musical practices, whether it's in performance, composition, recording, whatever. More recently we've expanded into the sphere of offerings in popular music that really haven't been available in the department before.
On the performance side, we have some extraordinarily talented student musicians, many of whom want to major in music or double major in music and something else. On the other hand, we have many students who participated in music growing up in school. They sang in chorus, played in the orchestra, in the jazz ensemble, in the marching band, and took lessons the whole time, and music was a big part of their life, a big sense of who they are. And so when they come to college, they know they don't want to major in music because they have other career aspirations, but they want to continue being involved in music, so many of them participate in our ensembles, and those ensembles are mostly made of non-music majors and minors.
F&M: Your research centers on what you describe as the "elusive rhythmic quality of swing" from multiple perspectives, including through the lenses of critical race theory and ethnographic social theory. Tell us about that research. How did that come to pique your interest?
Butterfield: I went to graduate school to study music theory and did my dissertation on jazz. When I went to write my thesis, I knew I wanted to write on jazz but also draw on rhythm theory. The central research question I pursued was, "What is swing?" What do we mean by this term? It's used to describe music of the Swing Era, but it's also used more generally to describe this kind of rhythmic essence that is supposedly thought to be behind all the best jazz. And yet no one has ever been able to define what the term "swing" means. I've been able to find evidence that the term "swing" was used as early as the 1860s and '70s to refer to a kind of engaging rhythmic quality in virtually any kind of music. I found references to it in terms of Verdi operas, Haydn symphonies, marching band music (such as the work of John Philip Sousa), in reference to poetry, and even oratory. And so it was used in all these different domains quite consistently up until around the early 1930s, and at that point, its usage almost completely disappeared with respect to other kinds of music and came to be associated exclusively with jazz.
I wanted to tease out that historical moment and figure out exactly why that happened. The term went to France and then came back. A French critic named Hugues Panassié was trying to figure out how to explain jazz rhythm and what was the essential feature of it, and he happened upon this word "swing," so he decided in his publications that was the word that defined the essence of jazz.
F&M: You were Don of Roschel College House from 2018 to 2022. What did you value most about that experience as an in-house faculty mentor to the students in that residential community?
Butterfield: It's one of the best things I've done at F&M. I got to work with students in a completely different way. For one, it's much more informal. When you're a professor and exclusively interacting with students in the classroom or during office hours, it's quite formal and the discussions about their academic lives are narrow. Being a don gave me the opportunity to see different possibilities, particularly with music. I knew when I became a don that I wanted to emphasize musical performance — the house has a grand piano and a great performance space — but not the kind of traditional performance that we typically did in the music department. That was the beginning of F&M Idol. It was an eye-opening event. It was a fun thing, an extracurricular experience for many of the performers. And it gave me some ideas of what I could do as a teacher when I came back to the department full time.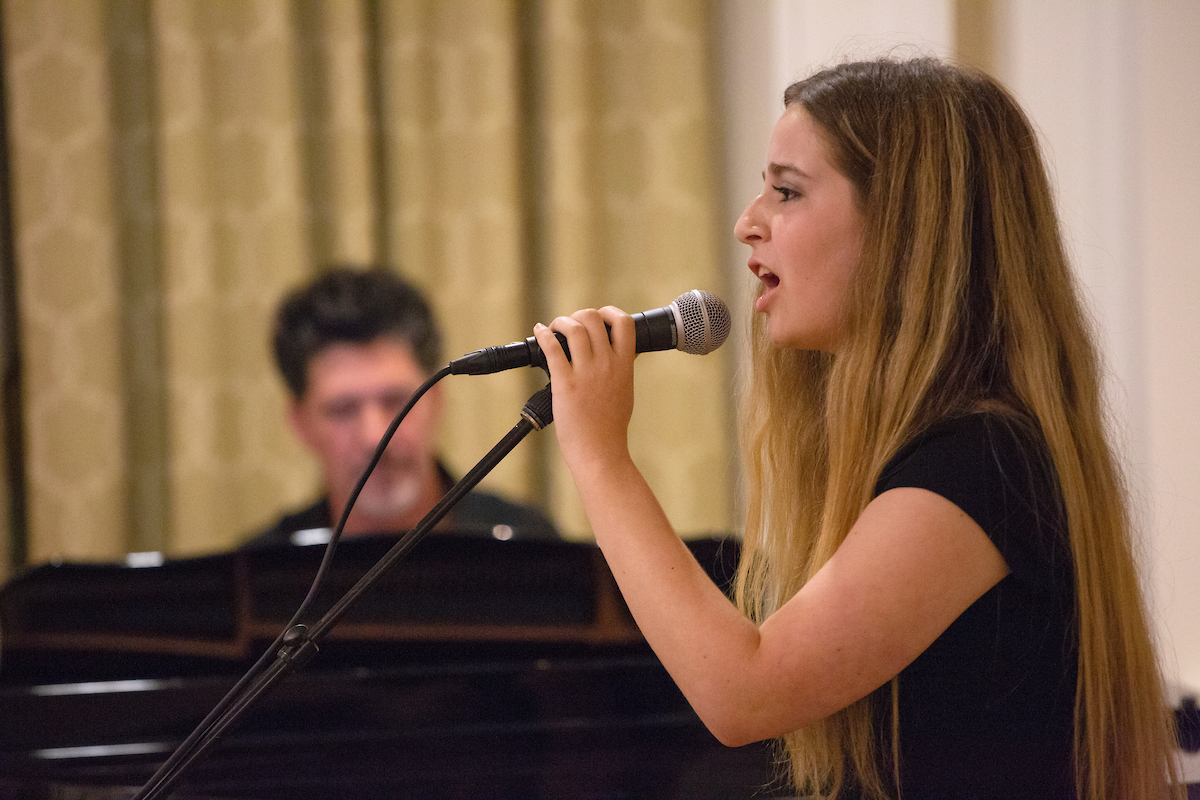 Student Samantha Schmill of Roschel College House performs during F&M Idol in October 2020. (Photo by Deb Grove)
F&M: You mentioned F&M Idol, which highlights the vocal prowess of our best student singers. How did that come about, and how has it evolved over the years?
Butterfield: It was 2018. I was motivated by a desire to see more live performances on campus. I think making music together is one of the best things we can do as human beings. My thought is that it would be exclusively for first-year students. It would give them an opportunity to make a splash without having to compete with more established upperclass students. In the first year, 16 auditioned, all 16 participated, and half the performers were international students. After that, we just kept building on it. The first show was me on a piano accompanying everybody except one student who brought his own accompaniment. Now I have more students involved, gradually putting together a house band of guitarists, drummers, pianists. We have a sound system, a drum kit. We set up a stage with stage lights. For most shows, I bring in guest performers — sometimes past winners or participants. I've had alumni and faculty perform on a couple of occasions.
Our next round of competition is Sunday, Nov. 12, from 7:30 to 9 at Roschel College House. There are some really strong singers. There are students who have these unbelievable talents and no one has heard them sing before. They open their mouths and deliver these killer performances and just blow the audience away and everyone is on their feet.
F&M: What are your musical pursuits outside of the classroom and F&M Idol?
I've played piano since I was 8 years old. I did two sabbaticals in New Orleans, in 2016 and 2011. That was great — doing my research and hearing live music four to five nights per week, mostly in smaller clubs. When we think of going to concerts, we think of big venues and seeing big-name acts with ticket prices that are hundreds of dollars sometimes. So, when that is the only kind of concert you go to, you miss what is happening on the grass-roots level — at small venues where musicians are trying out new things, or where you can hear musicians you've never heard of before working out new ideas and new concepts. For me, the ideal live concert at a big show would be the Grateful Dead, where every show is a kind of adventure, where you don't know exactly what is going to happen.
Related Articles
December 1, 2023
Faculty Awarded $1 Million in Recent Grants
As F&M students turn the final pages of the fall semester, it's important to also celebrate members of the faculty and professional staff who help create an enriching academic environment.
May 23, 2023
'97 Alum Reconnects with A Cappella Roots
By the time they graduate, many Franklin & Marshall College students have a favorite place on campus. For music producer Ed Chung '97, room B-11 in the Steinman College Center meant so much to him that he named his business after it. Chung, who majored in music, spent countless hours rehearsing in B-11 with The Poor Richards, F&M's oldest a cappella group. He now owns the production company B-11 Entertainment and recently returned to campus to produce an album with current students.
February 14, 2023
Love, Music and F&M Will Keep Us Together
Leslie Lindeman '13 and Andrew Glennan '13 have always loved music. But in their first year at Franklin & Marshall College, when Lindeman pulled out her violin and Glennan settled behind his cello as new members of the orchestra, they had no idea this mutual love of music would lead them to each other. Since then, Lindeman and Glennan have not forgotten the College and the music program that brought them together. The two remain active in the F&M community and give back in whatever way they can, including by volunteering and making frequent gifts to the College and the Department of Music.