Mentors Benefit as Much as Mentees
Franklin & Marshall's Jennifer Morford, professor of chemistry and 2021 recipient of the Christian R. and Mary F. Lindback Foundation Award for Distinguished Teaching, recalled an impromptu mentoring moment that she had in high school.
In the chemistry laboratory just before class started, she and a friend were lamenting the school's beloved band director leaving his position, she told the Nov. 11 virtual Common Hour audience. Her friend suggested this was probably the best time to leave band for other school activities.
At that moment, her chemistry teacher, who was quietly listening to them, said, "Sometimes, moments of change with the associated anxiety are times to leave, but sometimes, they present us with an opportunity to engage in ways that might result in greater investment and with surprising outcomes."
"I have reflected on that conversation, which happened over 30 years ago, many times in my life, and use that reflection to help me make decisions in terms of situations," Morford said.
"Thinking about Mentorship: We Know It's important but How Does It Work?" was the title of her lecture about the role of mentor and mentee.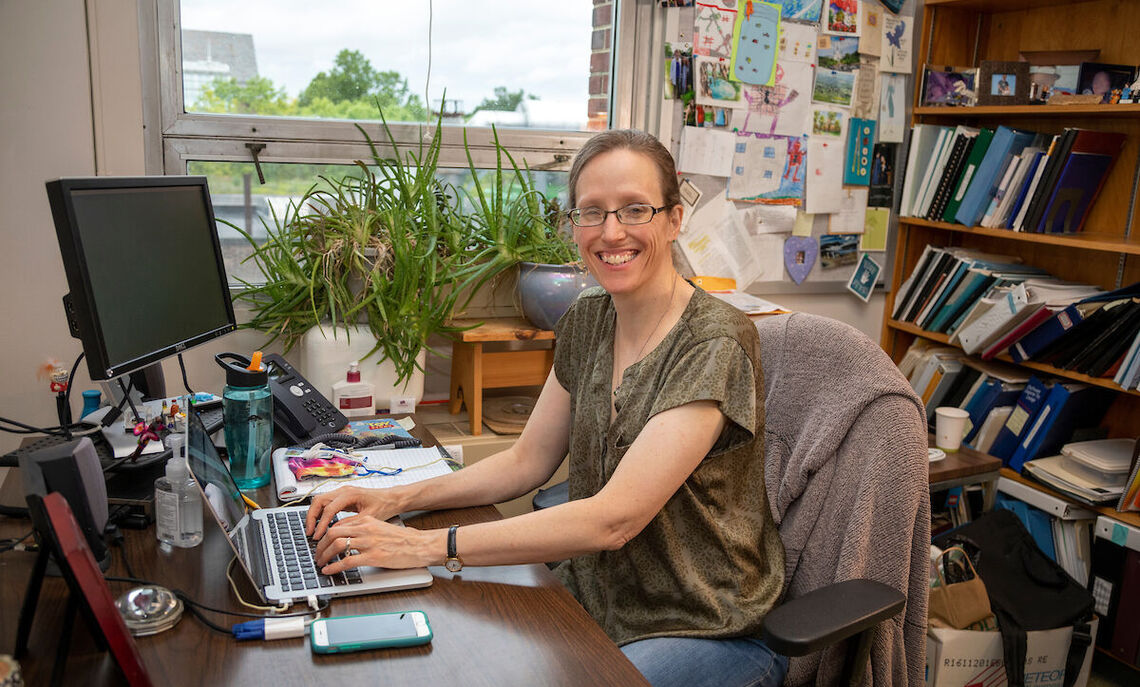 A teacher, scholar and mentor, Morford earned a bachelor's degree at Boston College and a doctorate at the University of Washington. "[She] balances intellectual challenges with warmth," said Justin Hopkins, assistant director of the Writing Center, in introducing her.
"Professor Morford's intense interest in support for and willingness to adapt to students' needs is seen in her students' successful careers and well-being," Hopkins said. "She's found those experiences to be one of the best parts of her job, and they've inspired her to learn more about mentorship."
The professor said her varied experiences as a mentor to a diverse group of students (including the Miami Posse Scholars, whom she mentored on research), "have inspired me to learn more about mentorship and how to be a more effective mentor."
A first-generation college student, Morford thanked colleagues in the departments of chemistry, history, geosciences and classics for mentoring her. "All of these relationships and experiences have impacted how I teach, how I do my research, how I engage with college service, and how I work with my students."
Morford said the "profound support and help" they provided during important transitions in her life "have subtly and substantially influenced my trajectory. Yes, as a professional having mentors has continued to be important... This is my effort than to help you explicitly acknowledge and recognize all the different aspects of mentorship."
She shared her experience, as well as her knowledge from studies and conferences on mentoring, and asked the audience to take a moment to "think about a time in your life when you shared your knowledge, your skills, your time, your insight to help someone else, and how that felt."
"You are reflecting on spaces where you were probably the mentee and spaces where you were probably the mentor," Morford said. "This exercise highlights how we play both roles throughout our lives. And if these memories were positive and meaningful to you, then you probably already know something about mentorship and how important it can be for you and for others."
"Mentor" comes from a character in Homer's "Odyssey," the book was recommended to her by a colleague in the Department of Classics. When King Odysseus went to fight the Trojan wars, he asked a trusted friend, Mentor, to advise and teach his son in his absence.
"In this way, the first mentor was both a guide and an educator," Morford said.
She cited a recent report from the National Academy of Sciences that defined mentorship as a professional working alliance in which individuals work together and over time mutually support their personal and professional growth, development and success as partners.
"I really like this definition because I like the term 'working alliance,' which is meant to emphasize an act of collaboration between mentor and mentee," Morford said.
The professor acknowledged the difficulty sometimes in finding a mentor "that meets all of your interests and all of your needs," both of which "change and evolve as you move along your path."
Morford advised students to "be open to the frequent opportunities you have to connect with peers, faculty, staff, and others on and off campus to create a constellation of mentors. This network of overlapping relationships is more likely to meet your evolving needs while providing you a diverse community."
Related Articles
September 5, 2023
Common Hour Returns with New Format
Common Hour begins Sept. 7 and will resume weekly with the addition of a new Campus Hour program.
June 26, 2023
Shining Light Along Their College Path
As a student in the 1950s, Franklin & Marshall College stirred his interest in the world of ideas. A government major, he took courses in a wide array of other topics. Throughout his career, he...Franklin & Marshall College offers students a hands-on education that emphasizes close relationships with faculty. Students flourish in a supportive community that treats them as an individual, and their successes continue long after F&M. The College is a national leader in launching students and alumni to opportunities where they make a difference in the community and the world.
June 16, 2023
F&M Team's Chemistry Discovery Goes Commercial
In a rare event for any liberal arts college, a Franklin & Marshall chemistry professor and her two students made a scientific discovery that is now a commercial product.