Now to Next Campaign Eclipses $200 Million Threshold
Now to Next, the largest campaign in Franklin & Marshall history, has surpassed its initial goal of $200 million by more than $16 million. The campaign will be extended through June 30 to advance this historic success.
Franklin & Marshall President Barbara Altmann and Eric Noll '83, P '09, chair of the Board of Trustees, have announced that the College's Now to Next Campaign has reached a milestone moment: surpassing its $200 million goal.
Launched publicly three years ago, the total for the largest campaign in F&M history now stands at $216.3 million. To amplify that success, the Board of Trustees has voted to extend the campaign for five more months and conclude June 30. This extension continues the inspiring momentum of the fall fundraising effort and capitalizes on the strength of the 2022 fiscal year. Many potential gifts are still under discussion and the College wants to ensure all donors are included in the campaign total.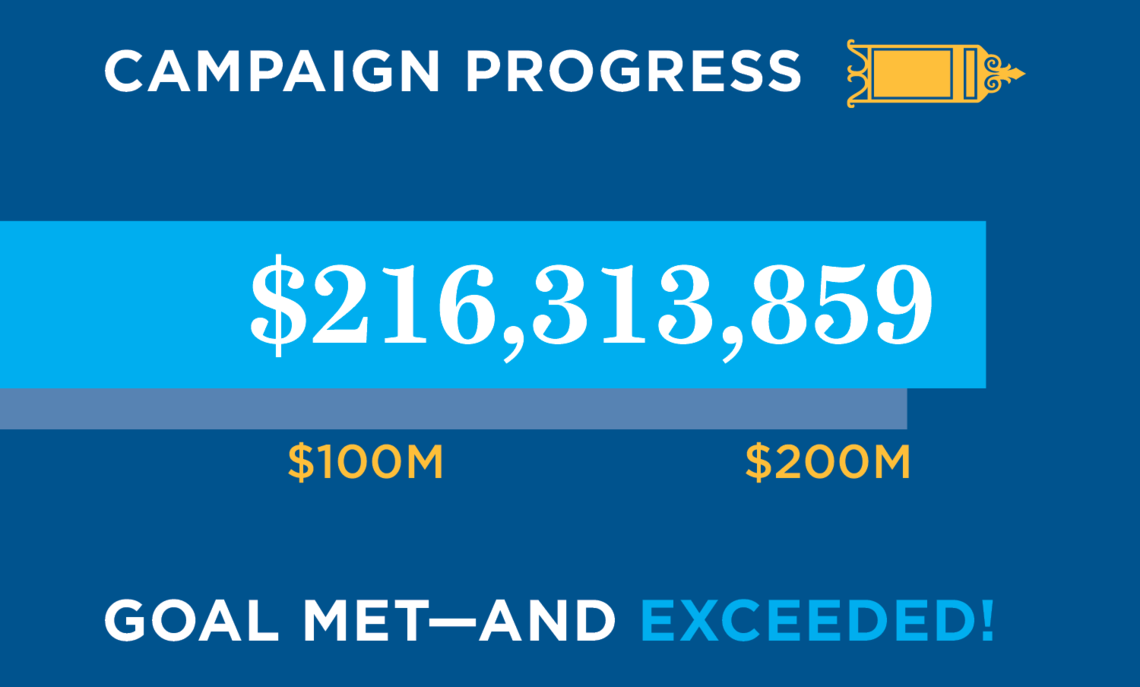 Altmann commented on the historic moment surpassing the campaign goal represented for the College.
"I am truly inspired by the generosity and deep commitment of our alumni, parents and friends," Altmann said. "Significant philanthropic support through this historic campaign will have a beneficial impact on student financial aid, the academic program, our beautiful campus and every facet of the F&M student experience. The campaign makes a lasting difference for the College, so my challenge to Diplomats everywhere is: 'Let's see how far we can exceed this goal by June.'"
"Surpassing the $200 million goal for the Now to Next campaign is a vital part of long-term success. The campaign has advanced our College's academic excellence and strengthened the ways we develop students for leadership," Noll said. "The Board is inspired by the momentum of the campaign and knows the extension through June will add to the success."
The milestone achievement was made possible by nearly 23,000 donors, including 12,200 alumni. It includes more than $82.1 million in gifts to the endowment and more than $70.6 million in gifts to financial aid, and the campaign was uplifted by roughly 500 regional events across the country and around the world.
"The F&M community responded with support, leadership and vision. We are fortunate to have volunteer leaders and extraordinary philanthropic partners who remained focused on the goals of the campaign," said Matthew Eynon, vice president for college advancement. "With our annual Day of Giving campaign in March and a significant number of generous gift commitments on the very near horizon, extending the campaign until June 30 allows more constituents to be included in this historic effort for F&M."
The campaign is chaired by longtime F&M alumni supporters Leonard '72, P'12 and Susan '73, P'12 Klehr, and Benjamin Winter '67.
"It has been a great privilege for us to serve as campaign co-chairs. The College has been a part of our lives for over 50 years... and the support already raised in the Now to Next campaign will help to ensure F&M's prosperity for years to come," Susan Klehr said.
"We look forward to seeing how much we can raise in our support of F&M's students. The extension to June 30 will give us a chance to extend our collective effort toward this fantastic cause," Leonard Klehr said.
Support for each of the campaign's priorities has remained strong. Since its public launch in October 2018, donors have given millions to the priorities of advancing academic excellence, an extraordinary student experience, and support for financial aid and athletics. The $12.5 million Trustee Endowed Scholarship Challenge inspired 47 new commitments for endowment, and is well on the way to reaching its overall goal of 50 new scholarship funds.
"We know the value of the liberal arts education that F&M delivers. Our alumni exemplify the power of that education in their personal and professional lives. I am thrilled with the progress of the campaign and our achievements thus far," Winter said.
Franklin & Marshall Fund Rises to New Levels
Every gift matters and every gift is part of the campaign. Supporters have contributed more than $23 million to the Franklin & Marshall Fund during Now to Next. From investing in close student-faculty collaboration to preparing students for life after graduation, the Fund provides the resources necessary to sustain the College and its mission of excellence in undergraduate education.
"Every gift to the Franklin & Marshall Fund is vital to extending financial aid to deserving students and ensuring the F&M student experience is well resourced," said Ray Sanseverino '68, trustee and chair of the Franklin & Marshall Fund Global Steering Committee.
"Our College has been strong for more than 200 years. Now, we are investing in an equally strong future. This campaign enables us to continue bringing a rich mix of the most promising students to a place that recognizes their full potential and will help them realize it," Altmann said.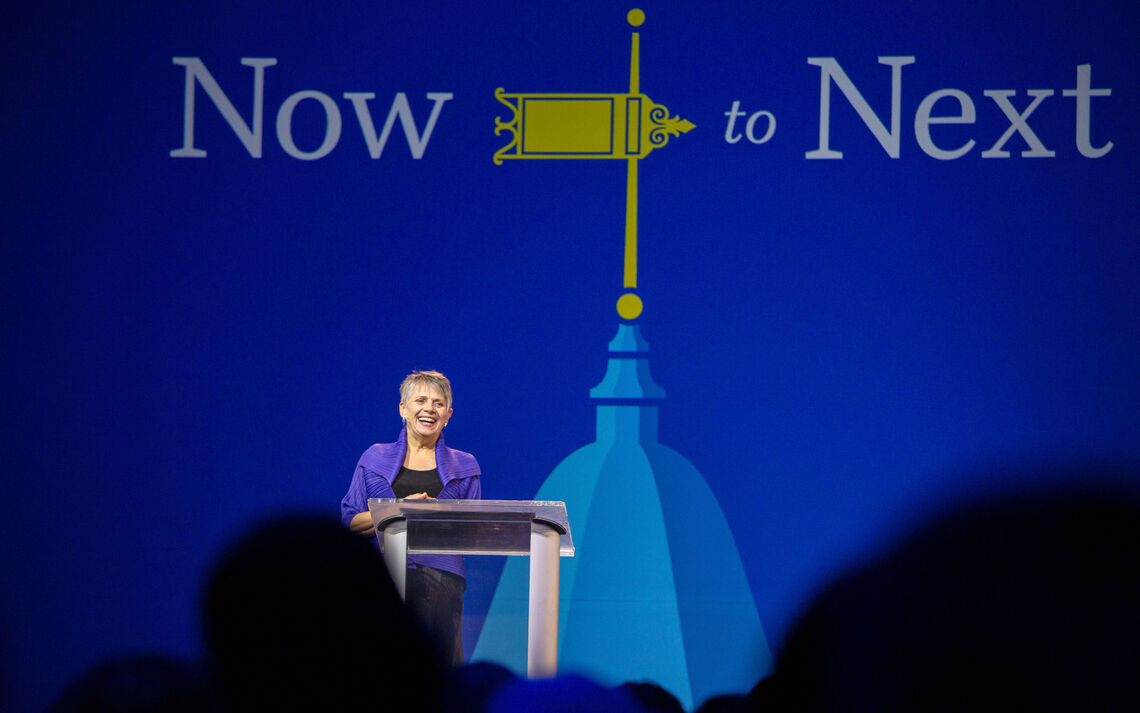 Related Articles
June 20, 2023
A New Generation of F&M Philanthropists
Who are the next Franklin & Marshall benefactors? The members of the Student Giving Committee say: Look in the mirror. A total of 639 students contributed to fundraising efforts in the 2023...Learn how the Student Giving Challenge starts a habit of giving among current students and inspires investment in a brighter future for the college.
May 18, 2023
Stelljes Named Vice President of Student Affairs
Andrew D. Stelljes, Ph.D. has been appointed as Franklin & Marshall's new vice president of student affairs. He will begin his duties July 5. Stelljes currently serves as the associate vice...Andrew D. Stelljes, Ph.D. has been appointed as Franklin & Marshall's new vice president of student affairs.
May 16, 2023
Curtin Named Vice President of Finance and Administration
Shawn P. Curtin has been appointed as Franklin & Marshall's new vice president of finance and administration. He will begin his duties July 31. Curtin has served as the vice president of...Shawn P. Curtin has been appointed as Franklin & Marshall's new vice president of finance and administration.