Alone Together: Sophomore Soccer Player Reflects
The pandemic that began in 2020 changed the world, college campuses and how students respond and adapt to the challenges that lockdowns, Zoom classes and hybrid classes presented. In this ongoing series, Franklin & Marshall students discuss their experiences over the last 19 months.
Name: Alison Francis
Class year: 2024
Major (or intended major): Intended business, organizations and society and mathematics dual major
What town do you call home?: Dallas, Pa.
Activities at F&M / sport: Women's soccer, Alpha Phi sorority, Student-Athlete Leadership Council (SALC)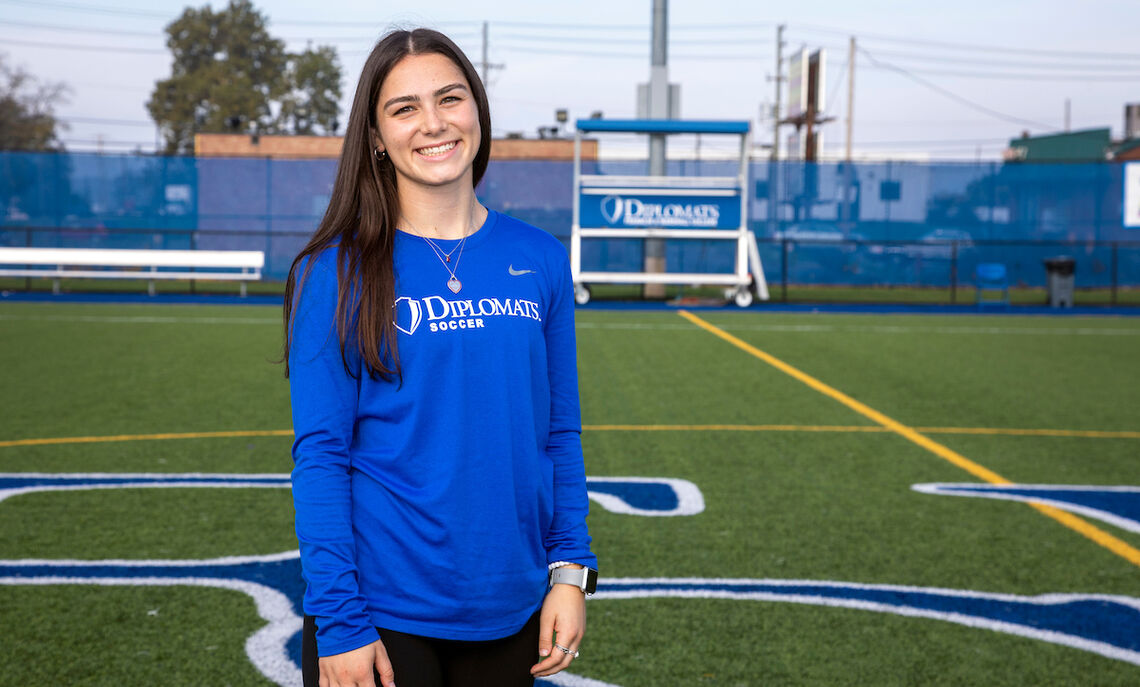 Tell us about your last year at F&M: Last year at F&M, I was on campus for the fall semester and at home learning virtually for the spring semester. Being socially distanced, masked, and taking classes remotely during my first year in college was undoubtedly difficult, but everyone in the F&M community was able to persevere, and I am so happy to finally be back on campus and to have a normal college experience.
What did you find challenging about being a remote student-athlete and team member? Being a remote student-athlete and a team member was especially difficult in the spring, because my team was able to practice and compete while I was at home patiently waiting for the time when I could finally play collegiate soccer. It was also very challenging to not be able to play competitive soccer over the course of the pandemic, because I have been so accustomed to playing the sport for almost my whole life. However, I had to remain motivated while being home, and I was able to support the team and stay connected in different ways over this time period. I was able to become a member of a few team committees, which met virtually throughout the spring and summer, and I also cheered my teammates on over the live streams of their games in the spring.
What are you looking forward to this year? This year, I am looking forward to continuing our team's success throughout the soccer season, and I am also looking forward to being involved in other organizations that I did not have the opportunity to participate in due to the pandemic, and to build new connections and friendships through these organizations.
What was it like playing/practicing with your team for the first time? We had a few non-contact and socially distanced practices last fall, but coming into the preseason this year, it was so amazing to see how excited everyone was to be back together and playing our sport again. Everyone was so eager to meet each other, get to know each other, and to begin our season, since it has been almost two years since the team last competed.
What advice do you have for other student-athletes like you? If I could give any advice to a student-athlete like myself, it would be to not take the time you get playing your sport for granted, because you never know what could happen or when you'll be able to play again. Always be grateful for and enjoy the time you get to spend with your teammates on and off the field. Also, I would say getting involved in other organizations and activities on campus is so important to build more connections and to make the most out of your college experience.
Any other comments you'd like to share? This pandemic has been an immense challenge for everyone, but I am so grateful to be back on campus with my friends and my teammates, and to finally be playing the sport I love again! Go Dips!
Always be grateful for and enjoy the time you get to spend with your teammates on and off the field.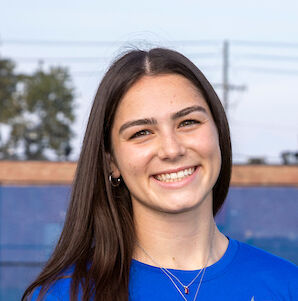 Related Articles
May 22, 2023
Women's Lacrosse Rolls into Final Four
GAMBIER, Ohio — The Franklin & Marshall women's lacrosse team is headed back to the Final Four for the 12th time in program history (ninth in the NCAA era) following an 18-13 win against No....Franklin & Marshall College offers students a hands-on education that emphasizes close relationships with faculty. Students flourish in a supportive community that treats them as an individual, and their successes continue long after F&M. The College is a national leader in launching students and alumni to opportunities where they make a difference in the community and the world.
March 2, 2023
Driven By Passion: Classic Car Specialist Greg Duckloe '13
One clear strength of Franklin & Marshall College throughout its 235-year history is its outstanding alumni. Today, its living graduates number more than 29,000 and stretch around the world. They...Meet Greg Duckloe '13, director of research & operations at RM Sotheby's, the world's leading classic car auction house.
July 14, 2022
F&M Athletes Represent USA at Maccabiah Games
Three Franklin & Marshall student-athletes have been selected to compete on the global stage at this month's Maccabiah Games, held July 12 through 26 in Israel. Rising junior Jaclyn Feit will...Three Franklin & Marshall student-athletes have been selected to represent team USA in the 2022 Maccabiah Games in Israel.