Aspiring Neuroscientist Tackles Cutting-Edge Research in Chicago
The Franklin & Marshall student experience doesn't stop when the academic year ends. From internships in Lancaster to travel around the world and research across the country, our students continued their quests for knowledge over the summer.
Senior Beta Cai, from Shanghai, is majoring in neuroscience at Franklin & Marshall. He spent his summer conducting biomedical research in the pharmacology department at the University of Illinois-Chicago.
How did you get interested in this particular field of research?
I did research on designing and constructing a FRET (Fluorescence Resonance Energy Transfer)-based Biosensor, and using it to study a specific enzyme's interactions in multiple contexts. (A biosensor can analyze biological samples; one example is a glucometer routinely monitoring someone's glucose level.) Initially, I became interested because I thought this technique could be useful in my future research as a neuroscientist: A FRET-based Biosensor is unlike anything I have worked with either in an F&M laboratory or other neuroscience labs. It is a relatively "young" technique, but very powerful in terms of studying the structural dynamics in cells. I look forward to examining a neuroscience pathway with FRET (or another) biosensor one day.
How did you find out about this opportunity?
Initially, I was looking for summer research opportunities on campus, but that was two weeks or so into the spring semester. This is quite late and I just couldn't find any untaken lab position that piqued my interest. (There is a lesson here — Don't be like me; apply early!). However, my effort was not in vain. Shout out to Dr. (Ryan) Lacy, associate professor of psychology, for sending me some resources on STEM research opportunities. Unfortunately, most summer programs on those platforms had expired by then (Again, apply early!). And for the programs that were left, some required applicants to be U.S. citizens. Fortunately, there was one program that checked every box — this one. In fact, this is the only program I applied to. I really put some effort into the application process, and I'd like to think I made a strong case. As a result, I made my way to Chicago.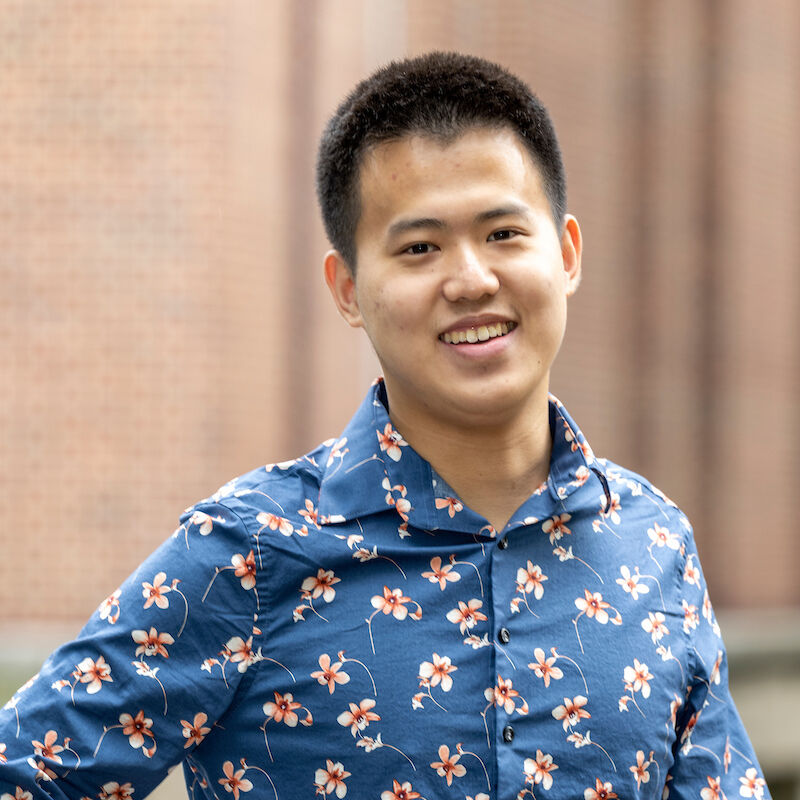 What results did you hope to find with your research?
The plan was to design and construct a FRET-based Biosensor and use that to examine TBK1 interactions. TBK1 is a protein kinase important for immune response and regulation of apoptosis, which is the normal death of cells in an organism's development. However, I was short a few weeks due to a personal reason. Thus, I was still working on the construction process before the program ended. We tried one approach, but the sequencing result doesn't match what was expected, so modifications are to be made. Frankly, no one knows if the design would work on TBK1 in the first place. I hoped I had more time to experiment with the design, but at least my principal investigator agreed to keep me posted as the lab keeps on exploring the potential FRET expression generated by the Biosensor.
How do you hope this experience prepares you for your senior year at F&M and your plans after graduation?
It will definitely benefit me when I work in future labs, either at F&M or in graduate school. Working with a biosensor is a cool approach. I also got to learn and review a lot of traditional biomolecular techniques when constructing the biosensor. After just a few days of this research, I could already feel the ways I was being pushed out of my comfort zone. I do plan to go on to earn a doctoral degree in biology-related topics, especially neuroscience.
What made you decide to attend Franklin & Marshall?
I remember in the admission process, my interviewer was very nice and it gave me a good impression of F&M, one that has been reinforced during my time here. Another reason is that I always wanted to go to a liberal arts college. That was a great call as I have really enjoyed the sense of connection at F&M. It has a very tight-knit community.
Had you ever been in Chicago before starting your research?
Nope. One of my professors says "It's like New York City, but less pretentious." It's also much less expensive than New York! Chicago is big and lively. It can be dangerous, so I usually stayed in neighborhoods around campus where it was much safer. Despite the city's reputation for crime and violence, I didn't witness anything of the sort. During my stay, I met some amazing people, both at work and in other areas of life. And I will tell you that the Chinatown has authentic Chinese foods. Now that I have returned to Lancaster, I already am missing Chicago's people and food!
Related Articles
September 15, 2023
Student's Research Investigates World War II Mission in Germany
History and archaeology are F&M senior Gavin Vogel's twin studies of interest. This summer, he found himself immersed in both.
July 29, 2023
Students Tune Into a Cosmic Hum
A team of students search the starry skies for "cosmic clocks," part of an international research project that this week reported evidence of gravitational waves that oscillate periodically from years to decades.
July 24, 2023
Students Research Ancient Climate Through Stream Restoration
In deep long trenches that a backhoe shoveled, students collected samples from black wetland soil that has not seen the light of day for more than 300 years.