First "Campus Hour" Features Panel on Banned Books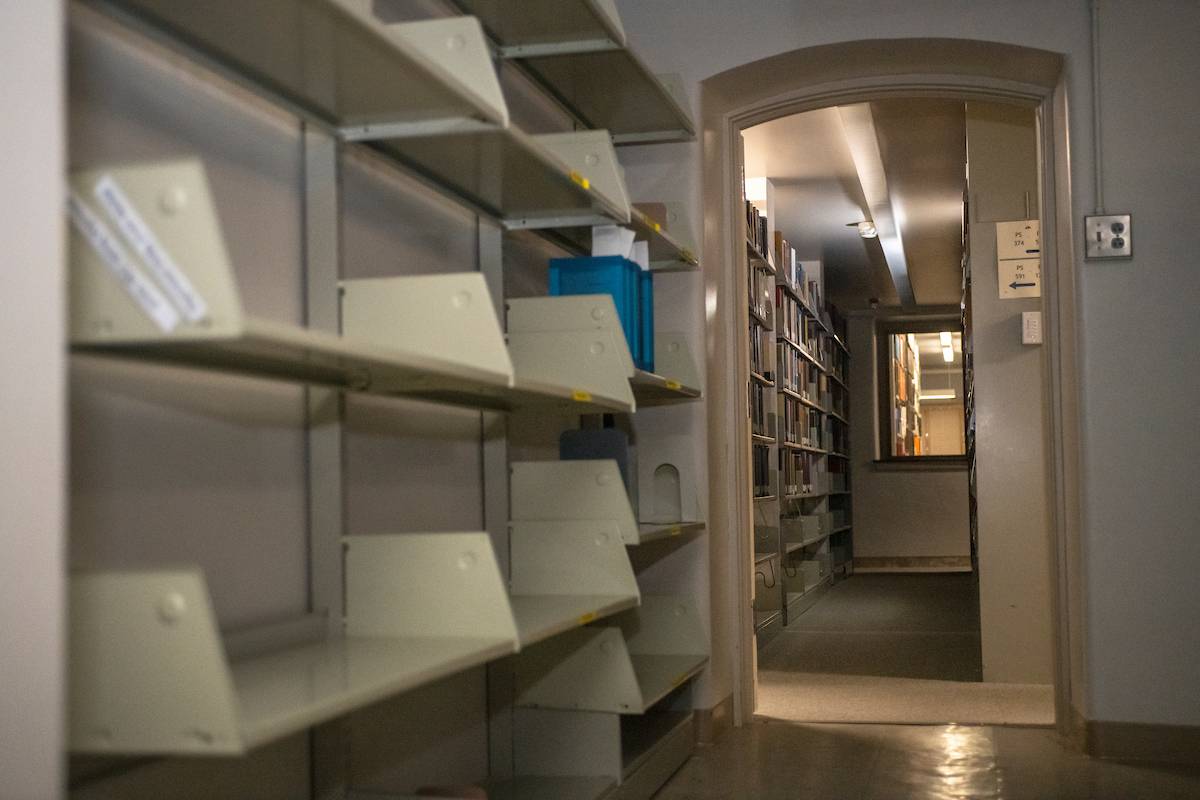 Franklin & Marshall College faculty and staff will be joined by local librarians and school board candidates at the upcoming Campus Hour discussion, "Who's Afraid of Banned Books? The Rise of Book Censorship in the U.S." The event will be held Thursday, Sept. 14, at 11:30 a.m. in Bonchek Lecture Hall.
The panel, which is co-sponsored by the Philadelphia Alumni Writers House and the College Library, follows a similar event that was held at the Writers House in April. Kerry Sherin Wright, Director of the Writers House, said the April Q&A was a valuable learning experience.
"There was a lot we didn't know about why there was an increase in banned and challenged books in the United States," Wright said. Students and participants were eager to continue the conversation, and the College Library agreed to co-sponsor a Campus Hour program.
Scott Vine, director of F&M College Libraries, hopes to share the impact of book bans with a wider audience. While the College Library receives occasional requests to remove materials, "local school districts and school boards face much more organized efforts to control what students have access to," Vine said.
Also on the panel will be Stephen Medvic, the Honorable and Mrs. John C. Kunkel Professor of Government. Medvic plans to discuss the complicated ways book bans intersect with local and national politics.
"I'm interested in the politics of banned books," Medvic said. "What's motivating the attempt to remove certain books from libraries? Is this a grassroots effort or is it organized nationally? What's the best way, again politically speaking, to respond to such efforts?"
Cindy Wingenroth, a candidate for Warwick School Board who will participate in Thursday's panel, has witnessed such efforts firsthand and was motivated to get more involved in her local school board.
"I started attending meetings and was alarmed by what I was hearing during public comments," especially by calls for book bans, Wingenroth said. She joined others who shared her concerns in running for the school board.
"We have a number of reasons we are running to protect public education in our community, but high on that list is certainly our view that public schools need to maintain a breadth of resources for our students and teachers to access," Wingenroth said.
Wright said that challenged books often include discussions of "hot-button" topics such as racism, gender identity, and social inequality. F&M students in the Writers House community worry that removing such books from school libraries makes it difficult for students from a variety of backgrounds to see themselves represented in literature.
Below, hear from some of the students who helped to plan this event about their favorite banned books and why they are passionate about this topic:
Michaela Badey
Class Year: Junior
Major: Animal Behavior
Minor: Women's, Gender and Sexuality Studies
Activities: Sexuality and Gender Studies, Book Club, F&M Vivarium
Favorite Banned Book: Looking for Alaska and The Fault in Our Stars by John Green
"This is an important issue to discuss, because I think representation is important, and a lot of the books being banned feature people of color and LGBTQ+ topics."



Teagan Durkin
Class Year: Sophomore
Major: Intended English major
Activities: Alternate HA in Weis College House, working in Shadek-Fackenthal Library, French Club, FEM&M, Epilogue, The College Reporter, LIFT Poetry Club, Book Club, Sexuality and Gender Alliance, Knittervention
Favorite Banned Book: Speak by Laurie Halse Anderson
"Banning books that tackle complex themes deprives readers of understanding and perspective on such topics. While these topics are difficult to discuss, reading about them in a safe environment creates space for necessary dialogue."


Olivia Schmid
Class Year: Senior
Major: English, Creative Writing
Activities: The College Reporter, Alpha Phi sorority, Book Club, Writers House
Favorite Banned Book: Brave New World by Aldous Huxley
"It's been great staying connected to other students and staff who are also passionate about advocating against the banning of books."




Nora/Francis Williams

Class Year: Sophomore
Major: Intended English, Creative Writing major
Activities: Writers House, LIFT Poetry Club, American Sign Language Club
Favorite Banned Book: Genderqueer by Maia Kobabe
"When we allow people in power to control what stories can be told, we are giving them free rein to decide who exists in the eyes of the public...to decide for all of us what it means to be hapy, successful and acceptable within our society."


Related Articles
September 5, 2023
Common Hour Returns with New Format
Common Hour begins Sept. 7 and will resume weekly with the addition of a new Campus Hour program.
June 2, 2023
F&M Community Gathers for Samuel N. and Dena M. Lombardo Welcome Center Construction Celebration
On May 25, approximately 100 members of the F&M community and friends of the College gathered along Harrisburg Avenue's College Square building, under a beautiful Diplomat-blue sky, to celebrate...Franklin & Marshall College offers students a hands-on education that emphasizes close relationships with faculty. Students flourish in a supportive community that treats them as an individual, and their successes continue long after F&M. The College is a national leader in launching students and alumni to opportunities where they make a difference in the community and the world.
April 18, 2023
Guns, Place and Public Health: A Conversation
As a mathematics student at Franklin & Marshall College, Charles Branas '90 never imagined he'd one day lead gun violence research cited by the Supreme Court. Now chair of the Department of...F&M alum Dr. Charles Branas Branas will lead a Common Hour titled,