As Commencement Approaches, Seniors Reflect
On May 15, the 592 students that comprise Franklin & Marshall College's Class of 2021 will depart campus — some physically, some virtually — with a perspective few preceding classes can claim.
Members of the Class of 2021 took time to reflect on their four years on campus in a series of Senior Spotlights.
"While there are events, experiences and opportunities missed due to COVID, I learned quickly that it is important to not dwell on what I am missing, but instead make the most out of what I have. This perspective applies to my senior year, and I will carry this outlook in life post-graduation," said senior Justin Kupa.
Students shared the trove of singular memories that built their collective College experience — a birthday on campus, a winning basketball shot, a late-night trip to Lyndon Diner.
"Almost every experience had some impact on me, as miniscule as it may have been," said senior Alex Malavé.
For some students, the tumult of the past year guided them to where they least expected.
"As an international student, I had decided to stay in the United States on my Optional Practical Training visa for the next year, but given the current COVID-19 crisis in India, I have decided to go back and play my part in combating the crisis. I will be doing the Teach for India fellowship," said senior Priyanka Patil.
In a world that needs Diplomats, the Class of 2021 is ready to tackle tomorrow's most pressing challenges.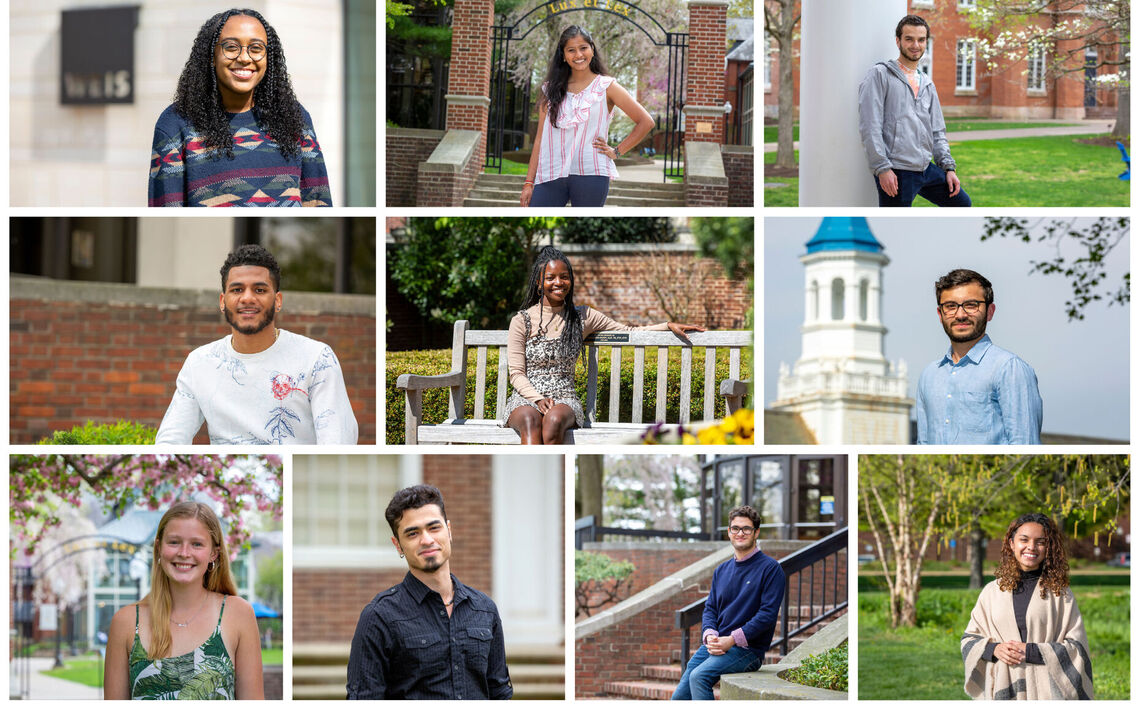 F&M Commencement Details
Franklin & Marshall's 2021 Commencement ceremony will take place at 10 a.m. Saturday, May 15, outdoors at Lancaster's Clipper Stadium.
A combination of live and virtual components will give seniors the long-awaited opportunity to hear their names announced and diplomas awarded, whether they attend in-person or virtually. The event will be livestreamed and recorded to allow anyone to view the celebration at their convenience.
The event will be held rain or shine. In the case of severe weather, the ceremony will move indoors to the Alumni Sports & Fitness Center and will be restricted to graduates only. No matter its location, the Commencement ceremony is not open to the public.
All 2021 graduates, including those who graduated early or studied remotely this spring, have been invited to participate in person or remotely via Zoom. To maintain physical distancing protocols, guest attendance is strictly limited to the graduates and their pre-registered guests only. All risk-mitigation strategies, including masking and physical distancing, will be required of all participants. College administrators continue to update the Commencement website with the latest information.
Related Articles
May 17, 2023
Dream Achieved: Williamson Medalist Nadya Ivanova '23
Nadezhda Senior Nadya Ivanova Wins the Williamson Medal, F&M's highest academic honor for students
May 15, 2023
F&M Grads Get Ready to Launch
When it comes to opportunity, don't ask yourself 'Why?' Instead, F&M celebrated 518 graduates at the Class of 2023 Commencement. Featured speakers included alum Jacob Bleacher, chief exploration scientist at NASA.
May 12, 2023
Class of 2023 Celebrates With Lux et Lex Walk
Franklin & Marshall's Class of 2023 joined together for one last journey around the pathways of campus during the Lux et Lex walk May 12. The walk began at the College's Alumni Sports &...Franklin & Marshall College offers students a hands-on education that emphasizes close relationships with faculty. Students flourish in a supportive community that treats them as an individual, and their successes continue long after F&M. The College is a national leader in launching students and alumni to opportunities where they make a difference in the community and the world.