F&M Diplomat Interns to Become U.S. Diplomat
The Franklin & Marshall student experience doesn't stop when the academic year ends. From internships in Lancaster to travel around the world and research across the country, our students continued their quest for knowledge over the summer.
Before she arrived at Franklin & Marshall College, Munahil Sultana knew she wanted to become not just a Diplomat, but a diplomat.
The junior government and international studies major from New York City says the idea of enlisting in America's diplomatic corps captured her imagination through a national program for low-income students while in high school.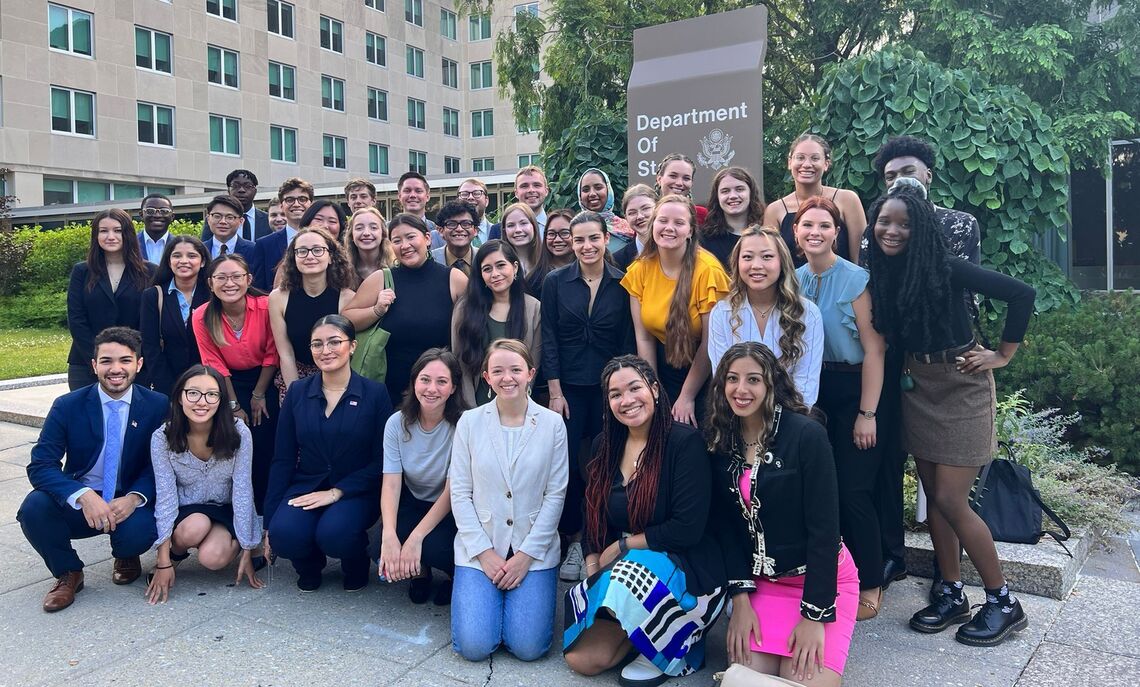 "I learned about the USFSIP [United States Foreign Service Internship] program during my senior year of high school when I was talking to a Foreign Service Officer and knew I was going to apply," Sultana says.
This summer, she enjoyed an unforgettable experience working at the State Department in Washington, D.C., which is paving the way for her future endeavors.
"The USFSIP program is unique because our internships are categorized as temporary, full-time positions; this means that I was not treated as an intern— but rather was treated as a federal employee," she says.
How does your internship relate to your academic studies and post-graduate plans?
At F&M, I am completing a joint major in government and international studies with a minor in women's, gender and sexuality studies. In many ways, this was the perfect internship! I was able to find an intersection among both my majors and my minor and develop my professional skills at the federal level. While international studies is offered as a joint major or minor at F&M, I craved the foreign policy experience that can only be learned outside of the classroom. I chose to intern at the U.S. Department of State because I wanted to learn more about U.S. interests abroad and understand the functionality of programs within the foreign assistance budget.
After graduation, I plan to earn my master's degree in international relations, understanding foreign policy with a specific focus on gender and sexuality studies, before returning to the U.S. Department of State as a Foreign Service Officer. The USFSIP Program allows me to intern in the U.S. Department of State for two consecutive summers, experiencing both domestic work and overseas. I am excited for my overseas tour next summer and cannot wait to work at an embassy or consulate abroad!
How did you learn about the internship opportunity? How did you express interest in it?
I have always known that I wanted to be a diplomat. That's partly why I was so excited to come to F&M — to become an F&M Diplomat! But as my sights set on the international scale, I started searching for opportunities to intern. In my junior year of high school, I was awarded the Alexander Hamilton Scholarship, which selects 35 students nationally for a five-year program for high-achieving low-income high school juniors and offers personal and professional development for scholars. This opportunity provided me with a massive network of alumni who worked in fields ranging from medicine to public service. I learned about the USFSIP program during my senior year of high school when I was talking to a Foreign Service Officer and knew I was going to apply.
During my first two years at F&M, I worked at the U.S. Department of Interior, Capitol Hill with the U.S. House of Representatives, the Alexander Hamilton Scholars and Students for Justice. These various opportunities, combined with my prior experience at the New York State Assembly, provided me with a framework of understanding for local, state and federal policy and allowed me to obtain a security clearance. Having this prior experience prepared me to work at the U.S. Department of State and be treated as an employee, not as an intern. The USFSIP program is unique because our internships are categorized as temporary, full-time positions; this means that I was not treated as an intern, even as an undergraduate student, but rather was treated as a federal employee.
What specifically are you doing in the internship?
I worked with the secretaries of Global Women's Issues (S/GWI) with the Gender-Based Violence and Cross-Cutting Issues (GBV-CC) team on several projects. While much of the work that I am doing will be rolled out in the next few months, one of the most memorable experiences I had was participating in the Trilateral Working Group (TWG) for Violence Against Indigenous Women with leaders from Canada and Mexico. The TWG had several interagency counterparts, including the U.S. Department of Defense and the U.S. Department of Interior, and included members of civil society and indigenous leaders from the U.S., Canada and Mexico. During my time at S/GWI, I also met with leaders from the International Visitors Leadership Program (IVLP), sponsored by the Bureau of Educational and Cultural Affairs (ECA), and discussed relevant concerns of gender-based violence within those countries. I worked specifically on conflict-related sexual violence (CRSV) and drafted relevant country profiles that will be used in upcoming U.S. Department of State training this fall. I consistently met with interagency counterparts to discuss our Global Gender-Based Violence (GBV) Strategy and reported to S/GWI on current updates regarding GBV and CRSV.
How did you find out about F&M? What made you apply?
I applied to F&M as an Alexander Hamilton Scholar. An admissions counselor from F&M visited our cohort and raved about the unique experience of F&M students. I wanted to have a close-knit college experience and wanted to go to an institution where I would not be in debt. As a first-generation, low-income woman of color, financial stability was one of the most important factors when making my college decision. F&M allowed me to get the education I deserve at a price that I can afford. While my time at F&M has been heavily influenced by the COVID-19 pandemic, the opportunities provided to me by this institution, both inside and outside of the classroom, have crafted me into the young professional that I am. I am thankful for the myriad professors who have invested their time and energy in me, as well as the support system that keeps me standing.
Specifically, the Office of Fellowships at F&M, which is spearheaded by Professor Monica Cable, has been of instrumental support to me during these past few years and has allowed me to gain invaluable experience outside of the classroom. With her help, I have been selected as an International Leadership Foundation Fellow, Conference on Asian-American Pacific Leadership Scholar, Islamic Scholarship Fund Scholar, Harvard Kennedy School Public Policy Leadership Conference Scholar, Public Policy and International Affairs Scholar, Benjamin A. Gilman Scholar, Boren Award Alternate, and Critical Language Scholar. These opportunities truly are a result of the hard work of the Office of Fellowships as well as the mentorship and guidance of several professors at F&M.
Related Articles
September 21, 2023
Exploring Theater as a Tool for Social Change, Education, and Awareness
Aviva Katz '24, a government and theatre joint major, discusses how F&M's Diversity and Equality in Education Certificate is helping her along her path toward a career in educational theater.
August 21, 2023
Genesis Familia: Raising Others Through Philanthropy
For most, home is the place where they are raised. For Genesis Familia, it is also the place to give back by raising others. This summer, the Posse Scholar returned to New York City for an internship with Bloomberg Philanthropies in human resources and management. In addition to her overseeing managerial duties, Familia also contributed to hands-on philanthropic efforts.
August 16, 2023
Closing the Gender Gap in Finance
Kriti Krishna '18 and Lia Tavarez '20 are working together to make investments more accessible for female entrepreneurs through HearstLab, a a venture fund for women-led startups.