F&M Senior Explores 'Core Spirit' of Today's Engineering Studies
The Franklin & Marshall student experience doesn't stop when the academic year ends. From internships in Lancaster to travel around the world and research across the country, our students continued their quest for knowledge over the summer.
In typical Franklin & Marshall fashion, Yusong (Sebastian) Deng '24 of Liaoning, China, has a wide variety of academic interests.
"My current interests are robotics, complex-system optimization and space-system engineering," he said.
This summer, the mathematics major explored a project he called the "core spirit" of today's engineering studies: engineering for humanity. Deng spent his summer working as a student researcher in the School of Applied Science and Engineering of Columbia University in New York.
Deng shared how his summer experience is preparing him to take his next step: a doctoral degree in engineering.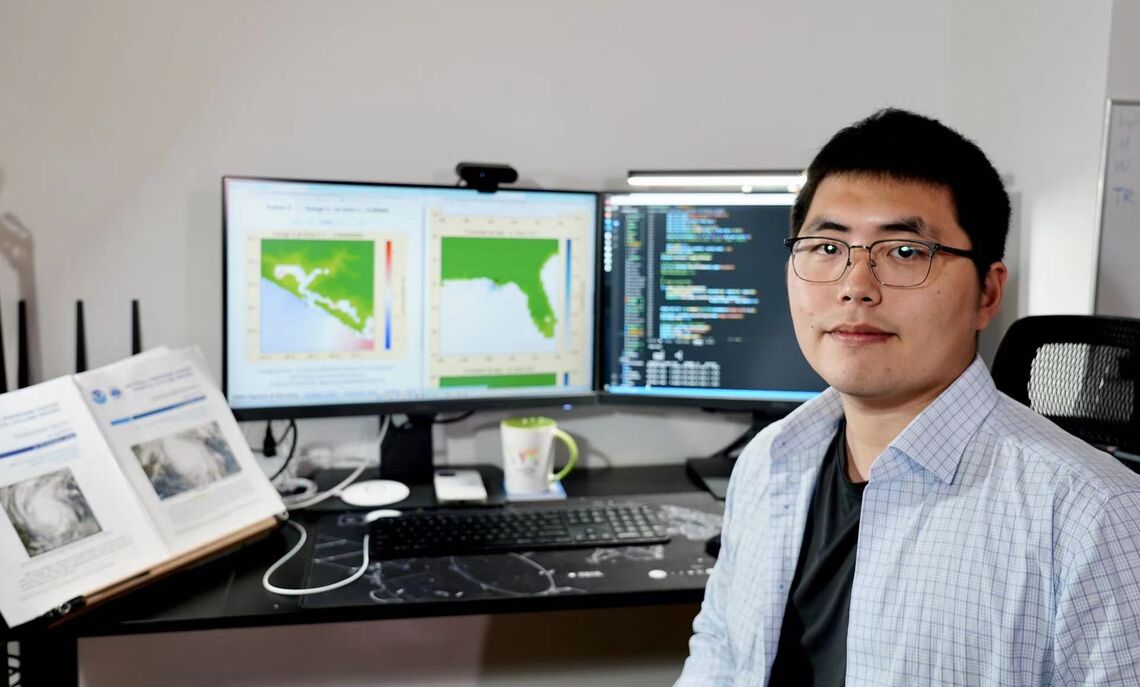 Tell us about your summer experience.
I corresponded with about 10 students on a project about coastal flood validation. Our work focused on verifying the current model of the giant shallow water system and its dynamics. Specifically, we were interested in the storm-surge effect that comes with a hurricane. The storm surge is the abnormal water rise created by storm systems, here specifically the hurricanes.
What inspired you to take on this experience?
I am interested in this research group since the group perfectly represents the core spirit of today's engineering studies, which is engineering for humanity. Almost 50% of the human population is living within a few miles of a coastal line. With the speeding trend of global warming, extreme weather systems such as Category 5 hurricanes have been occurring with rising frequency. The floods and correlated hazards have become big threats to properties and lives. Understanding the mechanism and dynamics of the weather systems helps us prepare for the future better.
Has anything about this experience surprised you?
I worked in a group with about 10 other students under the supervision of one faculty member. This is an experience very different from the research experience at F&M. At F&M, the research experience is more like a blended learning, exploring and internship experience. Students at F&M work closely with the faculty and get lots of time from the faculty to instruct them on their technical skills and research directions. However, at Columbia, our team was a range of students from undergraduates to doctoral students. People worked in very different parts of the program. And there was very little time for you to learn and practice. The key expectation from your supervisor and teammate was that you can finish the mission on time so that the program progresses as a whole.
What are your post-graduation goals?
I will pursue a doctoral degree in engineering. Eventually, I am looking forward to pursuing a position of professor in the higher education system.
Related Articles
September 15, 2023
Student's Research Investigates World War II Mission in Germany
History and archaeology are F&M senior Gavin Vogel's twin studies of interest. This summer, he found himself immersed in both.
September 5, 2023
Common Hour Returns with New Format
Common Hour begins Sept. 7 and will resume weekly with the addition of a new Campus Hour program.
August 21, 2023
Genesis Familia: Raising Others Through Philanthropy
For most, home is the place where they are raised. For Genesis Familia, it is also the place to give back by raising others. This summer, the Posse Scholar returned to New York City for an internship with Bloomberg Philanthropies in human resources and management. In addition to her overseeing managerial duties, Familia also contributed to hands-on philanthropic efforts.