"Professional Daydreaming" with Poet Gabrielle Calvocoressi
Inspiration can be gleaned from simply sitting and pondering, says poet Gabrielle Calvocoressi, this year's Franklin & Marshall Hausman lecturer and self-proclaimed "professional daydreamer."
"Sooner or later, it will find its way into a poem," says Calvocoressi, winner of the Audre Lorde Award for Lesbian Poetry.
Calvocoressi will deliver an Oct. 3 public reading and Oct. 4 master class at F&M, both open to the public (see schedule below).
What can audiences expect from the poet's master class?
"A great conversation. Adventure. A chance to write and talk and make stuff," says Calvocoressi, author of "The Last Time I Saw Amelia Earhart," "Apocalyptic Swing" (a finalist for the LA Times Book Prize) and "Rocket Fantastic."
"It's autumn. The gate of the year is starting to close. So we'll think about what we want to hold onto and what we want to let go of. And how each can be a gift to us as poets, artists, thinkers and people."
Below, read our Q&A with Calvocoressi.
Hausman Lecture Schedule
Oct. 3:

Public reading, Q&A, book signing (Barshinger Center, 8-10 p.m.)

Oct. 4:

Master Class (

Writers House, 4:30-5:30 p.m.)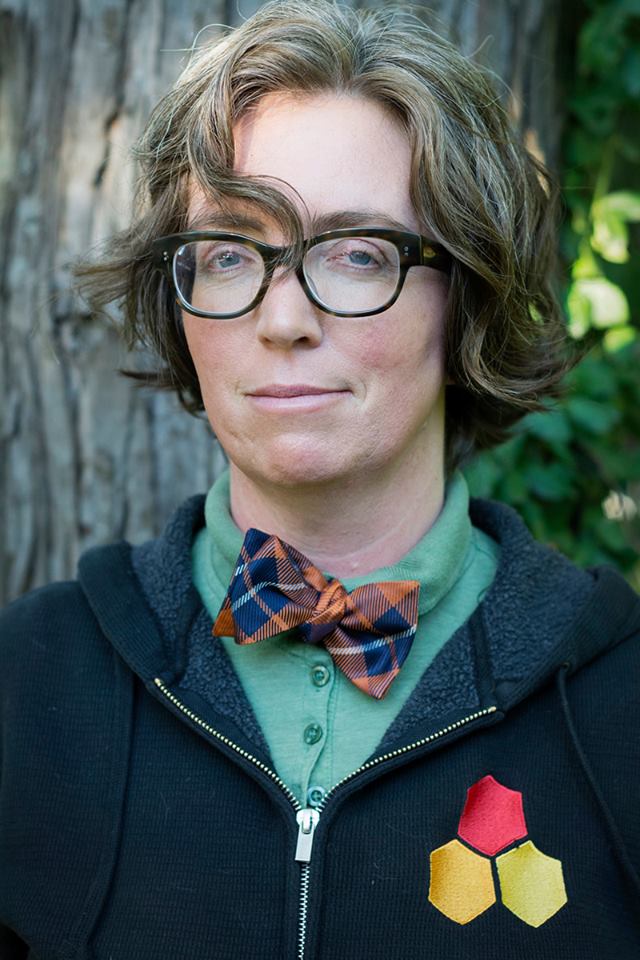 At what point in your life did you decide you wanted to be a poet?
I think I really started understanding a life in poetry, as a poet, was possible once I got to college. Like F&M, Sarah Lawrence [College] was a place where poetry was taken really seriously and where there were extraordinary professors who were at exciting places in their careers. Watching Mark Doty, Marie Howe, Michael Klein and others teach us about poems while also making their own essential work, giving readings, publishing books… Wow, it was so inspiring. I'd been writing poems since I was 13. But that was the place where I thought, "Oh, this could be a full life."
Your website bio states that "joy, compassion and social justice" are at the center of your personal and poetic practice. How do you achieve that balance?
Well, I spend so much time making poems. And the risk can be that my whole life is spent at my desk making a world. And, as a result, not living in the world. And yes, poems are about world-building (I think). But also, what's a poem if it isn't reflecting back the actual sky, the actual plants in the garden, the true and specific and fixable (if we look hard enough and work hard enough) suffering of others? It's easy to work with words and make it all dreams. All bounty and joy. But joy actually comes from knowing grief and sorrow and making a way into it and then growing.
I think of poets like Ross Gay, Nikky Finney, Ada Limon and Oliver Baez Bendorf. These are all poets that help me see what my poems can truly do in the world. They can help me not just put my queer shoulder to the wheel (as Allen Ginsberg says), they can help me explain the wheel, make the wheel clear to the world. I don't think I find the balance every day. But I do think being committed to being a person in the world as opposed to just a person at my desk is a first step.
Are there other writers, artists or muses you also look to for inspiration?
The folks I just mentioned. I am such a huge fan of CAConrad and Hoa Nguyen and Brian Teare as well. And I'm also inspired by the beekeeper, Justin, who comes to our house and teaches about our hive. I'm inspired by my partner Angeline, who helps people feel better in their bodies. I'm inspired by my students who make poems and try to find a path in life that fulfills them and that makes a difference. I find inspiration in so many places. It's a balm.
If you don't mind divulging, tell us a bit about your writing process.
Gosh. Well, I'm a professional daydreamer. I really do just sit outside or go for long walks and dream. And see what comes into me and then sooner or later, it will find its way into a poem. I love to read. I need to read. I just finished an amazing fellowship at Harvard where about six hours of my day was just sitting in my beautiful office reading. Poems come from that and also just a wider world of knowledge. At some point, I sit down to the page. And then I write horrible draft after horrible draft. And I love that! I love that process of just being a beginner, always. After that, I take the tools I have and have found in books and in conversations with other writers and I become the craftsperson. I start to add or chip away. I walk around the poem in my mind. I listen and use my schooling and my mastery (of sorts) to help the vessel of the poem
What advice do you have for aspiring student poets?
Be open. Whatever that means to you. Be open. In ways you aren't used to being. Think about boundaries and what you love and what feels unsayable to you. How can those things work together as a way to make an architecture manifest in a poem?
Be kind to each other. Be rigorously compassionate, which isn't the same as just liking everything (Though also liking everything as a way in isn't a terrible way to enter a poem... it can be an amazing thing to criticize or fix or help a poem from a space of kindness. The winnowing can be more nuanced that way). Be honest about what's hard to be honest about.
Be really loving to yourself. It's so hard to do. And to figure out what that means. But it's a way of thinking about your poetics.
Related Articles
November 16, 2023
Young Alum Shines Light on LGTBQ Global Rights
Erin Hallenbeck's Franklin & Marshall degree has taken her as far as the U.K. and the Netherlands. But today, the 2017 grad is making a global impact right from campus.
September 7, 2023
Microgrants Fund Student Passion Projects
Writers House microgrants enabled six F&M students to explore passion projects aligned with their fields of study this summer.
August 4, 2023
Young Alum Startup Merges Art and Economics
Mark Marotta '21 launched Amparo in his senior year at F&M, a web platform for emerging and established fine artists to display original paintings in a virtual stage setting.