Senior Spotlights: 'My journey here has granted me a family'
For Nick Ross, it's the Phi Kappa Sigma house. For Nicolás David Cortez, it's the Office of Diversity, Equity, and Inclusion. For Josary Valeiron, it's Martin Library.
With Commencement fast approaching, seven Franklin & Marshall College seniors shared their most meaningful space on campus.
They're among the 560 students that will gather one final time during the 2022 Commencement ceremony May 14.
Some will pursue master's degrees. Some are awaiting Fulbright assignments. Some will be the first in their family to graduate.
"I enjoyed how much I grew to appreciate those around me and how important it was to create a community. I connected with many exceptional other first-generation students, students of color, and LGBTQ+ students," said Cortez, who will graduate with a major in American studies and a minor in Latinx/Latin American studies.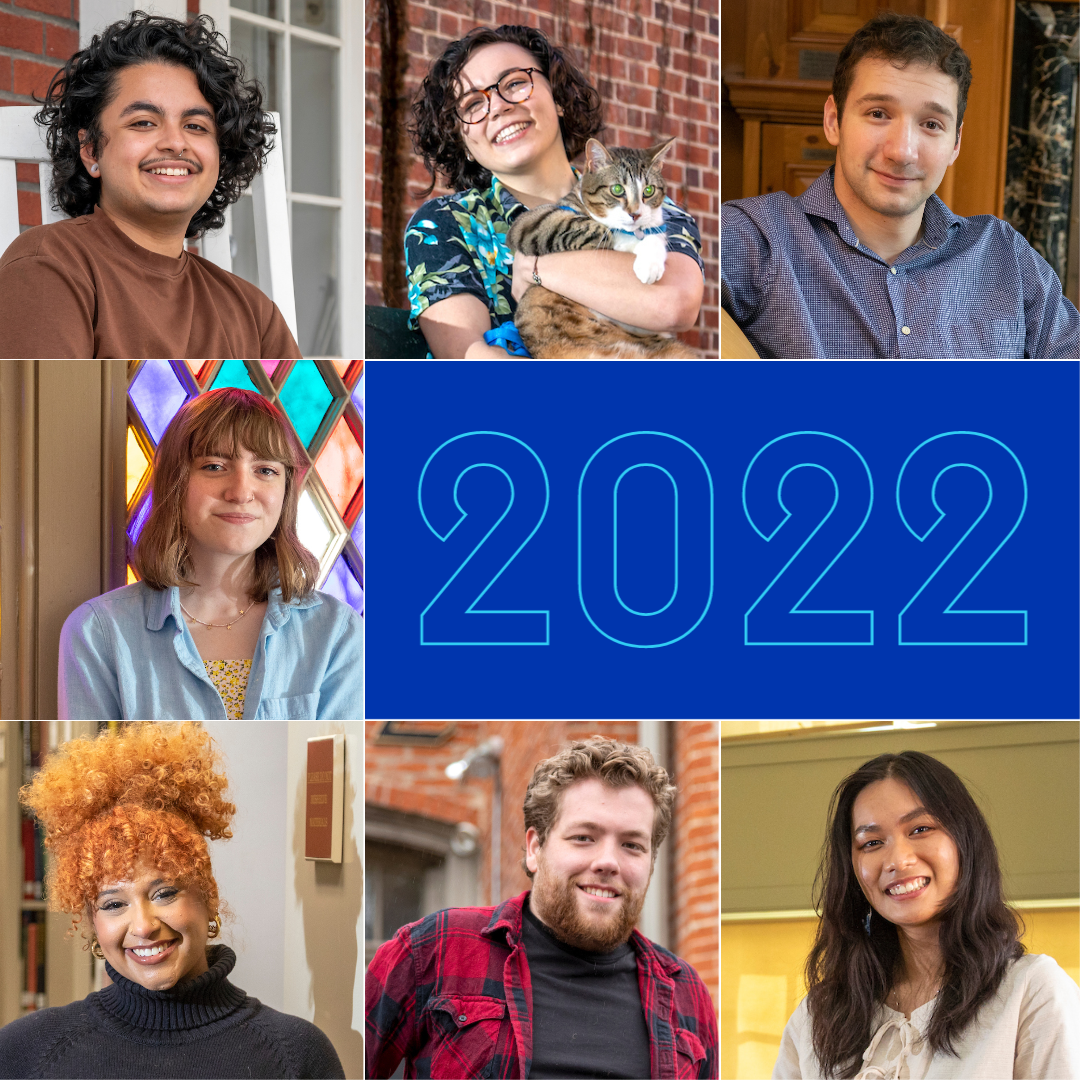 While students will depart campus physically, the relationships forged at F&M will stay with them for a lifetime.
"My journey here has granted me a family I know I can rely on in the near future, which I am beyond grateful for," said Valeiron, who anticipates a career in public health.
"My professors provided strong advocacy on my behalf and true friendship. I am confident in moving forward after F&M because I know that they will continue to support me in all of my work," said Lydia Shaw, an English literature and American studies double major.
While Shaw is uncertain about post-graduation plans, she knows she can count on the Diplomat network.
"What I do know is that I will be in New York City — there is an F&M alum community waiting for me there, too," she said.
F&M Commencement Details
Franklin & Marshall's 2022 Commencement ceremony will take place at 10 a.m. Saturday, May 14, indoors at the Alumni Sports & Fitness Center. Guest attendance is strictly limited to the graduates and their pre-registered guests only.
The event will be livestreamed and recorded to allow anyone to view the celebration at their convenience.
Related Articles
May 17, 2023
Dream Achieved: Williamson Medalist Nadya Ivanova '23
Nadezhda Senior Nadya Ivanova Wins the Williamson Medal, F&M's highest academic honor for students
May 15, 2023
F&M Grads Get Ready to Launch
When it comes to opportunity, don't ask yourself 'Why?' Instead, F&M celebrated 518 graduates at the Class of 2023 Commencement. Featured speakers included alum Jacob Bleacher, chief exploration scientist at NASA.
May 12, 2023
Class of 2023 Celebrates With Lux et Lex Walk
Franklin & Marshall's Class of 2023 joined together for one last journey around the pathways of campus during the Lux et Lex walk May 12. The walk began at the College's Alumni Sports &...Franklin & Marshall College offers students a hands-on education that emphasizes close relationships with faculty. Students flourish in a supportive community that treats them as an individual, and their successes continue long after F&M. The College is a national leader in launching students and alumni to opportunities where they make a difference in the community and the world.