Speaker Argues for Dual Language Education So No Child Is Left Monolingual
Although 31 states have declared English as their native tongue, and roughly 21 percent of the population is, at various degrees, bilingual, the United States has no official language. Meanwhile, 75 percent of the world's 7.7 billion people do not speak English.
That, according to Kimberly Potowski, professor of Spanish linguistics in the Department of Hispanic & Italian Studies at the University of Illinois at Chicago, reflects a problem with American education policy, particularly considering an estimated 60 percent of the world's population is bilingual or multilingual.
To emphasize her points, Potowski sprinkled Spanish sentences throughout her lecture at the Feb. 6 Common Hour, a community discussion conducted every Thursday classes are in session.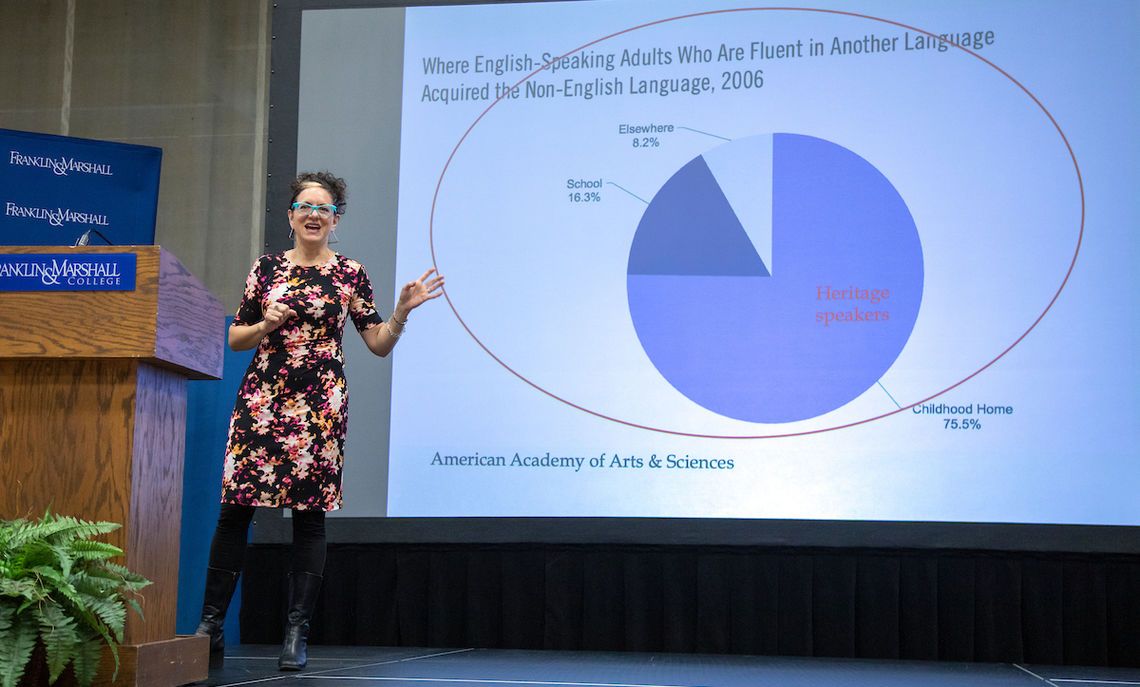 Considered a "gamechanger" is the linguistics field, Potowski cited as an example a young student named Joaquin who arrives at school speaking his family's heritage language.
"So what happens to a kid like Joaquin?" she said. "When a kid like Joaquin shows up to a U.S. public school and the school has determined his English is not strong enough to go into a main-stream classroom, what typically happens is our policy is to erase his beautiful heritage, his beautiful Spanish—whatever he speaks, our policy is to erase."
Moreover, Potowski said, American children raised solely on English, are not provided the opportunity to learn a second language until high school when studies have confirmed that the critical time to more effectively gain proficiency in a second language is between preschool years and age 8.
"We start too late," she said.
The author of 12 books, including "El español de los Estados Unidos" (Spanish from the United States), Potowski is a fierce advocate for dual language education to promote bilingualism and academic achievement. With charts and graphs, she demonstrated that the program produces higher test scores in student language comprehension and reading.
"Human beings are meant to be multilingual," Potowski said.
Related Articles
September 13, 2023
First "Campus Hour" Features Panel on Banned Books
Franklin & Marshall College faculty and staff will be joined by local librarians and school board candidates at the upcoming Campus Hour discussion, "Who's Afraid of Banned Books? The Rise of Book Censorship in the U.S." The event will be held Thursday, Sept. 14, at 11:30 a.m. in Bonchek Lecture Hall.
September 5, 2023
Common Hour Returns with New Format
Common Hour begins Sept. 7 and will resume weekly with the addition of a new Campus Hour program.
May 17, 2023
Dream Achieved: Williamson Medalist Nadya Ivanova '23
Nadezhda Senior Nadya Ivanova Wins the Williamson Medal, F&M's highest academic honor for students