Student's Research Investigates World War II Mission in Germany
History and archaeology are Franklin & Marshall senior Gavin Vogel's twin studies of interest, and for six weeks this summer, he found himself immersed in both.
In Germany's Black Forest, Vogel worked with an archaeological research team, uncovering wreckage and possible remains from an American B-17G Flying Fortress, a nine-crew member bomber that crashed there in 1944.
"I thought it was a great research project because we worked with the DPAA (Defense POW/MIA Accounting Agency) on a recovery mission, trying to find American airmen," Vogel says.
More than 72,000 Americans who served in World War II remain unaccounted for, including many in Europe, according to DPAA.
"DPAA does a number of missions every year," the history and anthropology joint major says. "This summer they were doing a mission in Italy to find downed airmen, we had our mission in Germany, and there were missions in Vietnam."
Two Indiana University of Pennsylvania anthropology professors led the research team of 14 students from various universities. Vogel was F&M's sole student. The work entailed using ground-penetrating radar to locate artifacts and setting up an archaeological survey of the area.
"We did some digging," he says. "We were lucky enough to work with some residents, the former state archaeologist who provided us with key and pivotal details about the crash, and a couple of foresters who worked in the forest–their metal detector helped us locate where to dig."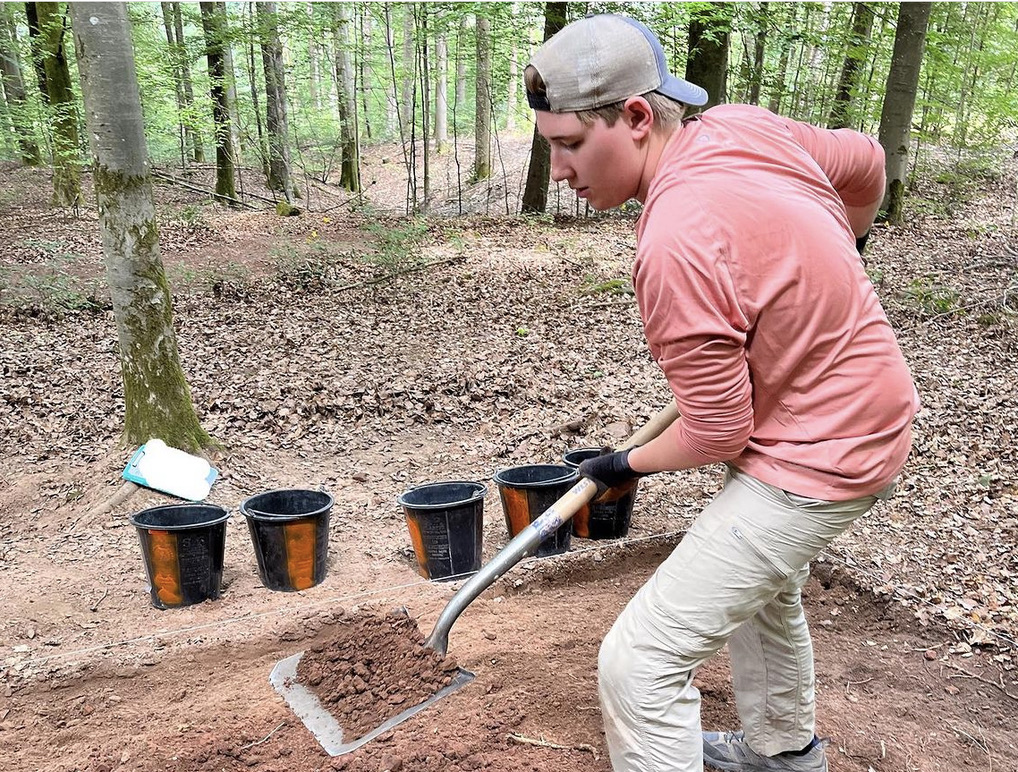 The research team also studied data from a past excavation to help them determine where to dig. While the team's excavation was successful, information about exactly what was discovered is confidential.
"We were told not to say anything until information was released," he says.
Vogel discovered the summer research project on the American Anthropology Association website.
"It was right up my alley," he says. "I absolutely love studying the world wars, the 20th century, and the evolution of technology between the two world wars."
Although the work was hard and the days long, Vogel says he's found his life's passion.
"I knew it would be a lot of work. It was a lot of work, and I didn't think I would enjoy it at all, but I'm now looking at employment opportunities with the DPAA," he says. "I got a lot of recommendations about what to do next just by talking to the TAs (teaching assistants), professors and F&M advisers."
Related Articles
September 7, 2023
Microgrants Fund Student Passion Projects
Writers House microgrants enabled six F&M students to explore passion projects aligned with their fields of study this summer.
August 10, 2023
F&M Faculty Uncover History of Underground Railroad in Lancaster
A historic home in downtown Lancaster is being turned into a museum by LancasterHistory, thanks in part to contributions by Franklin & Marshall College faculty.
July 29, 2023
Students Tune Into a Cosmic Hum
A team of students search the starry skies for "cosmic clocks," part of an international research project that this week reported evidence of gravitational waves that oscillate periodically from years to decades.