The Complicated History of the Women's Suffrage Movement 100 Years Later
This year is the centennial mark for ratification of the 19th Amendment that granted women the right to vote, but the celebration is more complicated, said Ann Gordon, Rutgers University research professor emerita and editor of the Elizabeth Cady Stanton & Susan B. Anthony Project.
That complication was expressed in the introduction of the professor by two students of color at the Feb. 27 Common Hour, a community conversation conducted every Thursday classes are in session during the semester.
"Today, Ann Gordon will be helping us commemorate the 100th year anniversary of the 19th Amendment, granting white women the right to vote," Coral Bello '20 said. "Though this is something to celebrate, Dr. Gordon will take us through the complicated landscape behind this historic milestone."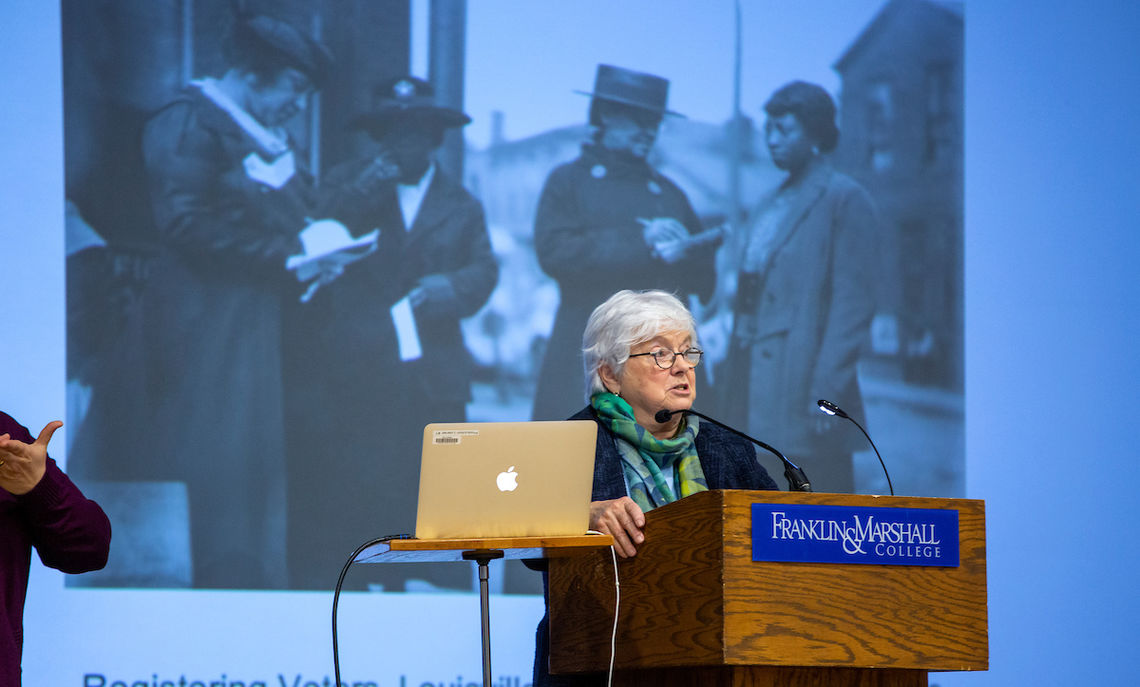 Gordon called the success in achieving women's right to vote a "complicated win for women" because women of color, who also fought, found themselves having to battle the social and institutional practices of disenfranchisement and racism to exercise what was already granted.
She flashed one image taken in 1920, a presidential election year, of African American women registering other women to vote, and another of voters waiting outside a Denver polling place, many of them women. Gordon said, "These are very hopeful images. New rights were put into practice right away, in this case, by African American women."
However, Gordon said, "the Amendment could not be in place to protect these women from losing their suffrage for reasons other than sex—for failing to properly interpret the state constitution, for example, or lacking the proof that they paid their property taxes. ... [T]he Amendment did not touch the creative ways to block voting."
She recounted the many ways women fought to get the right to vote including, in one New Jersey precinct, keeping an empty crate with a slit on the lid at the polling station and dropping in their ballots every election, knowing they would never get counted.
But "race and voting rights are never far apart," Gordon said. White women in Southern states, for example, declined to pursue the right to vote to protect white supremacy, she said.
When the time came to celebrate their newly won right to vote with a march down Pennsylvania Avenue in Washington, D.C., women of color were sidelined in the elegant parade.
"Back behind the scenes, there had been a terrible row when African American women expected to march with other women from their state or their profession or their sorority and were ordered into a segregated section of the parade that would not offend the white Southern women who were marching," Gordon said. "To this day, there are dueling histories of that parade; it figures large in both white histories and black histories."
No less an issue arose with the monument to women's suffrage that will be unveiled in New York City this summer. Initially, it featured the likenesses of Stanton and Anthony, but critics argued that another likeness was missing: Sojourner Truth, an African American abolitionist and also a women's rights pioneer.
When the monument is unveiled, Truth will have joined Stanton and Anthony.
"For celebration, we need history that recognizes in the 19th Amendment the fundamental change in government, eliminating the presumption that men had a right to govern for women," Gordon said. "Three generations of women sought that change before 1920, and more generations afterward fought on to win voting rights for female citizens in Puerto Rico, for African American women, for native Americans, for Asian Americans... their efforts were powered by a political awakening."
Related Articles
September 21, 2023
Exploring Theater as a Tool for Social Change, Education, and Awareness
Aviva Katz '24, a government and theatre joint major, discusses how F&M's Diversity and Equality in Education Certificate is helping her along her path toward a career in educational theater.
September 15, 2023
Student's Research Investigates World War II Mission in Germany
History and archaeology are F&M senior Gavin Vogel's twin studies of interest. This summer, he found himself immersed in both.
September 13, 2023
First "Campus Hour" Features Panel on Banned Books
Franklin & Marshall College faculty and staff will be joined by local librarians and school board candidates at the upcoming Campus Hour discussion, "Who's Afraid of Banned Books? The Rise of Book Censorship in the U.S." The event will be held Thursday, Sept. 14, at 11:30 a.m. in Bonchek Lecture Hall.