Working With a Protein Inhibitor Gone Awry
Nanoscopic science can be tricky. When things don't go as planned science researchers must adapt, which is what one Franklin & Marshall College student, at work in the lab on a protease inhibitor inserted into a protein, has learned.
Christian Bogardus, a junior biochemistry and government major, attached to the protein a small compound previously used in F&M's labs. It is called CBSF, a novel protease inhibitor with a vibrational reporter. It would allow him to study the environment of a particular area of the protein.
"Proteins are nanoscopic, so we can't use a light microscope to see them. Instead, we use infrared spectroscopy and mass spectrometry to obtain information on the structure of our proteins of interest," he said. "These instruments don't give us an actual image, but they give us the properties that allow us to understand what's going on in the protein."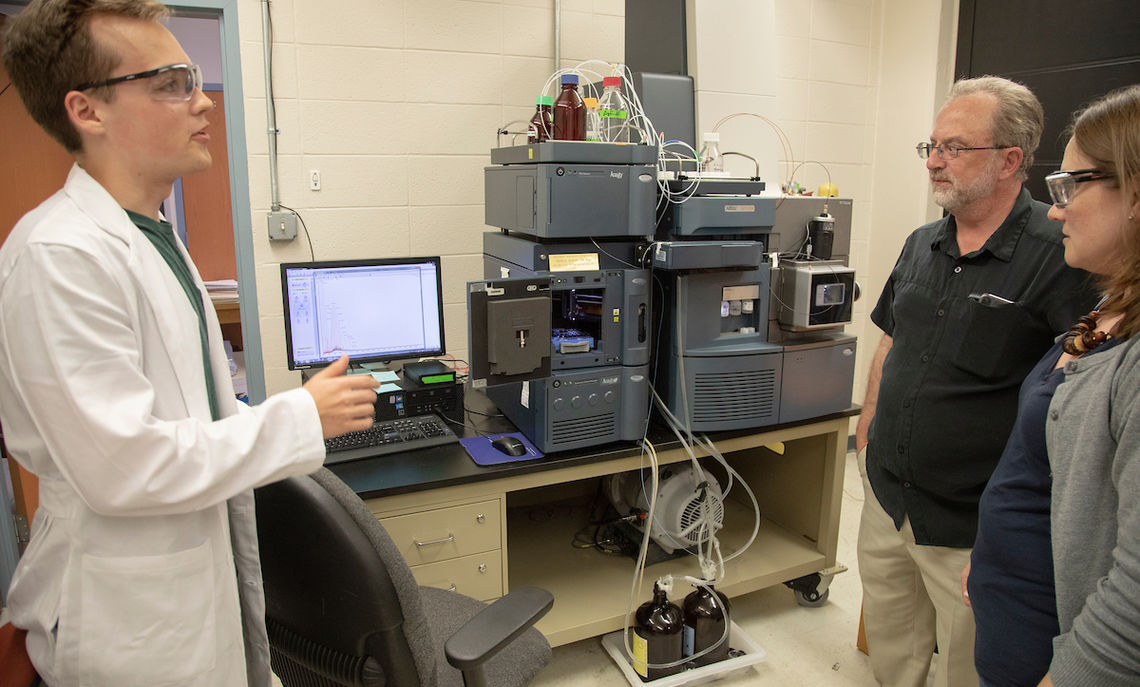 The CBSF molecule contains a nitrile group that's not present anywhere else in a normal, unmodified protein. This group emits a specific signal in the quiet sector of the infrared spectrum, which inspired earlier work with the molecule. Researchers could look at the local hydration environments at protease active sites.
A collaboration of F&M chemistry professors led by Ed Fenlon, department chair, spearheaded the work with the students, Maggie Luo '18 and Christopher Eaton '18. They incorporated CBSF into a number of protease enzymes. With infrared spectroscopy, the students observed how light interacted with the compound, which informed them about the local sites where CBSF bound.
However, the CBSF compound did not cooperate as expected; in addition to binding the active site of the protein it attaches to other amino acids in the protein. Part of Bogardus' research is to characterize the extent the CBSF binds at the active site and at other sites on the protein. An inhibitor that binds at other sites becomes problematic; it can change the protein's function with negative consequences.
"Unfortunately, our inhibitor doesn't just bind at that active site, it's actually binding to serines on other parts of the protein as well," said Associate Professor of Chemistry Christine Phillips-Piro, one of the collaborators on the CBSF molecule. "It's not a great inhibitor because it's not going to be specific to the active site, which is what we wanted."
To adapt, the researchers used crystallography — a technique to obtain a 3-D image of the protein — to show where the inhibitor is binding.
"Christian's work is going to parallel the earlier crystallography studies in being able to confirm where the protein is being modified, and by how much," Phillips-Piro said. "This allows us to draw connections between two really powerful techniques — protein X-ray crystallography and mass spectrometry — in a kind of unique and creative way."
"We're doing basic science, but this definitely feeds into bioengineering and protein engineering and biomedical research," she said. "A lot of this is transferable in that way."
Bogardus plans to attend medical school, but Phillips-Piro's chemistry lab taught him something more.
"She really drove me to look further into chemistry, and I just love it," he said. "I have a passion for medicine, but I also really like proteins; it's just so crazy how you can have these little tiny amino acids make up pretty much all the unique functions of a living person."
Related Articles
September 15, 2023
Student's Research Investigates World War II Mission in Germany
History and archaeology are F&M senior Gavin Vogel's twin studies of interest. This summer, he found himself immersed in both.
July 29, 2023
Students Tune Into a Cosmic Hum
A team of students search the starry skies for "cosmic clocks," part of an international research project that this week reported evidence of gravitational waves that oscillate periodically from years to decades.
July 24, 2023
Students Research Ancient Climate Through Stream Restoration
In deep long trenches that a backhoe shoveled, students collected samples from black wetland soil that has not seen the light of day for more than 300 years.