Be Ready for the Nov. 7, 2023 Municipal Election
Polls are open on election day from 7 a.m. - 8 p.m.

Last day to register to vote: October 23, 2023

Last day to request a mail-in or absentee ballot: October 31, 2023
F&M Library's Voter Resource Guide
F&M Student Polling Location
Why F&M Votes
Young people aged 18-24 vote less (have a lower rate of voter turnout) than any other age group. F&M Votes seeks to turn that fact on its head.
In 2012, for instance, F&M Votes registered (for our precinct) 1126 students, or 55%, of students (eligible U.S. citizens) who were on-campus that fall. 985 students, or 87% of those who registered, actually voted on November 6 at the on-campus polling site. We sought to get a better, more quantifiable picture of our success at getting F&M students to vote in 2012 by conducting a survey of F&M students to get an approximation of how many voted absentee. Combining that absentee rate with the local, in person electoral records gave us an effective total voting rate of 67%.
Student Voting: A Guide
Check out this handbook created by F&M Votes for similar campaigns on other campuses; includes info on laws, guidelines and best practices to Get Out the Vote.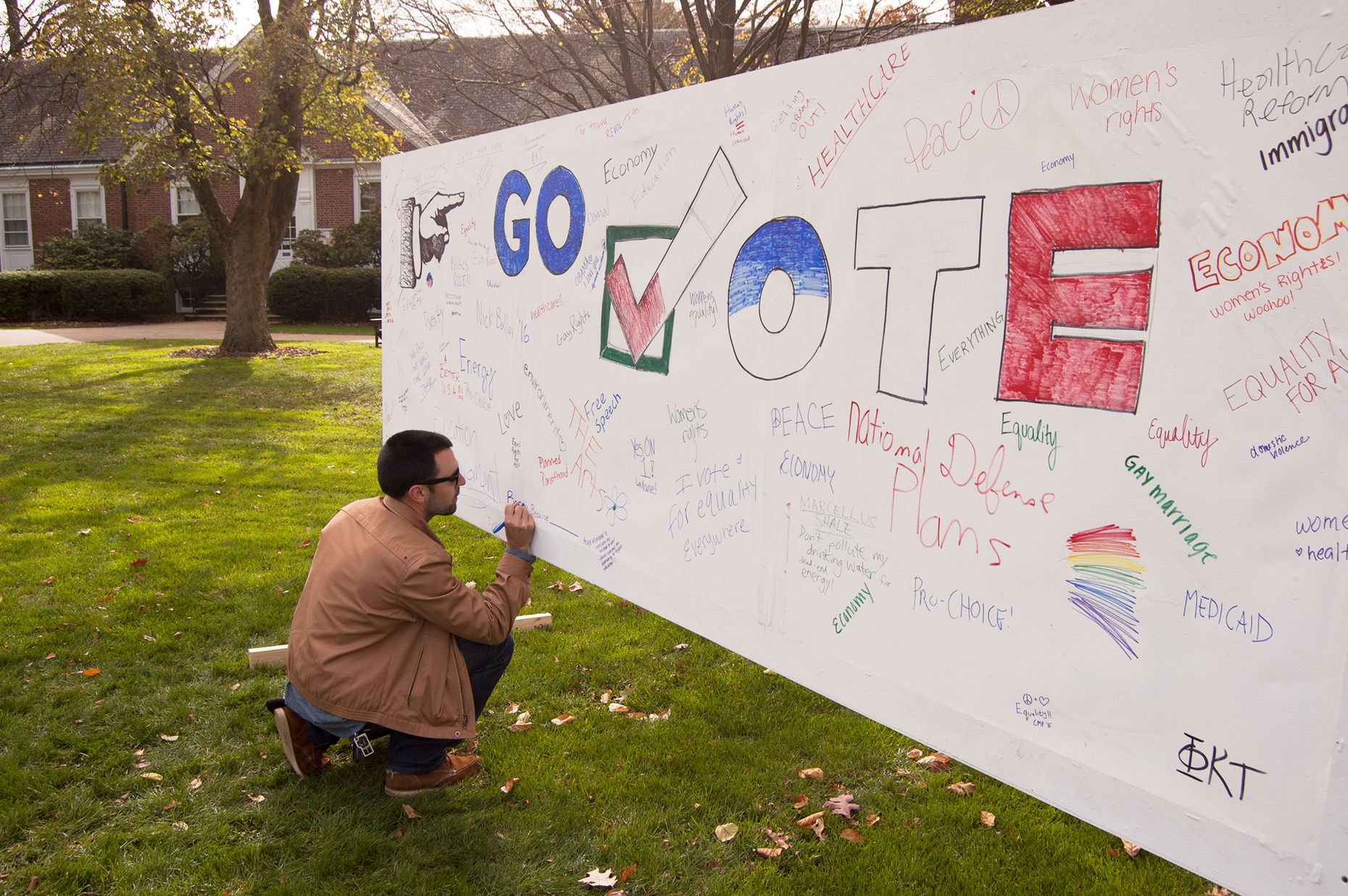 Register to Vote
Why Register in PA
You may be surprised to learn that a 1979 Supreme Court decision affirms the right of college students to register to vote in the county/state in which they attend school. So, if you're already registered to vote back home, why should you consider changing your registration to Lancaster County and Pennsylvania?
Convenience: You are more likely to cast a ballot in a November election if you can do it in person, and the polling location for F&M students with a campus address (or nearby apartments) is always within easy walking distance of campus.
Your Vote May Count More: Pennsylvania has been considered a swing state during the last several elections (and will likely continue to hold that status in years to come), so your decision to vote here may have a greater impact than your home state.
You Can Impact LOCAL Issues: Don't discount the importance of local and state elections for issues that may concern you: taxes, municipal services, funding for education and social services, protecting the environment; the list is endless, and your voice matters.
How to Register in PA
As an F&M student, you are strongly encouraged to register using a form that is partially completed by F&M Votes; this will guarantee you use the correct mailing address for the College.
Join Us
Volunteer
The work of registering F&M voters and promoting each election takes the work of dozens of students, faculty and professional staff. Our volunteers staff registration tables, handle in-class registrations, process paperwork, compile statistics and participate in efforts to "get out the vote" (including baking cookies!).
If you'd like to join our email list of volunteers, please contact our FPS co-chair, Laura Medvic.