Affinity Groups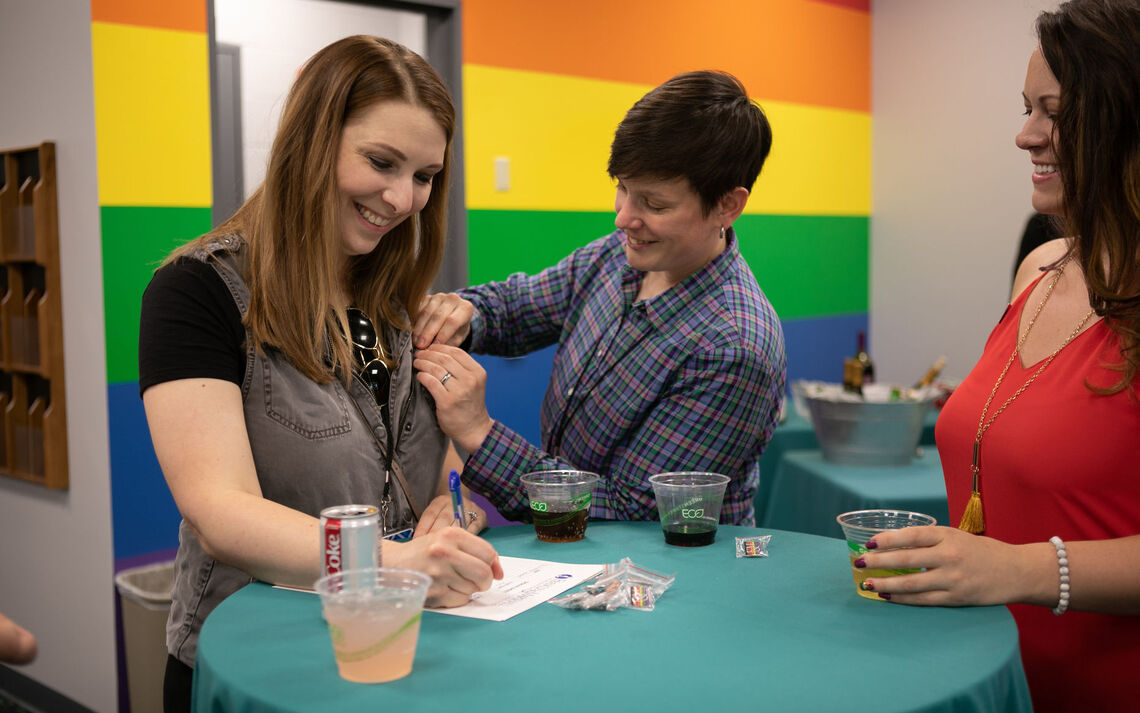 Many alumni maintain strong ties to Franklin & Marshall through their Greek organizations, sports teams, student organizations or other shared interests. The Office of Alumni Engagement, in partnership with the Franklin & Marshall College Alumni Association Board, is eager to help alumni engage with fellow members of their F&M affinity groups by providing a system of recognition for new groups, assisting with on-campus and regional event planning, providing contact information for fellow group members, assisting with communication to fellow affinity members and offering opportunities to work with the board in alumni engagement. To learn more about affinity program guidelines, consult our Alumni Affinity Handbook.
To get involved or to inquire about starting a new affinity group, contact Director of Alumni and Volunteer Engagement Donna Pflum at 717-358-4266 or dpflum@fandm.edu.
True Blue Network
When you graduated from F&M, you joined a powerful network of nearly 30,000 successful alumni. Many of these alumni are part of the True Blue Network, a career network platform exclusive to the F&M community. This impactful resource connects you with fellow alumni and also houses career opportunities, a resource library, archived webinars, interest and affinity groups, and discussion boards.

Join »
Student Engagement Opportunities
Alumni Leaders of Tomorrow (ALOT)
The F&M Alumni Leaders of Tomorrow program engages a small group of junior and senior students through education on the importance of a lifelong relationship with the College, volunteerism and meaningful mentorship. This program establishes the foundation for these students to continue serving as leaders of their peers post-graduation.
Membership Includes:
Exclusive networking opportunities and meetings with F&M alumni
A dedicated mentor from select F&M alumni leadership volunteer groups.
The chance to attend regional alumni events, which are only available to the F&M community
Exclusive opportunities to be involved with on-campus events like True Blue Weekend and Day of Giving
The opportunity to grow leadership skills, network and engage peers through various initiatives
Expectations:
Attend one ALOT meeting per month with the opportunity to interact with key figures from the College and Alumni Association
Complete 10 volunteer hours at designated events throughout the academic year. This requirement is easily fulfilled through opportunities like True Blue Weekend and Day of Giving. These events also serve as fantastic opportunities to interact with alumni and start building your professional network!
Coordinate networking events and alumni panels events for current students and alumni
To learn more and get involved, contact Director of Alumni & Volunteer Engagement Donna Pflum at dpflum@fandm.edu.
Student Philanthropy
The Student Philanthropy Committee and the Senior Campaign is a long-standing tradition at F&M, inviting students, particularly seniors, to make a gift to the College that creates a lasting legacy for future F&M students. Current seniors contribute to a collective class gift and take their first steps down the path of philanthropy.
Student Philanthropy is the perfect way to express gratitude for your F&M experience while also taking part in making sure that this experience continues to make us proud.
To learn more and get involved, contact Director of Alumni & Volunteer Engagement Donna Pflum at
dpflum@fandm.edu
.
Access the Alumni Directory
Get in touch with a long-lost friend or make a new one! Search for classmates and connections in the alumni directory and take your networking one step further on the
True Blue Network
. Location filters allow you to find other F&M alumni close by or search based on occupation/industry, college major, or any number of additional categories.
Read More »
Update Your Information
---
Have you recently moved or changed your contact info? Let us know!
Contact Us »
Submit a Class Note
---
Share your personal accomplishments and life updates with us!
Contact Us »