Our Program and Courses
You can major or minor in music at F&M. Our courses explore multiple genres — including jazz, global popular music, and more — and dive into music history and culture, theory and composition, and performance and conducting.
A major in music is designed to allow you — no matter your musical background — to thrive and carve your own individual path. The majority of our courses are open to students with no formal background in music, but there are many academic and performance opportunities for those with a musical background. You can perform with your talented peers in our ensembles and take private vocal or instrumental lessons with our highly renowned professors. The grand finale of your F&M music experience is a recital, research project, or creative project of your choosing.
By the time you graduate, you will have:
Become proficient in recognizing and performing many styles and genres of music from throughout the world

Gained a comprehensive understanding of music theory: melody, harmony, rhythm, and form

Developed competence in speaking and writing about music

Become proficient in musical composition

Gained competency in ear-training by way of sight-singing and melodic, harmonic, and rhythmic dictation

Developed skill with a variety of music analytical techniques and practices

Built an understanding of performance protocols and stage etiquette

Honed your technical skill and expressive capacity as a solo and ensemble performer

Developed competence in working with primary and secondary source materials (i.e. information literacy)



Wondering what music courses are like? Take a look at our course catalog to explore what classes you can expect to sample.
Learning Outside the Classroom
Studying music at F&M is deeply rooted in electives outside the classroom. With music ensembles, studio lessons, and research and study-abroad opportunities, you'll develop your natural talent and skill and gain deeper understanding in an area that most intrigues you.
Research Opportunities
Do you dream of conducting an orchestra that's performing your original composition? Or maybe you feel a pull toward the history of music and want to venture deeper by researching musical archives. You won't have to wait until graduate school to dive in. Every student at F&M has extraordinary opportunities to engage in independent or faculty-led research.
The music department offers research funds through F&M's own Nolt Music Award, which is awarded to students undertaking musically enriching projects.
Explore research at F&M


Off-Campus Study
Off-campus study, in the U.S. and internationally, is encouraged. Our students have studied abroad in Italy, England, Austria, Australia, and more.
Explore off-campus study at F&M


Competitions, Contests, and Awards
In addition to all of the opportunities above, the music department also offers:
Solo and concerto competitions for singers and instrumentalists

Music composition contests

Senior recitals

Achievement awards via honors in music

The Adams & Gustafson Music Achievement Award, a financial award offered to rising sophomores who have shown distinction and exhibit potential in their music studies.
Studio Lessons
You can take private or for-credit studio vocal or instrumental lessons. Music lessons include masterclasses and performances, in addition to working one-on-one with one of our renowned professors for a truly personalized approach to honing your skill.

Lessons are available for a fee and for 100- and 200-level course credit. A fee waiver is available for eligible students.
Music Ensembles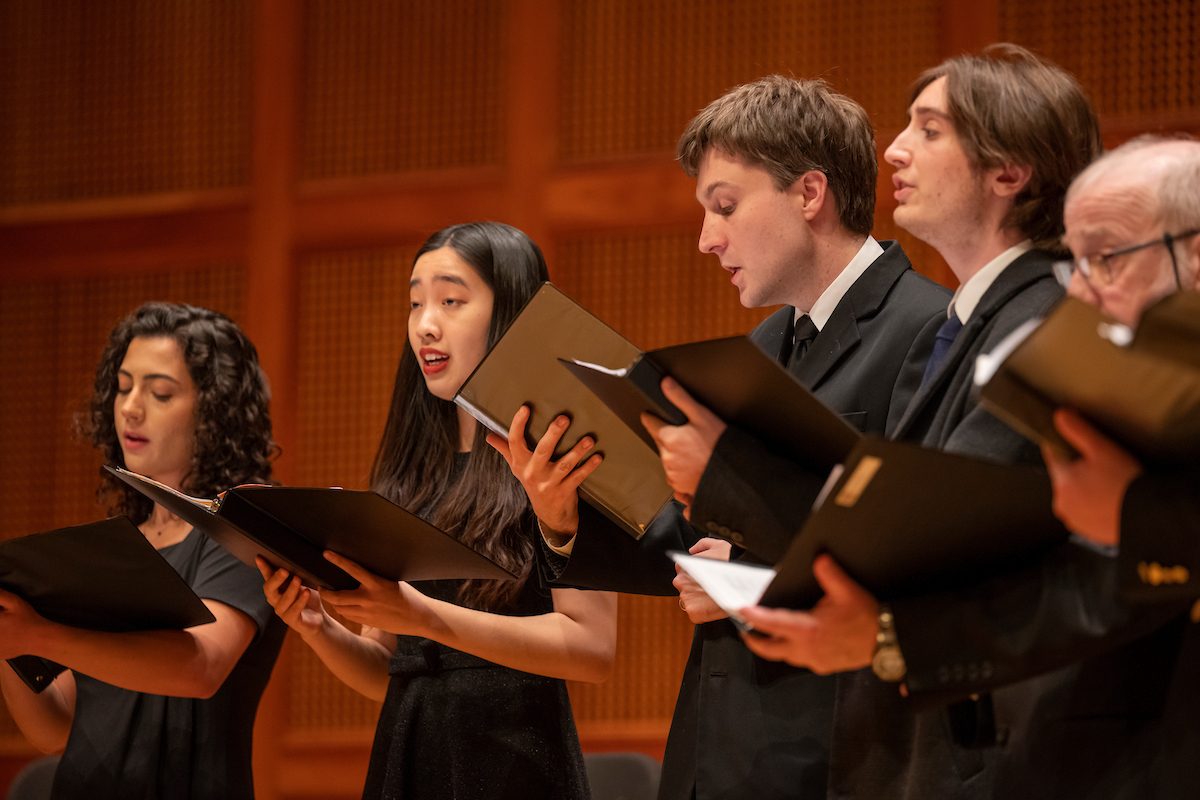 If you major in music, you're encouraged to participate in one of the College's many instrumental or choral ensembles. By doing so, you'll not only enjoy extraordinary artistic opportunities each semester, but develop an appreciation of the creative endeavor related to music and musical performance.
Our Facilities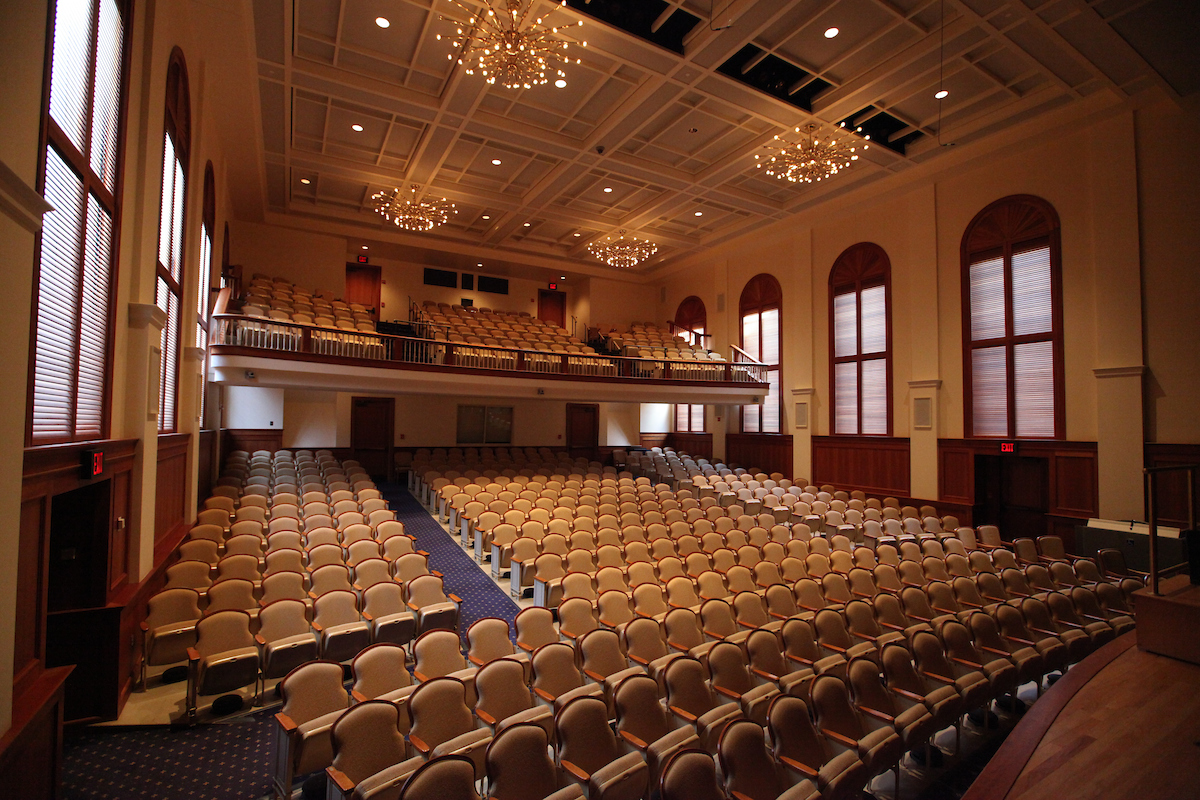 The Ann & Richard Barshinger Center provides a world-class concert hall to serve as the centerpiece of F&M's thriving music program. Adjoining the Barshinger Center is Meyran Hall, a building that serves as home for the music department, as well as others. Our concert hall features an expanded stage designed to handle a full 70-piece orchestra or a full chorus with up to 135 performers. Seating accommodates just over 500, all with a first-rate view of the stage. The elegant setting was designed by a team that led the centennial renovations of Boston's Symphony Hall, and the acoustics were designed by one of the world's leading acousticians, creating an acoustically vibrant atmosphere.
Success Beyond F&M
Many of our students complete a major or minor in music even if they do not intend to embark on a career in music. The writing, analytical, critical thinking, and creative skills you gain by studying music in F&M's liberal arts environment can play a pivotal role in your post-college plans.
Graduate School
It's not uncommon for F&M music majors to study in graduate programs in the U.S. and abroad. Students who have graduated with degrees in music have gone on to doctoral programs in musicology, ethnomusicology, and composition.
Career Paths
Music graduates are prepared for a wide array of careers. They've built successful careers in performance and the music industry, and have also gone on to careers in medicine, law, and more. They hold positions such as:
Music Department Chair

Associate Professor of Music

Music Teacher

Orchestra Director

Music Director

Audio Visual Technician

Producer & Engineer

Private Instrument Instructor

Singer

Arranger

Freelance Musician
They also land in many positions seemingly unrelated to music, including:
Director of Marketing

Law Partner

Associate Attorney

Research Technician

Associate Scientist

Director of National Accounts

Senior Development Manager

Pediatrician
Live at Barshinger Center
Ready to immerse yourself in music at F&M? When available, you can tune into live concerts at the Ann & Richard Barshinger Center, our world-class concert hall. You can also watch recorded concerts from previous academic years.
Watch now »
Faculty Spotlight
"I think making music together is one of the best things we can do as human beings."
We sat down with Matthew Butterfield, professor of music and Department of Music chair, to ask him about teaching and learning, his research, his time as a College House don, and what motivated him to launch F&M Idol, an all-campus singing competition for students.

Read More »
Student Spotlight
An Internship Making Music for Everyone
Initially drawn to F&M for science and technology, Reece Chang '24 changed his tune after rediscovering a passion for music. Now a music major, Chang a summer working with Lancaster nonprofit Music for Everyone (MFE). "As a music major, I've thought a lot about going into education. But I'm also really interested in nonprofit community work. Music for Everyone is a great place for me to be for that," he said.

Read More »
Special Application Opportunities for Musicians
If you plan to study or engage in music at F&M, you can further personalize your application showcasing your musical prowess.

Learn more »
Related Fields of Study
American Studies
Engage with the oldest multifaceted major at F&M. As a student of American Studies, you'll enjoy a true liberal arts experience, exploring several disciplines to develop analytical skills and critical judgment and to examine the range and diversity of American experiences, identities and communities.
Arts for Social Change (Certificate)
This certificate will help you deepen your understanding of the arts as mediums for impacting culture, community, politics, education, and more. Arts for Social Change spans F&M's dynamic arts disciplines, uniting the ethos of community-building with artistic practice that foregrounds innovation and action.
Theatre
Thrive in one of the oldest art forms in the world, and discover how global traditions permeate today. By studying theatre at F&M, you'll explore the intersection of theory and performance; engage in craft, creativity, and critical thinking; and discover the importance of each role in production, developing a deep understanding that there truly are no small parts.
F&M Music in the Spotlight
November 10, 2023
5 Questions with Matthew Butterfield, F&M Professor of Music and Chair of the Department of Music
Music Professor Matthew Butterfield talks teaching and learning, his research, and what motivated him to launch F&M Idol, an all-campus singing competition for students.
May 23, 2023
'97 Alum Reconnects with A Cappella Roots
By the time they graduate, many Franklin & Marshall College students have a favorite place on campus. For music producer Ed Chung '97, room B-11 in the Steinman College Center meant so much to him that he named his business after it. Chung, who majored in music, spent countless hours rehearsing in B-11 with The Poor Richards, F&M's oldest a cappella group. He now owns the production company B-11 Entertainment and recently returned to campus to produce an album with current students.
February 14, 2023
Love, Music and F&M Will Keep Us Together
Leslie Lindeman '13 and Andrew Glennan '13 have always loved music. But in their first year at Franklin & Marshall College, when Lindeman pulled out her violin and Glennan settled behind his cello as new members of the orchestra, they had no idea this mutual love of music would lead them to each other. Since then, Lindeman and Glennan have not forgotten the College and the music program that brought them together. The two remain active in the F&M community and give back in whatever way they can, including by volunteering and making frequent gifts to the College and the Department of Music.