The Residential Experience at F&M
Make Yourself at Home

College Houses
Open to first-years, sophomores, juniors, and seniors
These are not your average dorms. F&M's College Houses are lively hubs of intellectual, extracurricular, and social engagement that not only give you a place to hang out, sleep, and study, but also your own special place to belong.
Learn more about College Houses

Theme, Special Interest, and Fraternity and Sorority Housing
Open to juniors and seniors
If you're involved in a fraternity or sorority, you can choose to live in your organization's residence if they have one. You also have the option to apply to live in a theme or special interest house. Themes include the arts, sustainability, quiet living, wellness and substance free, and housing associated with several clubs and organizations.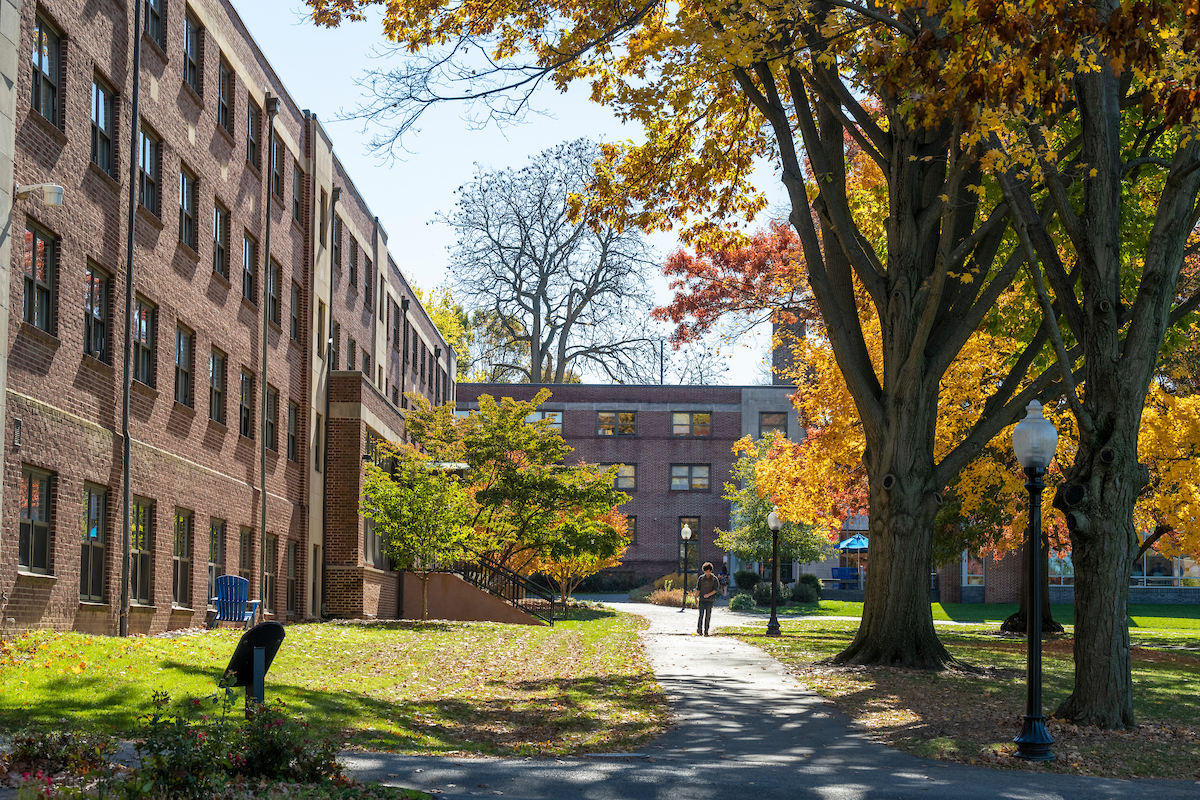 Traditional Residence Halls
Open to sophomores, juniors, and seniors
We have two residence halls on campus in addition to our College Houses: Thomas Hall and Schnader Hall. Students can begin living in Schnader or Thomas Hall in their sophomore year.

Apartments
Open to juniors and seniors
In your junior and senior year, you can choose to live in one of three F&M-affiliated leasing partners, all within walking distance of the College.
Renter's Insurance
Franklin & Marshall College does not cover the cost of your personal belongings if they are stolen or damaged. Students are expected — and in some cases required — to obtain renters insurance before moving in to protect their personal items.
What to Bring to Campus
Wondering what to bring to campus? Check out this list of what we think you might want and need.
Shipping & Storing Your Items
F&M does not provide on-campus storage for students. Instead, we have a partnership with Storage Scholars, a service that lightens the burden of moving and storage.
Our four-year residency requirement means students are required to live in F&M-owned or -approved housing for all four years.All enrolled F&M students must reside within the College's portfolio of housing all four years. Rising sophomores, rising juniors and rising seniors participate in the online room selection lottery process to select housing within the college's portfolio of options for the next academic year. The housing lottery takes place in late March/early April each year. Student housing is reserved for currently enrolled students only.
A student may commute to campus if they live with a parent or guardian full-time within a 50 mile radius of campus.
Housing Accommodations
The Office of Student Accessibility Services (SAS) works with students who have disabilities to determine reasonable accommodations and ensure that they have equal access to all aspects of their education. Accommodations may include academic, dining, and housing needs.
Do You Have Questions About Housing at F&M?
Explore our FAQ to learn more about housing at F&M and feel free to reach out to our housing team at housing@fandm.edu for additional help.