Construction Begins on Shadek Stadium, Which Will Open Next Fall
Earthmovers and other heavy equipment will roll onto the North Campus site this week to begin construction of Franklin & Marshall College's new multipurpose stadium, known as Shadek Stadium, slated to open in fall 2017.
Near the Alumni Sports & Fitness Center, Shadek Stadium is the first step in the planned development of North Campus, a new athletic area of the College. It will replace the nearly 122-year-old Sponaugle-Williamson Field, located along College Avenue and last upgraded in 1920 with stadium seating. For the near-term, the College will continue to use the field's track. The new stadium will not have a track.
About one-third of F&M students participate in the College's competitive athletics programs and club sports, and the new stadium will become a prominent symbol of F&M's commitment to national leadership in the student-athlete experience. The facility, which will provide new spaces for training and sports medicine, allows for the athletics department to offer an innovative array of leadership programs for students and coaches.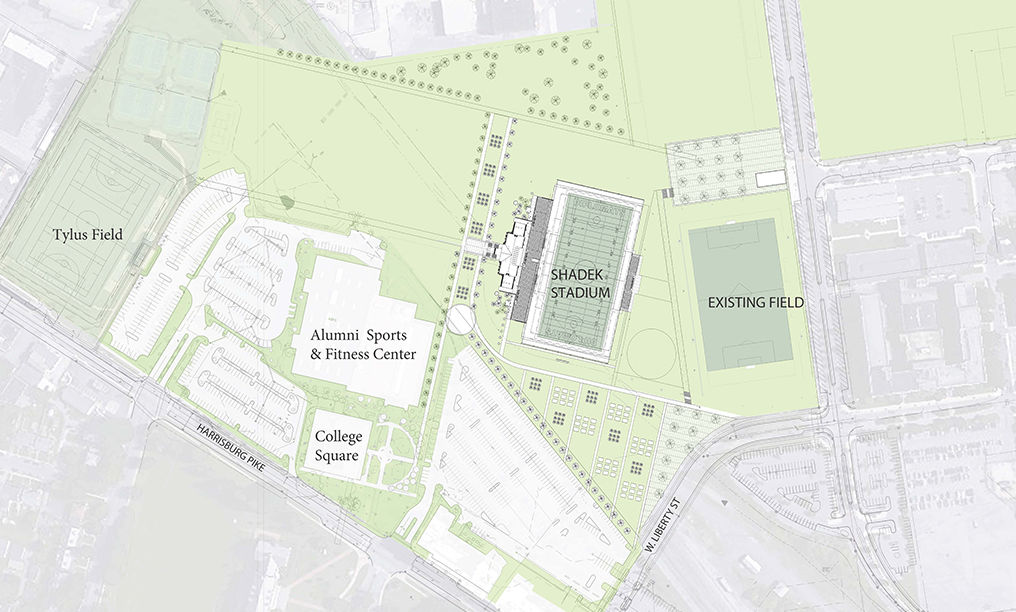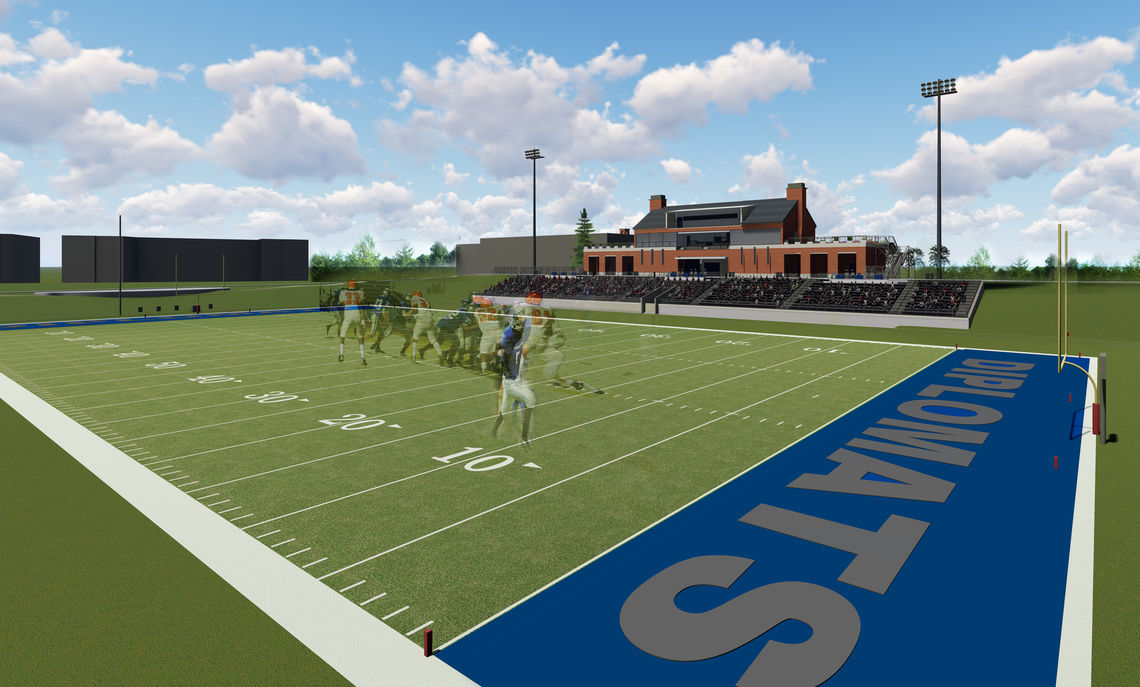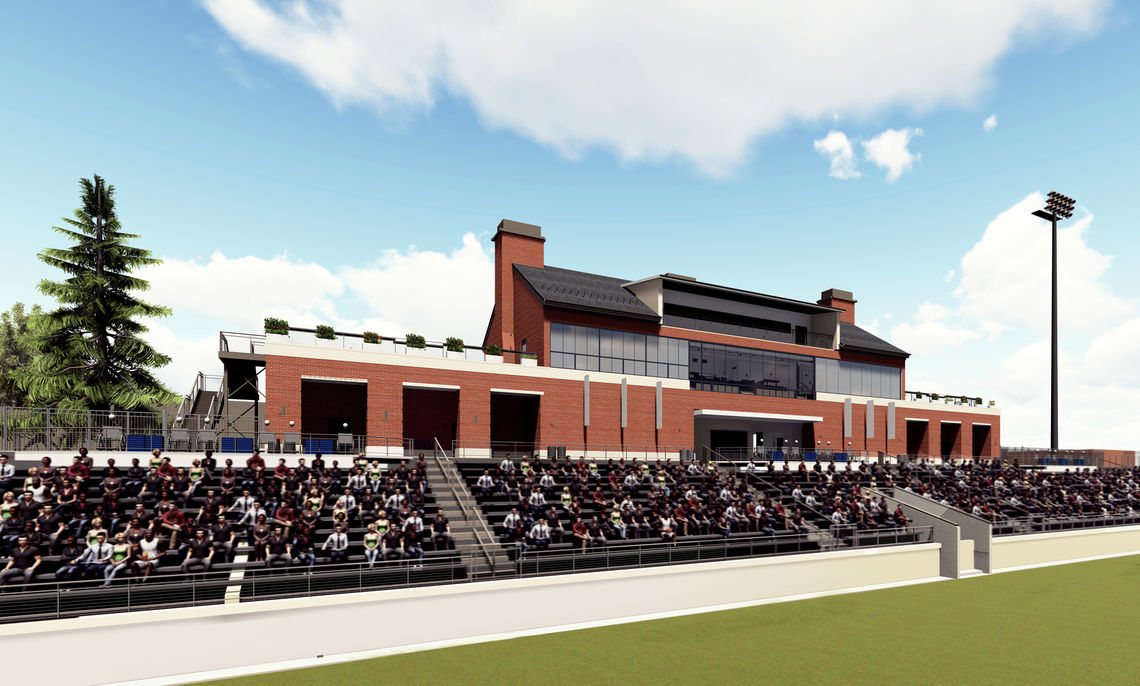 Features of the new stadium include a synthetic turf field, concession stand, locker rooms, plus many gathering places to socialize and view the activities on the field. It will have LEED Silver Certification to ensure it is an environmentally sustainable facility.
Turner Construction is managing the project, which F&M's Facilities and Operations is overseeing. HKS is architect of the 2,500-seat facility, which will serve as the home to Diplomat football as well as men's and women's lacrosse.
"The College and the contractors will work to keep traffic and noise disruptions to a minimum," said David Proulx, F&M's vice president for finance and administration and treasurer.
Located behind College Row, the residential and commercial building complex along Harrisburg Pike, the stadium is being constructed on the former Armstrong World Industries manufacturing site and the Norfolk Southern Railyard site that was bisected by last year's extension of Liberty Street.
Fundraising is underway to name the stadium's field for Tom "Gibby" Gilburg, who coached Diplomats football for 28 seasons, from 1975 to 2002, and compiled an impressive 160-112-2 record.
When Gilburg retired after the 2002 season, he had the sixth-best career mark in Division III history. His teams won 76 of 136 Centennial Conference games. Gilburg, a player for the NFL's Baltimore Colts from 1961 to 1965, led the Diplomats to five Centennial Conference titles, two ECAC titles and a Middle Atlantic Conference South title.
Football has a long tradition at F&M, dating back to 1887, when the first team was organized to compete against York YMCA. The College is one of the first institutions to begin a football program and among a small group of Division III schools to have played more than 1,100 contests and won more than 600 of them.
Funding for the $19 million stadium began in 2012 with a generous $5 million gift from Laurence Shadek '72 and the Shadek Family Foundation. Fundraising continues, and the College has raised $14.5 million from 315 donors toward the project. At the time, Shadek's was the largest gift ever made to F&M for athletics. It was matched last year by the $5 million contribution from Dave Lehman to endow the College's wrestling program.
Shadek said his family was motivated to contribute to the stadium because of the influence playing football at F&M had on his own development, and because of the positive outcomes they have seen as a result of their donations to faculty chairs, student scholarships and improvements to the College's library.
Related Articles
October 4, 2023
Diplomat Fall Sports in Full Swing
Nearly 30% of the F&M student body competes in varsity sports. Browse an update of in-season sports on the turf, track, court and course.
September 13, 2023
First "Campus Hour" Features Panel on Banned Books
Franklin & Marshall College faculty and staff will be joined by local librarians and school board candidates at the upcoming Campus Hour discussion, "Who's Afraid of Banned Books? The Rise of Book Censorship in the U.S." The event will be held Thursday, Sept. 14, at 11:30 a.m. in Bonchek Lecture Hall.
June 2, 2023
F&M Community Gathers for Samuel N. and Dena M. Lombardo Welcome Center Construction Celebration
On May 25, approximately 100 members of the F&M community and friends of the College gathered along Harrisburg Avenue's College Square building, under a beautiful Diplomat-blue sky, to celebrate...Franklin & Marshall College offers students a hands-on education that emphasizes close relationships with faculty. Students flourish in a supportive community that treats them as an individual, and their successes continue long after F&M. The College is a national leader in launching students and alumni to opportunities where they make a difference in the community and the world.