F&M Community Gathers for Samuel N. and Dena M. Lombardo Welcome Center Construction Celebration
On May 25, approximately 100 members of the F&M community and friends of the College gathered along Harrisburg Avenue's College Square building, under a beautiful Diplomat-blue sky, to celebrate the commencement of construction for the Samuel N. and Dena M. Lombardo Welcome Center.
"We're gathered together to celebrate all that we envisage this space will become and to officially commence the renovations that will make those dreams a reality," said Franklin & Marshall College President Barbara Altmann. "The campus visit experience ... is the most important component of our student recruitment efforts. F&M gets one chance to make a first impression with families when they commit the time to visit campus. Having an ultra-modern, beautiful, inviting welcome center supports the message that our students are important to us — are, in fact, at the very center and heart of what we do, not only for their four years at F&M, but for the rest of their lives as alumni.
"By connecting admission and advancement, the Samuel N. and Dena M. Lombardo Welcome Center also drives home the belief that all of us are Diplomats Forever."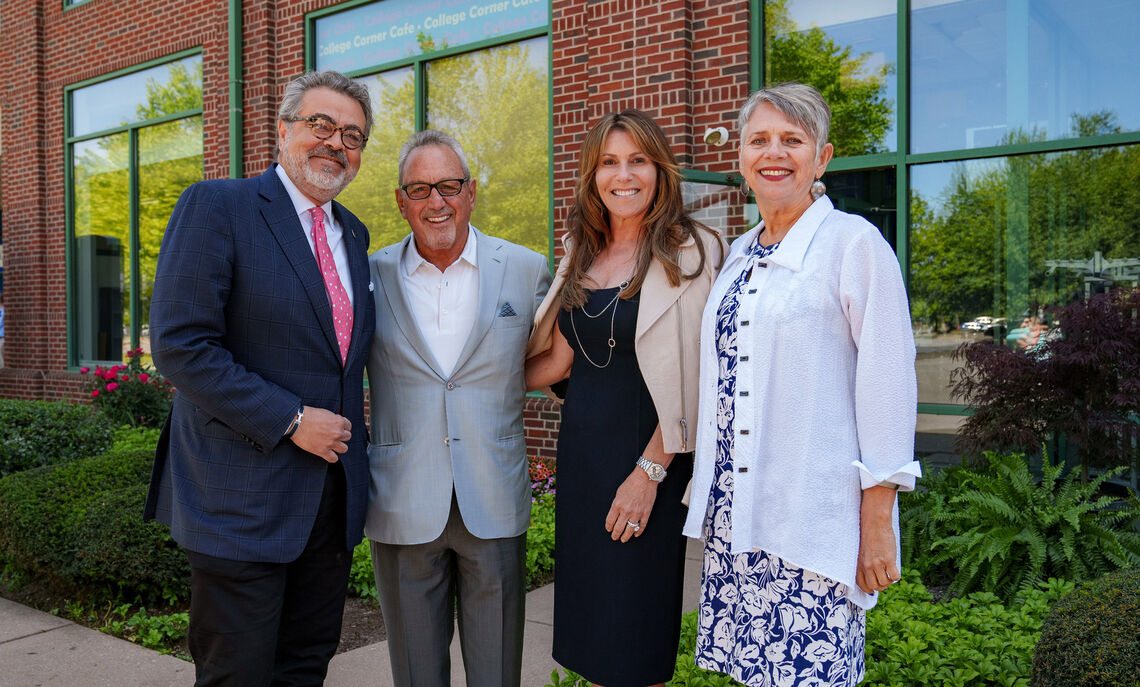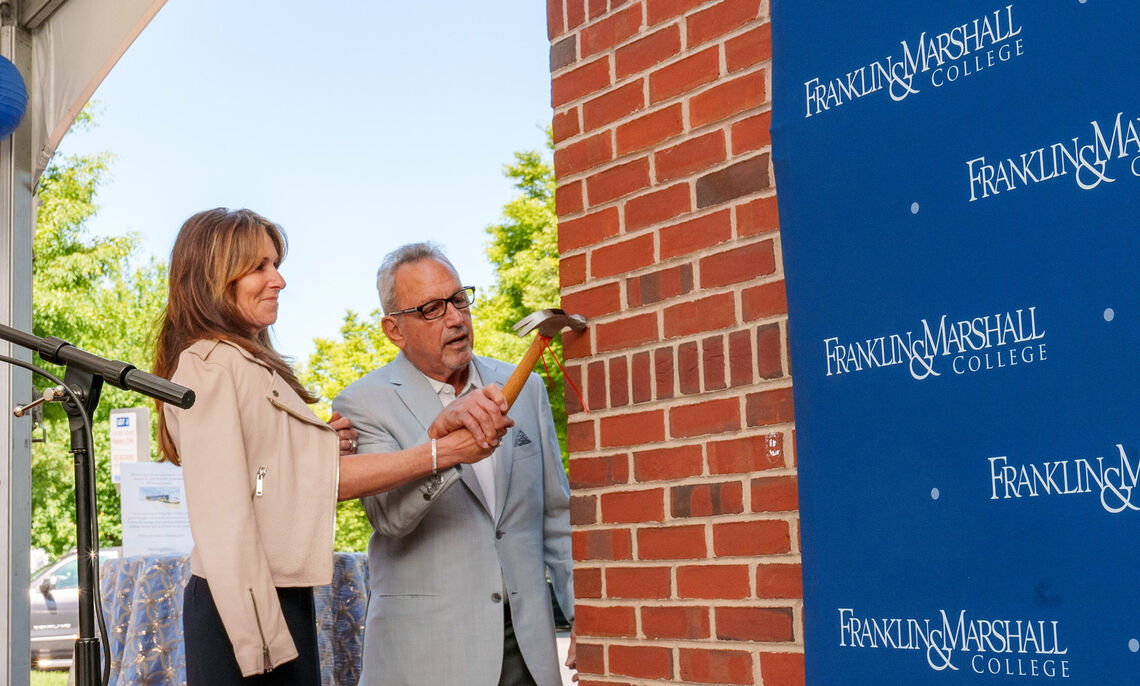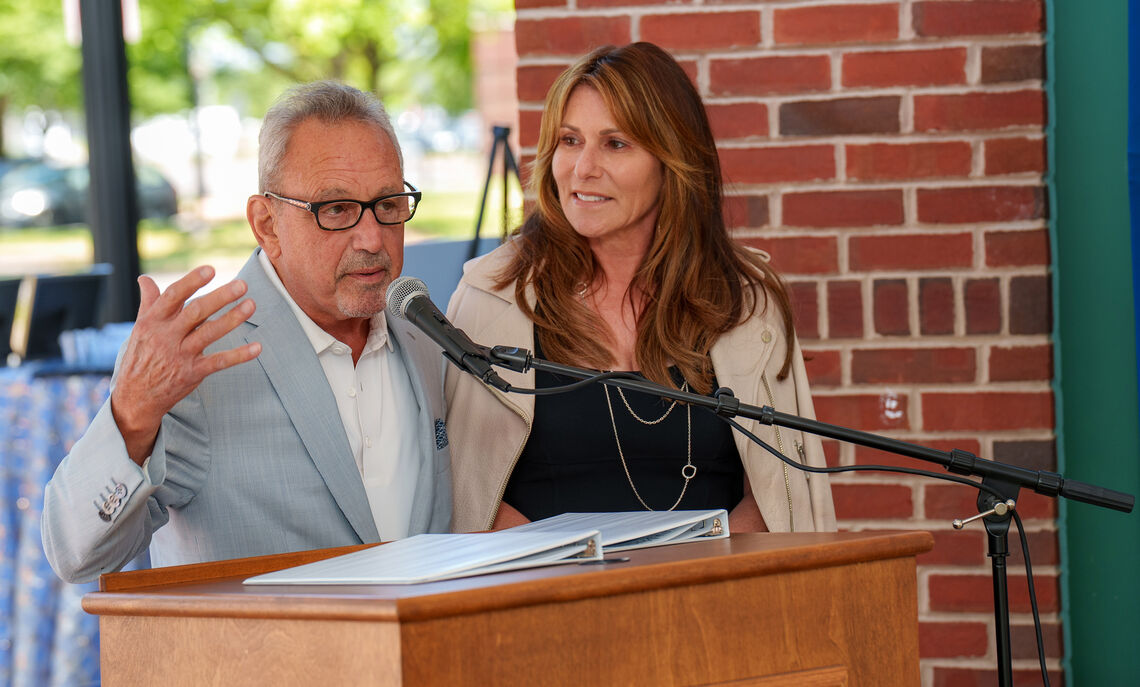 Following the remarks from College leadership, the event program prominently featured traditional elements from Chinese feng shui principles. As they arrived, attendees wrote wishes for the construction project on special paper, which were collected before being burned in a ceramic bowl to symbolize the release of those hopes and positive energy into the universe. Bowls of oranges were placed on tables to represent good luck and prosperity. President Altmann presented a ceremonial hammer wrapped in a red ribbon to donors Samuel and Dena Lombardo, which they tapped three times on the southwest corner of the building, invoking good luck for the construction project.
The Samuel N. and Dena M. Lombardo Welcome Center will be made possible thanks to a generous $5 million gift from the Lombardos to Franklin & Marshall during the Now to Next campaign, which successfully concluded in 2022 and exceeded its $200 million goal by more than 10 percent.
The future home for the Offices of Admission and College Advancement, which includes the Office of Alumni Relations, the Lombardo Welcome Center will provide a distinct and warm welcome for prospective students and their families, alumni, friends and other visitors to campus when the building opens next spring.
Located in the current College Square building, the Lombardo Welcome Center will provide an accessible, captivating host location for those arriving for College tours and serve as a powerful first impression for those who have yet to experience F&M's idyllic campus. The location also will feature the stories, successes and contributions of F&M alumni who have built the College's legacy and reputation as one the world's premier liberal arts institutions. Plentiful and adjacent parking will ensure a smooth arrival for those arriving by car, and the center's integrated technology will allow F&M to offer presentations to larger groups of visitors as well as smaller, more intimate spaces for interviews and personal conversations.
"[Dena and I] are very proud of this moment and very honored to do this for the college that I grew up in the city with; [F&M] is such an integral part of Lancaster City and of our community. The job F&M has done over the years is phenomenal," said Sam Lombardo in his remarks to the gathered crowd. "A lot of my friends are alumni of Franklin & Marshall. They do wonderful work in business, in commerce and in professional life. We're just so delighted to be able to participate in this and to help a college that we have a very, very deep appreciation for here in our community."
Sam Lombardo is the founder and chairman emeritus of The Benecon Group and pioneered health-insurance purchasing cooperatives. Founded in 1991, The Benecon Group works with employers nationwide to provide self-funded employee health benefits programs and actuarial, finance and compliance solutions.
Sam and Dena Lombardo have deep roots in Lancaster — Sam was born in the city, while Dena was born and spent her early life in nearby Ephrata. Their investments and philanthropy in Lancaster County have supported health and wellness initiatives, children's health clinics, veterans' support organizations and educational institutions, including Franklin & Marshall College and Millersville University.
"As a Franklin & Marshall graduate, I can attest to the value of connections and community. I've seen firsthand how conversations and shared experiences can bring members of our community together and build lasting support for our College," said Franklin & Marshall College Board of Trustees Chair Eric Noll '83, P'09. "The Lombardo Welcome Center will be impactful and transformative for Franklin & Marshall and will serve as a powerful introduction to campus for those who have never experienced F&M, as well as those who have been a part of our family for decades."
"Thank you, Sam and Dena, for supporting F&M and helping build connections for and between Lancaster City and the College," said Altmann at the conclusion of her remarks. "We are honored to consider you part of the F&M family."
Related Articles
September 13, 2023
First "Campus Hour" Features Panel on Banned Books
Franklin & Marshall College faculty and staff will be joined by local librarians and school board candidates at the upcoming Campus Hour discussion, "Who's Afraid of Banned Books? The Rise of Book Censorship in the U.S." The event will be held Thursday, Sept. 14, at 11:30 a.m. in Bonchek Lecture Hall.
July 26, 2023
F&M Appoints New Members to Board of Trustees
The Franklin & Marshall Board of Trustees voted to elect its newest members during the Board's spring meeting. F&M is proud to welcome the following recently elected trustees, who began their terms on July 1.
June 26, 2023
Shining Light Along Their College Path
As a student in the 1950s, Franklin & Marshall College stirred his interest in the world of ideas. A government major, he took courses in a wide array of other topics. Throughout his career, he...Franklin & Marshall College offers students a hands-on education that emphasizes close relationships with faculty. Students flourish in a supportive community that treats them as an individual, and their successes continue long after F&M. The College is a national leader in launching students and alumni to opportunities where they make a difference in the community and the world.