OSPGD Hosts F&M Alumni of Color in Law Panel
This story is part of our #FandMAnywhere series, showcasing how traditional College events have navigated obstacles the COVID-19 pandemic presented, adapted to the virtual space and can be enjoyed by members of our F&M community anywhere they are.
"You belong in the room you're in."
"Don't be discouraged if you're faced with stereotypes or if someone imposes them on you. Remember who you are."
These pieces of advice from Templeton Timothy '15, law clerk, Jackson Lewis P.C., and Argemira Florez '13, associate, Willkie Farr & Gallagher LLP, respectively, are just some of the enlightening takeaways from the F&M Alumni of Color in Law panel held Wednesday, Sept. 16.
Hosted by Franklin & Marshall College's Office of Student and Post-Graduate Development (OSPGD) in collaboration with several student organizations, the event featured F&M alumni sharing their stories and advice for navigating the path through F&M to various legal professions as a person of color.
The panelists included Timothy; Florez; Michael Armstrong '11, court attorney to Associate Justice of the Supreme Court, New York State Unified System; Tianzi Wu '15, associate, Clifford Chance; and Chan Tov MacNamarah '16, associate, Davis Polk & Wardwell LLP.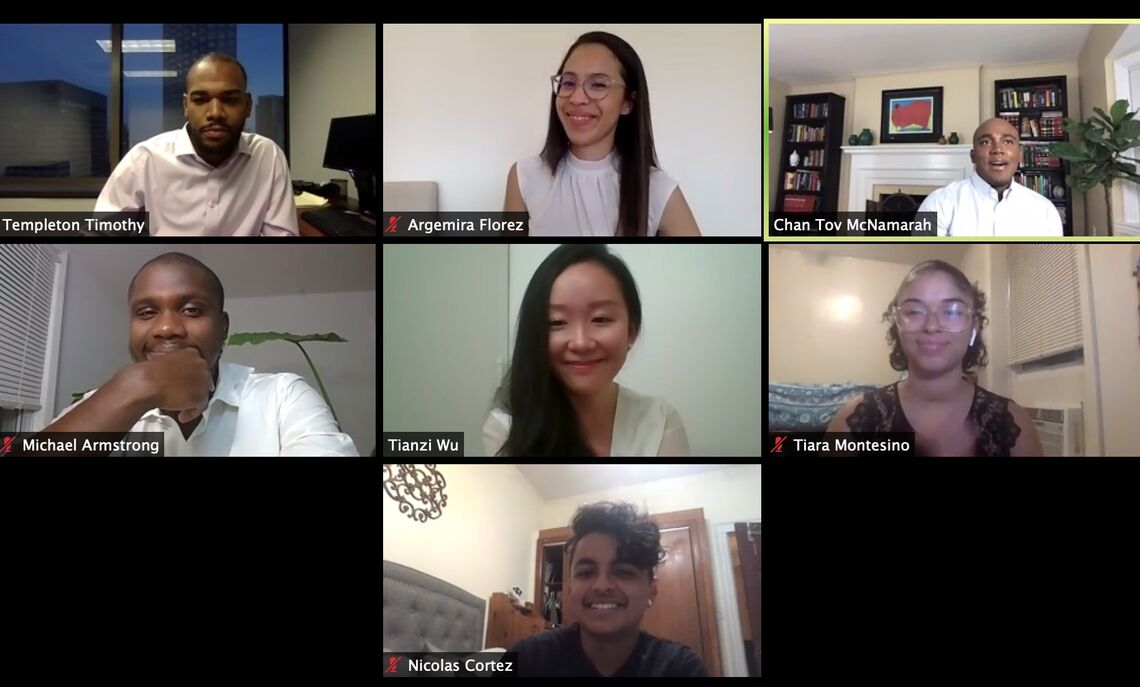 Nicolas Cortez '22, president of I.M.P.A.C.T. and Tiara Montesino '21, secretary of S.I.S.T.E.R.S., moderated the discussion, while Saïsha Ramdour '21, president of the International Student Advisory Board, and Immanuela Antwi '23, treasurer of the African Caribbean Association, moderated the Q&A session. The 85 students and alumni of color and allies who attended the event enjoyed illuminating discussions covering everything from law school application must-knows and being shameless in discovering and negotiating scholarships, to networking and navigating imposter syndrome.
Networking was noted as being especially important; the panelists emphasized crafting real, meaningful relationships with professors and alumni as a principal tactic students can use during their time at F&M to set themselves up for success in the legal field. The panelists also noted students should take advantage of the multitude of resources available at F&M (such as the panel they were currently hosting) and were united on the front that taking time off after graduation before attending law school is essential.
"If you take a gap year, make sure it's valuable. Be intentional about what you're doing," said Timothy, noting that many legal cases involve individuals who have lived different walks of life, so anything students can do to give themselves diverse experiences and perspectives before law school will help them become a better lawyer.
Most importantly, panelists stressed staying true to yourself and having confidence in your accomplishments.
"Believe in yourself," Florez said. "Don't let doubt interfere with your process. Work towards your goals and what you'd be proud of."
Attendees of the event, such as Tracy Oguns '21, a collaborator from the F&M associate chapter of Sigma Lambda Gamma National Sorority, Inc., expressed how beneficial the panel was for them.
"Getting the perspective from people of color who have already been through the process was very reassuring," she said.
Beth Throne, associate vice president for OSPGD, noted that OSPGD designs offerings based on student needs and feedback, and that this program was no exception.
"Over the past several months, many students of color shared during advising appointments that they were seeking out alumni of color for insights and advice about the path through F&M to law," she said. "In partnership with several student organizations, we were proud to host the resulting alumni-student program."
The student organizations collaborating on this program included I.M.P.A.C.T., Asian American Alliance, S.I.S.T.E.R.S., Mi Gente Latina, African Caribbean Association (ACA), International Student Advisory Board (ISAB), Delta Sigma Theta, Sigma Lambda Gamma, and the John Marshall Pre-Law Honor Society.
Related Articles
September 28, 2023
Future Lawyer Expands Her Resume With Hands-on Legal Experience
Morgan Hovan '24, a math and economics major, was the first F&M student to declare the Legal Studies Certificate. Explore how this decision is helping carve her path toward a successful career in law.
September 5, 2023
Common Hour Returns with New Format
Common Hour begins Sept. 7 and will resume weekly with the addition of a new Campus Hour program.
August 21, 2023
Genesis Familia: Raising Others Through Philanthropy
For most, home is the place where they are raised. For Genesis Familia, it is also the place to give back by raising others. This summer, the Posse Scholar returned to New York City for an internship with Bloomberg Philanthropies in human resources and management. In addition to her overseeing managerial duties, Familia also contributed to hands-on philanthropic efforts.