Visiting Lancaster? See F&M Students' Favorite Spots
In town for Franklin & Marshall College admitted student weekend? Check out this list of places to visit, curated by our very own students! The suggestions below are just the start — all are a short walk off-campus. For maps and more fun things to do, head on over to our F&M Visitors page.
Welcome to campus, Class of 2027!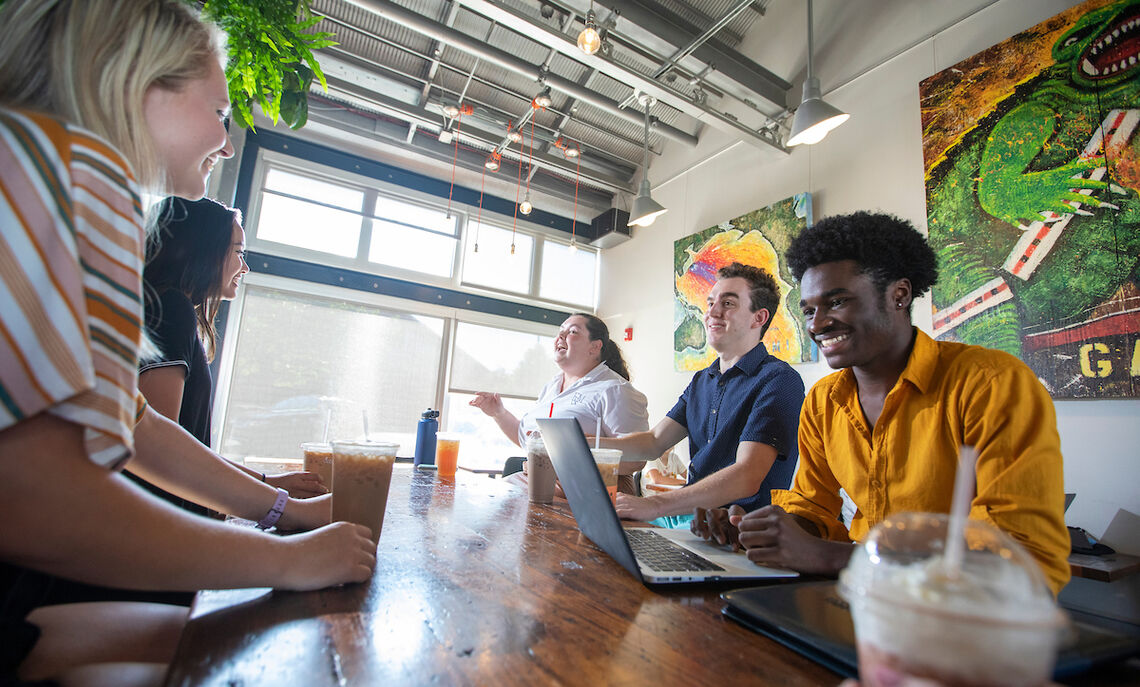 Coffee Shops
La Petite Patisserie (621 Harrisburg Ave.)
"La Petite Patisserie is one of my favorite places to get coffee with my friends, and it's an awesome atmosphere that is extremely close to campus" - Rachel Lutsky '26
Mean Cup (398 Harrisburg Ave.)
"Mean Cup is one of my favorite coffee shops in Lancaster. It is less than a 10-minute walk from campus and is a great space to get a coffee, light breakfast and do homework. There is beautiful artwork hanging on the walls and the whole shop feels warm and welcoming. It is definitely an F&M student favorite!" - Kyra Caffrey '23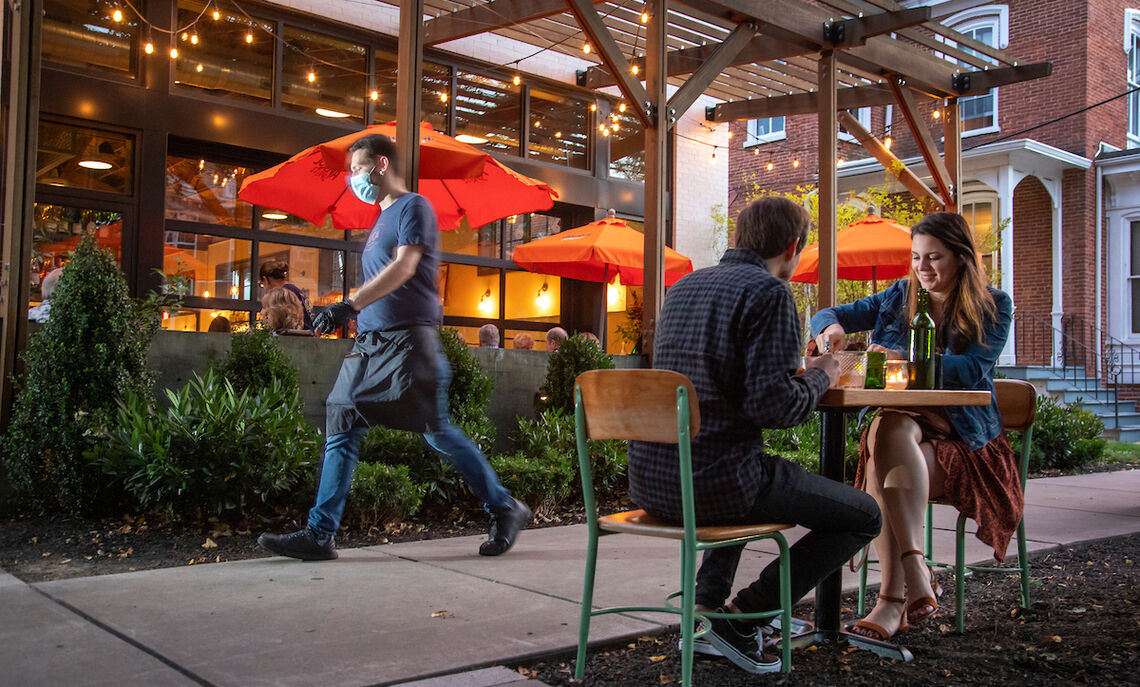 Restaurants and Diners
El Pueblito (1027 Dillerville Rd.)
"I love grabbing tacos here with my SISTERS family! The staff are so sweet and kind and the food is amazing!" - Shayra Nunez '25
Issei Noodle (44 N. Queen St.)
"The best ramen in the Lancaster area. The service is super quick and all of the workers are so kind. I think about menu option 17B a lot more than I should!" - Genesis Familia '24
John J. Jeffries (300 Harrisburg Ave.)
"My roommate and I love getting dinner here every semester. It's a short walk from campus and they have incredible steak!" - Marisol Rivera '24
Lombardo's (216 Harrisburg Ave.)
"Lombardo's is an amazing place to get quality Italian food with friends, just a short walk from campus!" - Amelia Squirrels '26
LUCA (436 W. James St.)
"LUCA is one of my favorite restaurants in Lancaster. They are very accommodating of dietary restrictions. Luca is also a great spot to take parents when visiting as it is just a five-minute walk from campus. Their customer service is excellent and they hire a lot of Franklin & Marshall students." - Arden Hitchcock '24
Neptune Diner (924 N. Prince St.)
"Neptune really gives that classic small-town diner feel! It's an awesome place to get breakfast with friends and is just a 10-minute walk from campus! - Josh Geller '24
Oka Asian Fusion (721 Harrisburg Ave.)
"Oka is very close to campus and is great for students wanting something different from on-campus dining." - Josh Geller '24
The Fridge (534 N Mulberry St.)
"I love the Fridge because of its fun atmosphere. You feel like a part of the community and it is a great place to socialize with friends. Within walking distance of campus, they have a wide range of food and beverages but specialize in their delicious pizza." - Dan Gaiewski '23
Sweet Treats
Lancaster Cupcake (24 W. Orange St.)
"Lancaster Cupcake is one of my favorite spots downtown! It was the runner-up on Food Network's Cupcake Wars, so their cupcakes are fantastic! Not only that, but they have ice cream, cookies, coffee and so much more." - Morgan Hovan '24
Splits & Giggles (500 W. Lemon St.)
"Splits and Giggles is an ice cream shop only about a 10-minute walk from campus. Whenever I need a study break, some fresh air, and of course some amazing ice cream, my roommates and I walk over and sit outside on their little patio. They even have a vegan ice cream! Splits and Giggles will always remind me of warm fall nights, good friends, and my college town I will treasure forever." - Camryn Parsons '23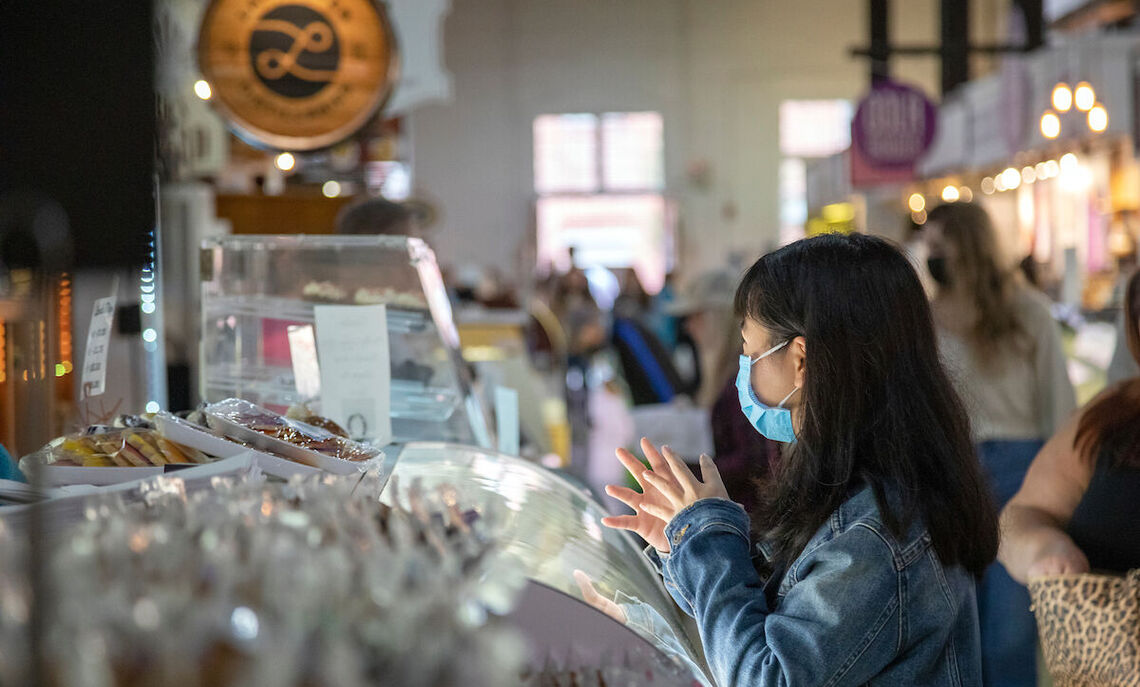 Farmers Markets
Lancaster Central Market (23 N. Market St.)
"Central Market is a true gem of Lancaster. It is the best place to get fresh and locally sourced produce, flowers, coffee, sandwiches, baked goods and more. Market is affordable, unique, and a great way to support Lancaster small businesses. Only a 15- to 20-minute walk from campus, it's a must-do experience, especially in the warmer months." - Liz Joslin '24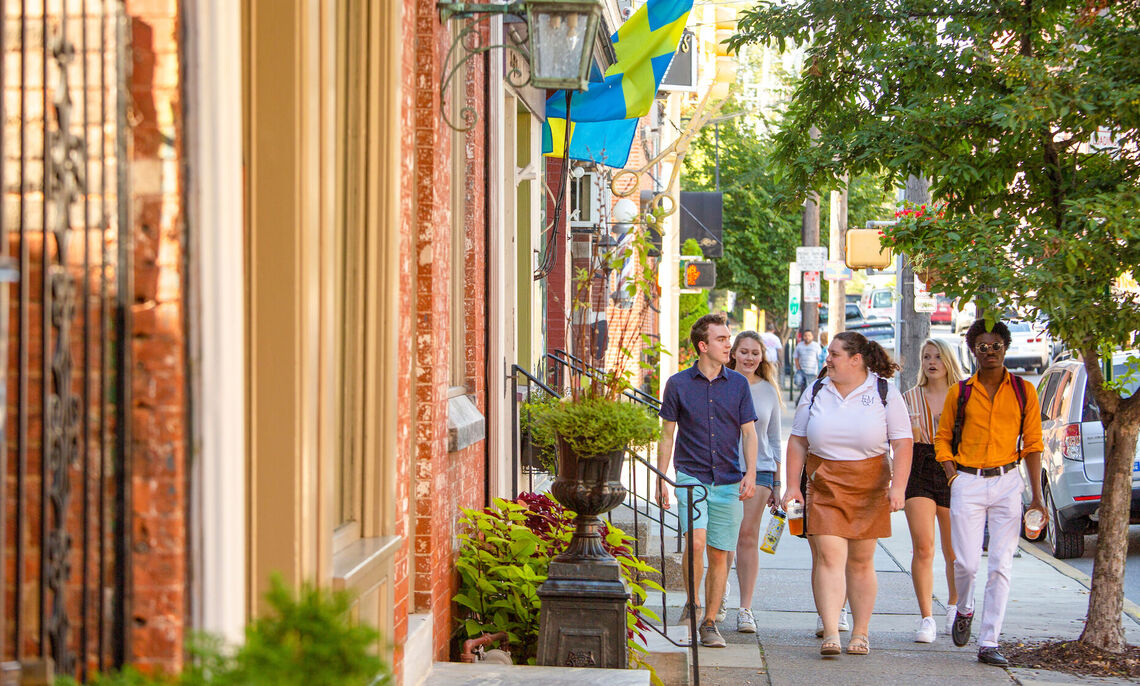 Shopping
Bead Works (52 N. Queen St.)
"I love coming here with my friends to make custom rings and bracelets!" - Laura Bedoya '22
Building Character (342 N. Queen St.)
"This intriguing store never fails to surprise you with all of the cool and intricate things they sell!" - Genesis Familia '24
Read Rose Books (23 N. Prince St.)
"A super cozy bookstore and incredible staff!" - Muna Sultana '24
Redeaux (17 N. Prince St.)
"Redeaux is an extremely unique and fun vintage store! It's a great spot for a ton of quality items at a variety of prices." - Maxine Feldman '26
The Scarlet Willow (320 N. Queen St.)
"This intriguing store never fails to surprise you with all of the cool and intricate things they sell!" - Genesis Familia '24
Thrift shopping (Various downtown locations)
"One of my favorite things to do in Lancaster is thrifting. There are so many amazing thrift shops so close to F&M. They're sustainable, small businesses, and I've gotten to know the owners, all of whom are passionate about the Lancaster community. Thrifting here has not only given me a meaningful way to express myself through fashion, but also to explore the city around me." - Marina Lazaro '23
Related Articles
September 19, 2023
Pedal Power: F&M Bike Loans Benefit Students
At F&M, renting a bike is as easy as checking out a book from the library. The F&M Bike Loan program provides a bike, helmet and lock to students free of charge.
September 13, 2023
First "Campus Hour" Features Panel on Banned Books
Franklin & Marshall College faculty and staff will be joined by local librarians and school board candidates at the upcoming Campus Hour discussion, "Who's Afraid of Banned Books? The Rise of Book Censorship in the U.S." The event will be held Thursday, Sept. 14, at 11:30 a.m. in Bonchek Lecture Hall.
September 6, 2023
Phillips Museum Showcases Fall Exhibitions
Unveiled this week, the newest slate of exhibitions at the Phillips Museum of Art explores nature, place and memory.